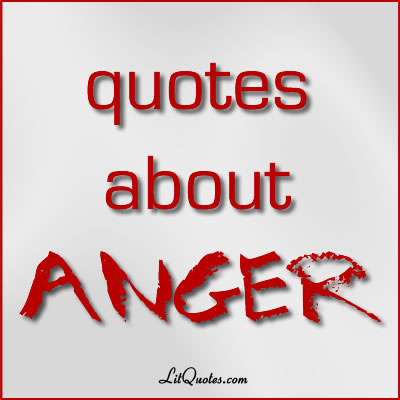 "You do not know how the people of this country bear malice. It is the boast of some of them that they can keep a stone in their pocket seven years, turn it at the end of that time, keep it seven years longer, and hurl it and hit their mark 'at last.'" ~ Shirley by Charlotte Bronte
How often it is that the angry man rages denial of what his inner self is telling him. ~ The Woman in White by Wilkie Collins
Any woman who is sure of her own wits is a match at any time for a man who is not sure of his own temper. ~ The Woman in White by Wilkie Collins
Anger and jealousy can no more bear to lose sight of their objects than love. ~ The Mill on the Floss by George Eliot
Anger's my meat; I sup upon myself,
And so shall starve with feeding. ~ Coriolanus by William Shakespeare
"From hell's heart I stab at thee; for hate's sake I spit my last breath at thee." ~ Moby Dick by Herman Melville
With a fierce action of her hand, as if she sprinkled hatred on the ground, and with it devoted those who were standing there to destruction, she looked up once at the black sky, and strode out into the wild night. ~ Dombey and Son by Charles Dickens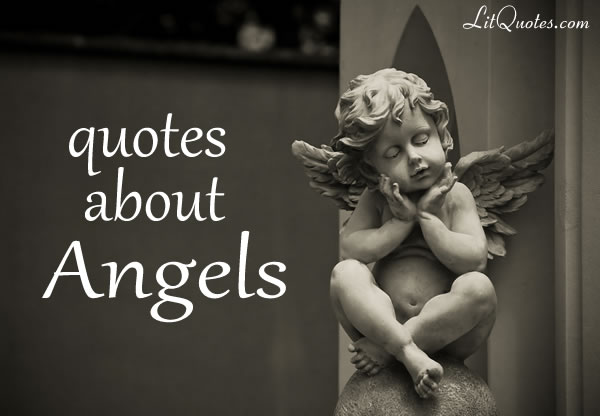 "I am not an angel," I asserted; "and I will not be one till I die: I will be myself." ~ Jane Eyre by Charlotte Bronte
You can't expect the fatted calf to share the enthusiasm of the angels over the prodigal's return. ~ Reginald by Saki
In old days there were angels who came and took men by the hand and led them away from the city of destruction. We see no white-winged angels now. But yet men are led away from threatening destruction: a hand is put into theirs, which leads them forth gently towards a calm and bright land, so that they look no more backward; and the hand may be a little child's. ~ Silas Marner by George Eliot
The shadows of our own desires stand between us and our better angels, and thus their brightness is eclipsed. ~ Barnaby Rudge by Charles Dickens
Heaven, too, was very near to them in those days. God's direct agency was to be seen in the thunder and the rainbow, the whirlwind and the lightning. To the believer, clouds of angels and confessors, and martyrs, armies of the sainted and the saved, were ever stooping over their struggling brethren upon earth, raising, encouraging, and supporting them. ~ The White Company by Sir Arthur Conan Doyle
It was the beginning of a day in June; the deep blue sky unsullied by a cloud, and teeming with brilliant light. The streets were, as yet, nearly free from passengers, the houses and shops were closed, and the healthy air of morning fell like breath from angels, on the sleeping town. ~ The Old Curiosity Shop by Charles Dickens
"Good night, sweet prince, and flights of angels sing thee to thy rest!" ~ Hamlet, Prince of Denmark by William Shakespeare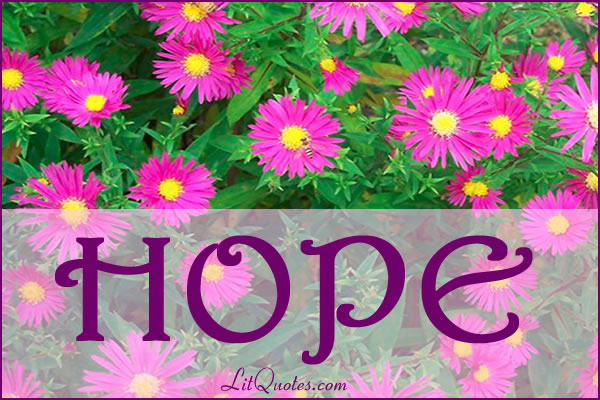 But our wishes are like tinder: the flint and steel of circumstances are continually striking out sparks, which vanish immediately, unless they chance to fall upon the tinder of our wishes; then, they instantly ignite, and the flame of hope is kindled in a moment.  ~ Agnes Grey by Anne Bronte
God shall be my hope,
My stay, my guide, and lantern to my feet. ~ Henry VI, Part Two by William Shakespeare
I hope, or I could not live. ~ The Island of Doctor Moreau by H. G. Wells
These fellow-mortals, every one, must be accepted as they are: you can neither straighten their noses, nor brighten their wit, nor rectify their dispositions; and it is these people–amongst whom your life is passed–that it is needful you should tolerate, pity, and love: it is these more or less ugly, stupid, inconsistent people whose movements of goodness you should be able to admire–for whom you should cherish all possible hopes, all possible patience. ~ Adam Bede by George Eliot
The cool peace and dewy sweetness of the night filled me with a mood of hope: not hope on any definite point, but a general sense of encouragement and heart-ease. ~ Villette by Charlotte Bronte
Remember to the last, that while there is life there is hope. ~ Wreck of the Golden Mary by Charles Dickens
"Our highest assurance of the goodness of Providence seems to me to rest in the flowers. All other things, our powers, our desires, our food, are all really necessary for our existence in the first instance. But this rose is an extra. Its smell and its color are an embellishment of life, not a condition of it. It is only goodness which gives extras, and so I say again that we have much to hope from the flowers." ~ The Naval Treaty by Sir Arthur Conan Doyle
Pride is one of the seven deadly sins; but it cannot be the pride of a mother in her children, for that is a compound of two cardinal virtues — faith and hope. ~ Nicholas Nickleby by Charles Dickens
"In this world you've just got to hope for the best and prepare for the worst and take whatever God sends." ~ Anne Of Avonlea by Lucy Maud Montgomery
My spirits were elevated by the enchanting appearance of nature; the past was blotted from my memory, the present was tranquil, and the future gilded by bright rays of hope and anticipations of joy. ~ Frankenstein by Mary Shelley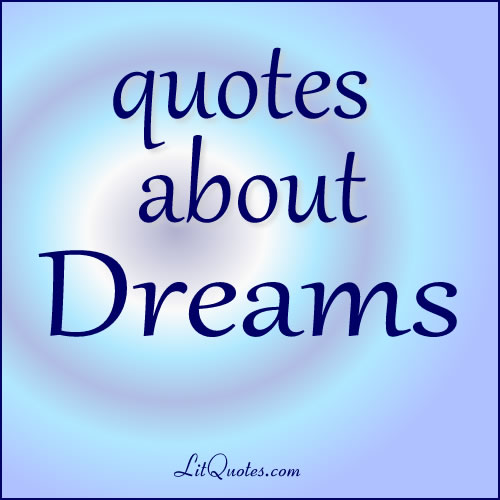 But dreams come through stone walls, light up dark rooms, or darken light ones, and their persons make their exits and their entrances as they please, and laugh at locksmiths. ~ Carmilla by J. Sheridan Le Fanu
He smiled the most exquisite smile, veiled by memory, tinged by dreams. ~ To the Lighthouse by Virginia Woolf
"I talk of dreams,
Which are the children of an idle brain,
Begot of nothing but vain fantasy." ~ Romeo and Juliet by William Shakespeare
She was suddenly tired of outworn dreams. ~ Rainbow Valley by Lucy Maud Montgomery
There is no more thrilling sensation I know of than sailing. It comes as near to flying as man has got to yet – except in dreams. ~ Three Men in a Boat by Jerome K. Jerome
It was always the becoming he dreamed of, never the being. ~ This Side of Paradise by F. Scott Fitzgerald
"Well, many's the long night I've dreamed of cheese–toasted, mostly." ~ Treasure Island by Robert Louis Stevenson
At a single strain of music, the scent of a flower, or even one glimpse of a path of moonlight lying fair upon a Summer sea, the barriers crumble and fall. Through the long corridors the ghosts of the past walk unforbidden, hindered only by broken promises, dead hopes, and dream-dust. ~ Old Rose and Silver by Myrtle Reed
"We live, as we dream–alone." ~ Heart of Darkness by Joseph Conrad
"And so I am become a knight of the Kingdom of Dreams and Shadows!" ~ The Prince and The Pauper by Mark Twain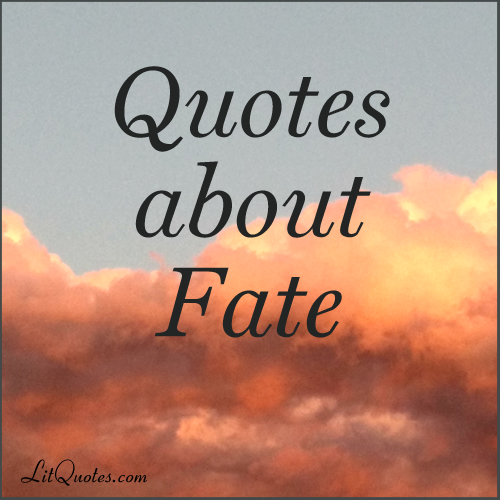 It is never quite safe to think we have done with life. When we imagine we have finished our story fate has a trick of turning the page and showing us yet another chapter. ~ Rainbow Valley by Lucy Maud Montgomery
It matters not how strait the gate,
How charged with punishments the scroll,
I am the master of my fate:
I am the captain of my soul. ~ Invictus by William Ernest Henley
You pay for what you get, you own what you pay for… and sooner or later whatever you own comes back home to you. ~ It by Stephen King
We are merely the stars' tennis-balls, struck and banded Which way please them. ~ The Duchess of Malfi by John Webster
Were we no better than chessmen, moved by an unseen power, vessels the potter fashions at his fancy, for honour or for shame? ~ Lord Arthur Savile's Crime by Oscar Wilde
There's a divinity that shapes our ends,
Rough-hew them how we will. ~ Hamlet, Prince of Denmark by William Shakespeare
Fortune's a right whore: If she give aught, she deals it in small parcels, That she may take away all at one swoop. ~ The White Devil by John Webster
But often the great cat Fate lets us go only to clutch us again in a fiercer grip. ~ The Curse of Eve by Sir Arthur Conan Doyle
It is curious to look back and realize upon what trivial and apparently coincidental circumstances great events frequently turn as easily and naturally as a door on its hinges. ~ Allan Quatermain by H. Rider Haggard
"This whole act's immutably decreed. 'Twas rehearsed by thee and me a billion years before this ocean rolled. Fool! I am the Fates' lieutenant; I act under orders." ~ Moby Dick by Herman Melville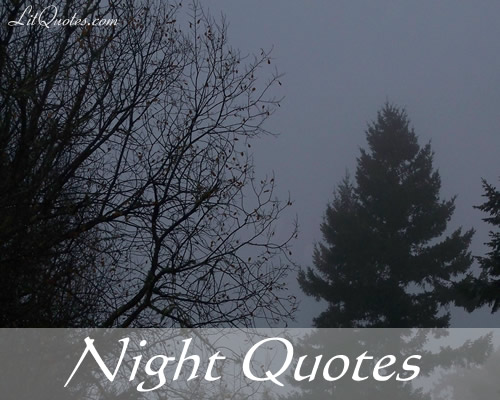 No man knows till he has suffered from the night how sweet and dear to his heart and eye the morning can be. ~ Dracula by Bram Stoker
"The owl, night's herald." ~ Venus and Adonis by William Shakespeare
They never pulled the curtains till it was too dark to see, nor shut the windows till it was too cold. Why shut out the day before it was over? The flowers were still bright; the birds chirped. You could see more in the evening often when nothing interrupted, when there was no fish to order, no telephone to answer. ~ Between the Acts by Virginia Woolf
The longest way must have its close,—the gloomiest night will wear on to a morning. ~ Uncle Tom's Cabin by Harriet Beecher Stowe
In the dead vast and middle of the night. ~ Hamlet, Prince of Denmark by William Shakespeare
At the enchanted metropolitan twilight I felt a haunting loneliness sometimes, and felt it in others–poor young clerks who loitered in front of windows waiting until it was time for a solitary restaurant dinner–young clerks in the dusk, wasting the most poignant moments of night and life. ~ The Great Gatsby by F. Scott Fitzgerald
The cool peace and dewy sweetness of the night filled me with a mood of hope: not hope on any definite point, but a general sense of encouragement and heart-ease. ~ Villette by Charlotte Bronte
Night, the mother of fear and mystery, was coming upon me. ~ The War of the Worlds by H. G. Wells
Once upon a midnight dreary, while I pondered, weak and weary,
Over many a quaint and curious volume of forgotten lore– ~ The Raven by Edgar Allan Poe
With a fierce action of her hand, as if she sprinkled hatred on the ground, and with it devoted those who were standing there to destruction, she looked up once at the black sky, and strode out into the wild night. ~ Dombey and Son by Charles Dickens
Leonard looked at her wondering, and had the sense of great things sweeping out of the shrouded night. But he could not receive them, because his heart was still full of little things. ~ Howards End by E. M. Forster
And when, on the still cold nights, he pointed his nose at a star and howled long and wolflike, it was his ancestors, dead and dust, pointing nose at star and howling down through the centuries and through him. ~ The Call of the Wild by Jack London
"Lead on!" said Scrooge. "Lead on! The night is waning fast, and it is precious time to me, I know. Lead on, Spirit!" ~ A Christmas Carol by Charles Dickens
"Good night, sweet prince, and flights of angels sing thee to thy rest!" ~ Hamlet, Prince of Denmark by William Shakespeare
With fake news running wild, how do we know what's true? Here's what William Shakespeare, Herman Melville, George R. R. Martin and others have to say.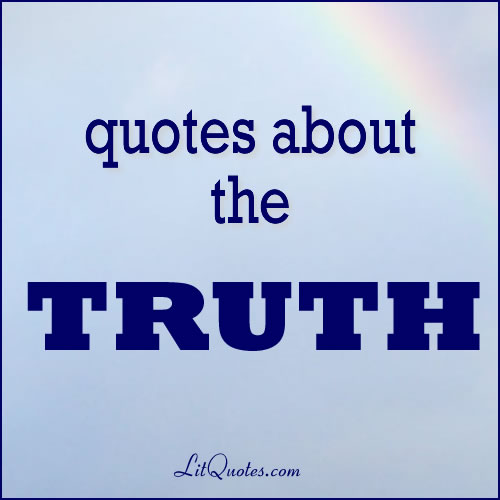 There was a great historian lost in Wolverstone. He had the right imagination that knows just how far it is safe to stray from the truth and just how far to colour it so as to change its shape for his own purposes. ~ Captain Blood by Rafael Sabatini
"Truth is like a thrashing-machine; tender sensibilities must keep out of the way." ~ The Confidence-Man by Herman Melville
You'll find truth in your looking glass, not on the tongues of men. ~ A Feast for Crows by George R. R. Martin
Being in a minority, even a minority of one, did not make you mad. There was truth and there was untruth, and if you clung to the truth even against the whole world, you were not mad. ~ Nineteen Eighty-Four by George Orwell
"It is an old maxim of mine that when you have excluded the impossible, whatever remains, however improbable, must be the truth." ~ The Adventure of the Beryl Coronet by Sir Arthur Conan Doyle
"Journalists say a thing that they know isn't true, in the hope that if they keep on saying it long enough it will be true." ~ The Title by Arnold Bennett
People often claim to hunger for truth, but seldom like the taste when it's served up. ~ A Clash of Kings by George R. R. Martin
"I make no manner of doubt that you threw a very diamond of truth at me, though you see it hit me so directly in the face that it wasn't exactly appreciated, at first." ~ Uncle Tom's Cabin by Harriet Beecher Stowe
Truth is tough. It will not break, like a bubble, at a touch; nay, you may kick it about all day, like a football, and it will be round and full at evening. ~ The Professor at the Breakfast Table by Oliver Wendell Holmes, Sr.
"For truth is truth to the end of reckoning." ~ Measure for Measure by William Shakespeare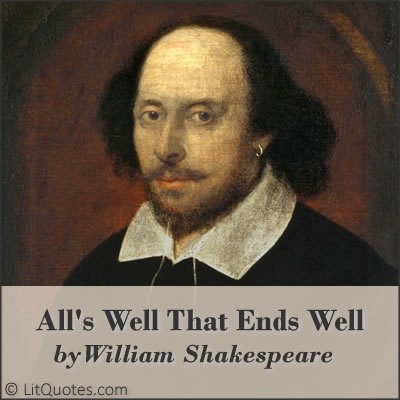 All's Well That Ends Well is a play by William Shakespeare. It's believed that Shakespeare wrote it between 1604 and 1605.
Historically the play has been classified as a comedy.  However some critics believe it to be one of his "problem plays", so named because they cannot be neatly classified as tragedy or comedy.  The other problem plays are Measure for Measure and Troilus and Cressida.
"Moderate lamentation is the right of the dead: excessive grief the enemy to the living." ~ All's Well That Ends Well by William Shakespeare
Resources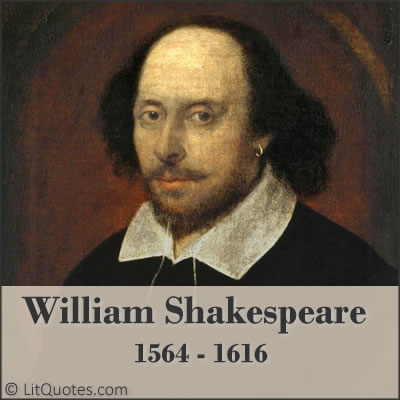 William Shakespeare was an English poet, playwright and actor.  His plays have been translated into every major living language and are performed more often than those of any other playwright.
Shakespeare was baptised on April 26, 1564 and died on April 23, 1616.  While his exact date of birth is unknown, historians believe it to be April 23, 1564.
At the age of 18, Shakespeare married Anne Hathaway.  They had three children: Susanna, and twins Hamnet and Judith. Sometime between 1585 and 1592, Shakespeare began a career in London as an actor, writer, and part-owner of a theatrical company called the Lord Chamberlain's Men.  The company later changed its name to the King's Men.
It's believed that in 1613 Shakespeare retired to Stratford.  He died there three years later.
There are few records of Shakespeare's private life.  That's lead to much speculation about his physical appearance, sexuality, religious beliefs and the authenticity of works attributed to him.
William Shakespeare at Amazon.com
Comedies by William Shakespeare
Pericles, Prince of Tyre
Twelfth Night
Histories by William Shakespeare
Henry VI, part 3
Richard III
Tragedies by William Shakespeare
Partial List of Poems by William Shakespeare
The Sonnets
The Rape of Lucrece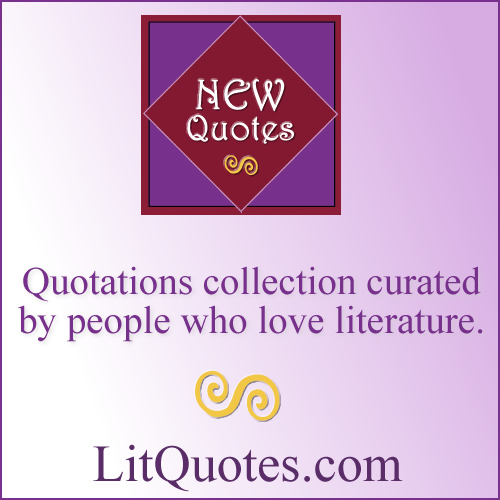 New quotes were added to the site today.  Just a reminder that all of the quotes list an author and a source. This quotation collection is curated by people and NOT by a computer program.
Here are some quotes from the new additions. . .
No legacy is so rich as honesty. ~ All's Well That Ends Well by William Shakespeare
"I'm so thankful for friendship. It beautifies life so much." ~ Anne Of Avonlea by Lucy Maud Montgomery
She was becoming herself and daily casting aside that fictitious self which we assume like a garment with which to appear before the world. ~ The Awakening by Kate Chopin
Truth uncompromisingly told will always have its ragged edges. ~ Billy Budd by Herman Melville
"Truth is like a thrashing-machine; tender sensibilities must keep out of the way." ~ The Confidence-Man by Herman Melville
The first thing you learn in life is you're a fool. The last thing you learn in life is you're the same fool. ~ Dandelion Wine by Ray Bradbury
"You must be the best judge of your own happiness." ~ Emma by Jane Austen