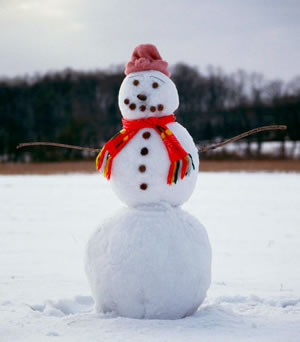 At this time of year I find myself wishing for just a bit of snow.  I miss the softly falling flakes and the quiet of a neighborhood blanketed with white.
That's the inspiration behind today's selection of snow quotes.  You can click here to see the entire collection of snow quotes.
"At Christmas I no more desire a rose
Than wish a snow in May's new-fangled shows;
But like of each thing that in season grows."
~  Love's Labour's Lost by William Shakespeare
The night was clear and frosty, all ebony of shadow and silver of snowy slope; big stars were shining over the silent fields; here and there the dark pointed firs stood up with snow powdering their branches and the wind whistling through them. ~  Anne of Green Gables by Lucy Maud Montgomery
There are moments when Nature reveals the passion hidden beneath the careless calm of her ordinary moods–violent spring flashing white on almond-blossom through the purple clouds; a snowy, moonlit peak, with its single star, soaring up to the passionate blue; or against the flames of sunset, an old yew-tree standing dark guardian of some fiery secret. ~  The Forsyte Saga by John Galsworthy

I had to share today's LitQuotes Duo.  If you'd like to see more of these, go to the daily quotes page.  There's a different one every day.
"Diseased nature oftentimes breaks forth in strange eruptions." ~ Henry IV, Part One by William Shakespeare
Share this Quote
Certain it is that minds, like bodies, will often fall into a pimpled ill-conditioned state from mere excess of comfort, and like them, are often successfully cured by remedies in themselves very nauseous and unpalatable. ~ Barnaby Rudge by Charles Dickens
Share this Quote
Can people suffer from pimples of the mind?


I added new quotes to the site today!  The quotes are from Romeo and Juliet, Hamlet, She, Old Christmas and The Gift of the Magi.  I've got a few of my favorites below.
I'd like to thank Tim F. for contributing  the H. Rider Haggard quote.  If you have a quote that you'd like to see in the collection, please feel free to submit a quote like Tim did.
Life is made up of sobs, sniffles, and smiles, with sniffles predominating. ~ The Gift of the Magi by O. Henry
Young men's love, then, lies
Not truly in their hearts, but in their eyes. ~ Romeo and Juliet by William Shakespeare
"My bounty is as boundless as the sea,
My love as deep; the more I give to thee,
The more I have, for both are infinite." ~ Romeo and Juliet by William Shakespeare
Other LitQuotes Features
Yesterday I wrote about the practice of sticking love letters Casa di Giulietta (Juliet's House) in Verona.  I discovered that there was a movie made about the custom.  Here's the trailer . . .
Letters to Juliet DVD
Quotes from Romeo and Juliet by William Shakespeare
In Verona, Italy there's a house called Casa di Giulietta or Juliet's House.  While Romeo and Juliet are fictional characters, that hasn't stopped thousands of tourists from flocking to Juliet's house and attaching their love letters to Juliet's wall.  It's said that affixing a love letter to the wall will make the love everlasting.
It's very romantic and evidently very messy as the notes are often stuck to the wall using chewing gum.  The Verona city council has now banned the practice except for specially marked panels.  The fine for bypassing the special panels and attaching a note to the wall of Juliet's house is 500 euros.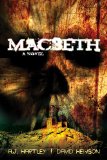 Shakespeare fans will be interested in today's Kindle Daily Deal.  The Kindle version of Macbeth: A Novel is available for less than the cost of a latte.
This is not your parents' Macbeth or the one you read in high-school English class. A dark and bloody tale of a Scottish lord and his beloved wife, Macbeth: A Novel hurtles toward readers in gripping contemporary prose, thanks to novelists David Hewson and A. J. Hartley.

Set in eleventh-century Scotland, Macbeth: A Novel is rich with ancient clans battling fiercely against one another and against the foreign marauders raiding their borders. Macbeth, Lord of Moray, and his wife, Skena, are loyal patriots, willing to kill or be killed to protect the Scottish kingdom. Yet the greatest danger to their beloved homeland is proving to be the king himself, Duncan, whose corrupt, bloody reign threatens to destroy the country. After Macbeth meets a trio of witches, the frustrated hero begins to think that perhaps Scotland needs a new king—him. But what begins as a plan fueled by the best of intentions soon spirals into murder, treachery, and personal collapse. In the language of today's fast-paced thrillers, Hewson and Hartley create an electrifying tapestry out of Shakespeare's tale, relaunching two of the most powerful characters ever created.
You might want to bookmark the Kindle Daily Deal. You never know what they'll have.

What do I mean by LitQuotes Duo?  Sometimes quotes, like chocolate chip cookies, are best served in pairs. Duos may be similar, surprising, contradictory or odd. They can make you smile or even make you think.
Today's Duo is one of my favorites! It deals with all things green.
Quote One: "O, beware, my lord, of jealousy! It is the green-eyed monster, which doth mock the meat it feeds on." ~ Othello by William Shakespeare
Quote Two: The snotgreen sea. The scrotumtightening sea. ~ Ulysses by James Joyce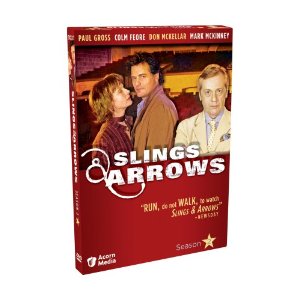 Season One of Slings & Arrows dealt with a production of Hamlet.  The second season of Slings & Arrows takes on the dreaded Macbeth.  Along the way the characters face  issues as diverse as love, death, middle age and tax audits.
What can I tell you?  It's smart.  It's funny.  I enjoyed it immensely.
"There would have been a time for such a word. To-morrow, and to-morrow, and to-morrow, creeps in this petty pace from day to day, to the last syllable of recorded time; And all our yesterdays have lighted fools The way to dusty death. Out, out, brief candle! Life's but a walking shadow; a poor player, that struts and frets his hour upon the stage, and then is heard no more: it is a tale told by an idiot, full of sound and fury, signifying nothing." – Macbeth by William Shakespeare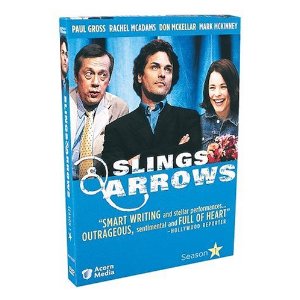 One evening I was looking through the TV comedies section of Netflix and I found this gem.  The first season of Slings & Arrows focuses on a production of Hamlet by a Shakespearean theater troupe.  There are artistic differences, personal issues, romantic problems, corporate drama and, last but not least, a ghost.
"To be, or not to be,–that is the question:–whether 'tis nobler in the mind to suffer the slings and arrows of outrageous fortune or to take arms against a sea of troubles, and by opposing end them?" ~ Hamlet by William Shakespeare


We've added over 20 new quotes to our collection.   I'm not quite sure how it happened, but all the new quotes are from two titles.  There are Hamlet quotes and Heart of Darkness quotes.