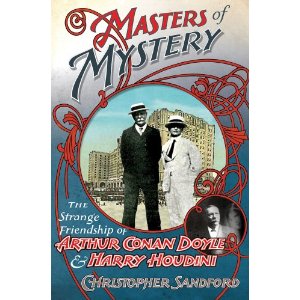 Fans of Sir Arthur Conan Doyle will be happy to hear that a new book about his life will soon be published. Masters of Mystery: The Strange Friendship of Arthur Conan Doyle and Harry Houdini tells about the friendship and conflict between Conan Doyle and Harry Houdini.
People unfamiliar with Conan Doyle's life may be surprised to learn that he was a proponent of Spiritualism.  He firmly believed that it was possible to communicate with those who had passed over to the other side.
Houdini, who was hit hard by the death of his beloved mother, was outraged at the tricks mediums used during their seances.  He used his experience as a magician and illusionist to expose the fraudulent spiritualists.

Amazon says this about the book:
Renowned mystery author Arthur Conan Doyle and famous illusionist Harry Houdini first met in 1920, during the magician's tour of England. At the time, Conan Doyle had given up his lucrative writing career, killing off Sherlock Holmes in the process, in order to concentrate on his increasingly manic interest in Spiritualism. Houdini, who regularly conducted séances in an attempt to reach his late mother, was also infatuated with the idea of what he called a "living afterlife," though his enthusiasm came to be tempered by his ability to expose fraudulent mediums, many of whom employed crude variations of his own well-known illusions. Using previously unpublished material on the murky relationship between Houdini and Conan Doyle, this sometimes macabre, sometimes comic tale tells the fascinating story of the relationship between two of the most loved figures of the 20th century and their pursuit of magic and lost loved ones.
Learn More:
Conan Doyle and Spiritualism – Article on Conan Doyle's belief in Spiritualism from our partner site, The Chronicles of Sir Arthur Conan Doyle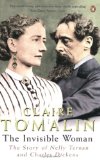 One of the first biographies I read about Charles Dickens was The Invisible Woman by Claire Tomalin.  The book focuses on Dickens' affair with the actress Ellen Ternan.
Charles Dickens and Nelly Ternan met in 1857; she was 18, a hard-working actress performing in his production of The Frozen Deep, and he was 45, the most lionized writer in England. Out of their meeting came a love affair that lasted thirteen years and destroyed Dickens's marriage while effacing Nelly Ternan from the public record.

In this remarkable work of biography and scholarly reconstruction, the acclaimed biographer of Mary Wollstonecraft, Thomas Hardy, Samuel Pepys and Jane Austen rescues Nelly from the shadows of history, not only returning the neglected actress to her rightful place, but also providing a compelling portrait of the great Victorian novelist himself. The result is a thrilling literary detective story and a deeply compassionate work that encompasses all those women who were exiled from the warm, well-lighted parlors of Victorian England.
You can learn more about Dickens' marriage and affair on our partner site, Charles Dickens Info.