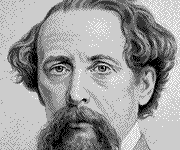 Are you ready for a gruesome Halloween tale featuring Charles Dickens?  Then head on over to the Historical Society of Pennsylvania's site to learn about Charles Dickens, the Supernatural and Captain Murderer.
While our partner site, Charles Dickens Info, touches on Captain Murder the article from HSP provides more chilling details of the vile villain.
The young woman who brought me acquainted with Captain Murderer had a fiendish enjoyment of my terrors, and used to begin, I remember – as a sort of introductory overture – by clawing the air with both hands, and uttering a long low hollow groan. So acutely did I suffer from this ceremony in combination with this infernal Captain, that I sometimes used to plead I thought I was hardly strong enough and old enough to hear the story again just yet. The Uncommercial Traveller – Nurse's Stories by Charles Dickens
If you haven't heard about The Uncommercial Traveler, here's the scoop.  In 1859 Dickens founded a new journal called All the Year Round.  The Uncommercial Traveller articles by Dickens appeared in that journal.  Seventeen Uncommercial Traveller articles were printed in All the Year Round in 1860.  Dickens wrote eleven more articles between 1863 and 1865.  A few more were written between 1868 and 1869.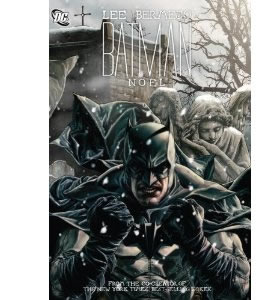 On November 8th DC Comics is going to release Batman: Noel.  In this graphic novel the Dark Knight looks at his past, present and future.  (Hmmm . . . does this sound like any Dickens character we know?)  Robin, Catwoman, Superman and The Joker all take part in this journey.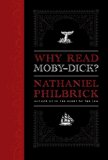 I adore Moby Dick by Herman Melville.  This site's quotation collection reflects that.  (Click here to see quotes from Moby Dick.)  However my appreciation for the novel is nothing compared to that of Nathaniel Philbrick's.
Philbrick's book Why Read Moby-Dick? helps us understand the time period of the book's creation as well as showing us how it relates to our lives today.
Amazon has this to say:
Philbrick skillfully navigates Melville's world and illuminates the book's humor and unforgettable characters-finding the thread that binds Ishmael and Ahab to our own time and, indeed, to all times. A perfect match between author and subject, Why Read Moby-Dick? gives us a renewed appreciation of both Melville and the proud seaman's town of Nantucket that Philbrick himself calls home. Like Alain de Botton's How Proust Can Change Your Life, this remarkable little book will start conversations, inspire arguments, and, best of all, bring a new wave of readers to a classic tale waiting to be discovered anew.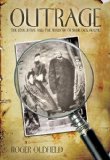 Arthur Conan Doyle didn't just write mysteries, he actually solved a few.  One of his most famous cases is the George Edalji case.
Roger Oldfield has written a book about the case, Outrage: The Edalji Five and the Shadow of Sherlock Holmes.  Mr. Oldfield brings a unique perspective to the case as someone who has met descendents of individuals involved in the case.  He's also familiar with the area where the case took place.
Roger Oldfield recently told LitQuotes this about the case and about his new book:

'SHERLOCK HOLMES AT WORK'.  This was the headline in the Daily Telegraph on January 11 1907 when Sir Arthur Conan Doyle in the first of two articles announced to the world that he was taking up the case of George Edalji.    The great novelist George Meredith, one of the many literary friends who wrote to congratulate him, put it this way: Sherlock Holmes, he said, had shown 'what can be done in the life of breath'.

There had already been a national outcry in 1903 when George Edalji of Great Wyrley in Staffordshire had been convicted of wounding a pony, the 8th of a series of barbarous outrages against animals in his home village.  The fact however that the very creator of Sherlock Holmes seemed in 1907 to be acting out the part of his own creation, the most famous character in British fiction, gave George Edalji's cause worldwide fame: newspapers from New York to Paris to Mumbai reported the developing events of 1907 with fascination.  Conan Doyle not only acted as sleuth, scouring the scene of the crime and interviewing the major players;  he also had his real-life Inspector Lestrade as adversary, in the shape of George Anson, Chief Constable of Staffordshire, whom he blamed for George Edalji's wrongful conviction.
The shadow of Sherlock Holmes has hung over the story every since. 'It is a blot upon the record of English Justice,' Conan Doyle wrote in his Memories and Adventures in 1924, 'and even now it should be wiped out.' This was the verdict which echoed for decades through the pens of many of the dozens of his admirers and biographers – 'a very gentle, perfect knight (Lamond, 1931), a 'brilliant vindication of Edalji' (Pemberton, 1936), 'the incarnation of the English conscience' (Nordon, 1968).  Even Julian Barnes, who has revived worldwide interest in the story in his novel Arthur & George (2005), the bookies' favourite for the top literary prize in Britain in 2005, does not question Conan Doyle's view that Edalji was innocent.
There is evidence, however, which runs counter to the Conan Doyle view, as the local historian Michael Harley suggested in the 1980s.   Roger Oldfield's book Outrage: The Edalji Five and the Shadow of Sherlock Holmes, Vanguard Press, 2010, is the first to go behind the scenes and assess the evidence for and against George Edalji in full.  A conclusion is reached on whether the man who believed in fairies had been taken in by the mild-mannered, middle class myopic from Great Wyrley.   As for Julian Barnes's novel, that too is subjected to rigorous scrutiny and the general reader is given a glimpse into how far it remains true to the actual historical record.
Also new, and of special interest for Conan Doyle addicts, is an account of the extraordinary secret war which broke out between Conan Doyle and Chief Constable Anson.  At one point their furious dispute led each of them to appeal to Winston Churchill for support.   Anson was utterly contemptuous of the detective skills of the man many thought actually was Sherlock Holmes, and his seething hatred for the world-famous writer lasted until his death.
Roger Oldfield's book suggests that the shadow of Sherlock Holmes hanging over the story has obscured the fascinating history of the Edalji family as a whole.  His research has uncovered a mass of new material about all five members of the family which has never been published before.
For full details of the book see www.outrage-rogeroldfield.co.uk
'unlikely to be surpassed as a comprehensive, intelligent, balanced and intensely readable account' ~ The Newsletter of the Sherlock Holmes Society of London
'certainly the best thing there is concerning the Edalji case on every count' ~ D. Michael Risinger, Professor of Law, Newark, USA.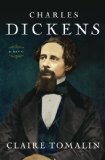 Just in time for his 200th birthday, Claire Tomalin, the author of The Invisible Woman, comes out with Charles Dickens: A Life. (The book will be released October 27, but can be pre-ordered now.)
Amazon has this to say about Charles Dickens: A Life, "Charles Dickens: A Life gives full measure to Dickens's heroic stature-his huge virtues both as a writer and as a human being- while observing his failings in both respects with an unblinking eye. Renowned literary biographer Claire Tomalin crafts a story worthy of Dickens's own pen, a comedy that turns to tragedy as the very qualities that made him great-his indomitable energy, boldness, imagination, and showmanship-finally destroyed him. The man who emerges is one of extraordinary contradictions, whose vices and virtues were intertwined as surely as his life and his art."