Jane Austen's Death – Could it have been Arsenic Poisoning?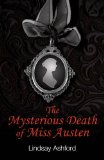 Jane Austen is famous for her  works of romantic fiction like Emma as well as Pride and Prejudice.  The beloved author was born on December 16, 1775 and died on July 18, 1817.
Over the years many people have wondered the cause of Jane Austen's death at the age of 41.  Was it Addison's disease?  Maybe Hodgkin's lymphoma?  Now Lindsay Ashford, a British crime novelist and journalist, puts forth a new theory in her book The Mysterious Death of Miss Austen.  Ashford speculates that Jane Austen died of arsenic poisoning. Evidently arsenic was a common ingredient in medicine during the time of Jane Austen.  Talk about the cure being worse than the disease!