The House of Silk – a NEW Sherlock Holmes Novel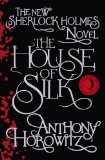 In January of  this year Anthony Horowitz made a surprising announcement at a meeting of the Sherlock Holmes Society.  The Conan Doyle Estate had authorized Horowitz to write a new Sherlock Holmes novel.    It was an absolutely unprecedented event.  The Estate had never before made such an arrangement.
The new Sherlock Holmes novel, The House of Silk, is now available and getting great reviews.
The Huffington Post ~ A book firmly rooted in the style of Doyle, faithful to the character as created and with just enough wiggle room to allow the author to say all the things he's been longing to say about the world of 221B Baker Street…THE HOUSE OF SILK will satisfy.
Publishers Weekly (starred review) ~ The hype surrounding what's being billed as the first pastiche ever officially approved by the Conan Doyle estate is amply justified … authentic. Horowitz gets everything right-the familiar narrative voice, brilliant deductions, a very active role for Watson, and a perplexing and disturbing series of puzzles to unravel-and the legion of fans of the originals will surely be begging for Horowitz to again dip into Watson's trove of untold tales.
If you have a Kindleand are a little unsure about the whole Conan Doyle replacement issue, then you can download a sample chapter and check it out before you commit to buying the book.