On Conan Doyle: Or, The Whole Art of Storytelling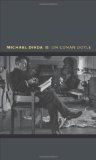 Michael Dirda, a member of The Baker Street Irregulars, has written On Conan Doyle: Or, The Whole Art of Storytelling.  This short book (210 pages) points out that there's more to Conan Doyle than Sherlock Holmes.
Here's what Amazon.com has to say about Mr. Dirda's book:
Because Arthur Conan Doyle wrote far more than the mysteries involving Holmes, this book also introduces readers to the author's lesser-known but fascinating writings in an astounding range of other genres. A prolific professional writer, Conan Doyle was among the most important Victorian masters of the supernatural short story, an early practitioner of science fiction, a major exponent of historical fiction, a charming essayist and memoirist, and an outspoken public figure who attacked racial injustice in the Congo, campaigned for more liberal divorce laws, and defended wrongly convicted prisoners. He also wrote novels about both domestic life and contemporary events (including one set in the Middle East during an Islamic uprising), as well as a history of World War I, and, in his final years, controversial tracts in defense of spiritualism.
Want to learn more?  Our partner site, The Chronicles of Sir Arthur Conan Doyle, is a great place to find out more about Conan Doyle.  And to get a taste of Conan Doyle's other writing  just click on these links: