Five Conan Doyle Quotes Having Absolutely Nothing to do with Sherlock Holmes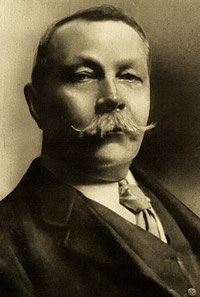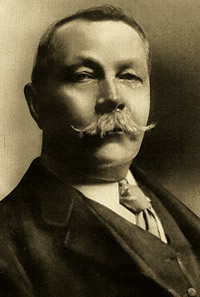 One of my favorite authors, Sir Arthur Conan Doyle, died on this day  in 1930.   He was 71 years old.
Conan Doyle is best known as the creator of Sherlock Holmes.  However he wrote many other novels and short stories.  Here are five of my favorite quotes from Sir Arthur Conan Doyle that don't have anything to do with Sherlock Holmes.
Come what may, I am bound to think that all things are ordered for the best; though when the good is a furlong off, and we with our beetle eyes can only see three inches, it takes some confidence in general principles to pull us through. ~ The Stark Munro Letters by Sir Arthur Conan Doyle
"There are times, young fellah, when every one of us must make a stand for human right and justice, or you never feel clean again." ~ The Lost World by Sir Arthur Conan Doyle
Goresthorpe Grange is a feudal mansion – or so it was termed in the advertisement which originally brought it under my notice. Its right to this adjective had a most remarkable effect upon its price, and the advantages gained may possibly be more sentimental than real. Still, it is soothing to me to know that I have slits in my staircase through which I can discharge arrows; and there is a sense of power in the fact of possessing a complicated apparatus by means of which I am enabled to pour molten lead upon the head of the casual visitor. ~ Selecting a Ghost by Sir Arthur Conan Doyle
Clouds of insects danced and buzzed in the golden autumn light, and the air was full of the piping of the song-birds. Long, glinting dragonflies shot across the path, or hung tremulous with gauzy wings and gleaming bodies. ~ The White Company by Sir Arthur Conan Doyle
What can we know? What are we all? Poor silly half-brained things peering out at the infinite, with the aspirations of angels and the instincts of beasts. ~ The Stark Munro Letters by Sir Arthur Conan Doyle