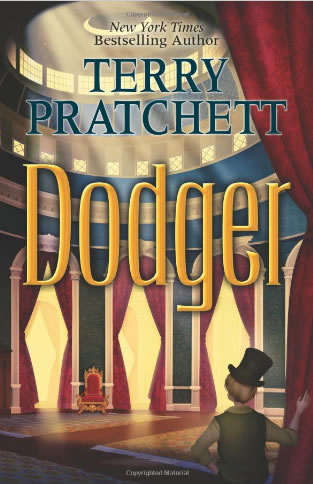 Terry Pratchett, author of the Discworld novels,  leaves fantasy for a moment to write about Victorian England with Dodger.
As you might guess, the main character of the novel is  based on the Artful Dodger from Oliver Twist.   Dodger is  a young adult who lives by his wits in London.  The story starts out on, pardon the cliché, a dark and stormy night …
A storm. Rain-lashed city streets. A flash of lightning. A scruffy lad sees a girl leap desperately from a horse-drawn carriage in a vain attempt to escape her captors. Can the lad stand by and let her be caught again? Of course not, because he's . . . Dodger.

Seventeen-year-old Dodger may be a street urchin, but he gleans a living from London's sewers, and he knows a jewel when he sees one. He's not about to let anything happen to the unknown girl—not even if her fate impacts some of the most powerful people in England.

From Dodger's encounter with the mad barber Sweeney Todd to his meetings with the great writer Charles Dickens and the calculating politician Benjamin Disraeli, history and fantasy intertwine in a breathtaking account of adventure and mystery.

Beloved and bestselling author Sir Terry Pratchett combines high comedy with deep wisdom in this tale of an unexpected coming-of-age and one remarkable boy's rise in a complex and fascinating world.
Here's the trailer for the new Great Expectations movie. The UK release date is November 30th of 2012. I haven't seen a firm release date for the US as of yet.
I've posted this over at the LitQuotes Facebook page too so that you can more easily share this with your friends.
An evening wind uprose too, and the slighter branches cracked and rattled as they moved, in skeleton dances, to its moaning music. ~ Martin Chuzzlewit by Charles Dickens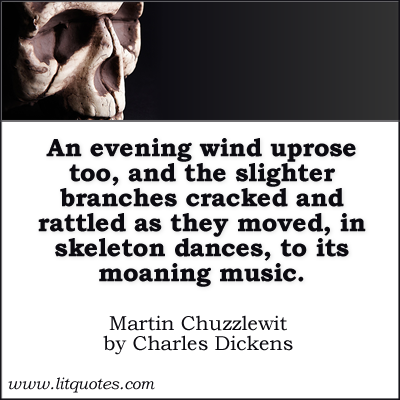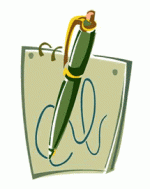 What do Charles Dickens, Algernon Blackwood, Sir Arthur Conan Doyle and W.B.Yeats all have in common? They were members of The Ghost Club.
The Ghost Club is the oldest organization in the world associated with research of psychic events and issues.   The group was founded in 1862 and exists today. Their website states:
Today the Ghost Club is a non-profit, social club run by an elected Council of volunteers and its purpose remains true to its roots; the Ghost Club offers open-minded, curious individuals the opportunity to debate, explore and investigate unexplained phenomena with like-minded people and record the results for posterity.
I really, really need to plan a trip to London.  I'd be sure to go on the Charles Dickens Walking Tour.  This video gives you an idea about what the tour would be like. It takes us to the George and Vulture, the home away from home for Pickwick in The Pickwick Papers.


If you like our daily quote, be sure to follow us on Twitter.  There's a separate daily quote:
To read between the lines was easier than to follow the text. ~ The Portrait of a Lady by Henry James ow.ly/dzYlH

— LitQuotes (@LitQuotesSite) September 15, 2012
The vice came in always at the door of necessity, not at the door of inclination. ~ Moll Flanders by Daniel Defoe ow.ly/dz7Tx

— LitQuotes (@LitQuotesSite) September 11, 2012
"When you consider things like the stars, our affairs don't seem to matter very much, do they?" ~ V. Woolf ow.ly/dz7Mw

— LitQuotes (@LitQuotesSite) September 9, 2012
There are also literary events and links:
Alert for NY #Dickens Fans – Free Exhibition Celebrates Charles DickensBirthday on.nypl.org/RSoA3y

— LitQuotes (@LitQuotesSite) September 15, 2012
Fun! 10 Awesome Bookstores Repurposed from Unused Structures flavorwire.com/326360/10-awes…

— LitQuotes (@LitQuotesSite) September 9, 2012
Charles Dickens letter about marital settlement surfaces after 150 years via @telegraph soc.li/O9FYJDD

— LitQuotes (@LitQuotesSite) September 1, 2012
One of my Twitter followers alerted me to upcoming publication of this book. The Great Charles Dickens Scandal by Professor Michael Slater addresses Dickens' affair with Ellen Ternan.
Charles Dickens was regarded as a pillar of respectability in Victorian Britain, but in 1858 this image was nearly shattered. With the break-up of his marriage that year, rumours about a scandalous relationship he may have conducted with young actress Ellen "Nelly" Ternan flourished. For the remaining twelve years of his life, Dickens struggled to quash the gossip. After his death, surviving family members did the same. But when the author's last living son died in 1934, there was no one to discourage rampant speculation. Dramatic revelations seemed to come from every corner – over Nellie's role as Dickens' mistress, the financial help he gave her, their clandestine meetings, their coded messages, and even his fathering of an illegitimate child with her. This book presents the most complete account of the scandal and ensuing coverup ever published. Drawing on the author's letters and other archival sources not previously available, Dickens scholar Michael Slater investigates what Dickens did or may have done, then traces the way the scandal was elaborated over succeeding generations. Slater shows how various writers concocted outlandish yet plausible theories while newspapers and book publishers vied for sensational revelations. With its tale of intrigue and a cast of well-known figures from Thackeray and Shaw to Orwell and Edmund Wilson, this engaging book will delight not only Dickens fans but also readers who appreciate tales of mystery, cover-up, and clever detection.

If you like our daily quote, be sure to follow us on Twitter.  There's a separate daily quote:
Change begets change. Nothing propagates so fast. ~ Martin Chuzzlewit by Charles Dickens ow.ly/b4Kz7

— LitQuotes (@LitQuotesSite) June 17, 2012
Sometimes one likes foolish people for their folly, better than wise people for their wisdom. ~ Elizabeth Gaskell ow.ly/bkndv

— LitQuotes (@LitQuotesSite) June 16, 2012
As well as other interesting items:
Scottish National Portrait Gallery and a pint at The Conan Doyle tinyurl.com/6slzglw

— LitQuotes (@LitQuotesSite) June 16, 2012
A List of 27 Surprisingly Bizarre Objects Used as Bookmarks bit.ly/Iwl2gz

— LitQuotes (@LitQuotesSite) May 2, 2012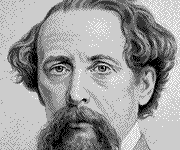 Yesterday I added 27 Barnaby Rudge quotes to the site. My favorite quote of the new batch is:
She had found her heart at last. Never having known its worth till now, she had never known the worth of his. ~ Barnaby Rudge by Charles Dickens

Other LitQuotes Features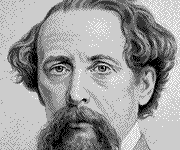 The BBC has just published an interesting article on the travels of Charles Dickens to America.   To say that the first visit didn't go well would be an understatement.  Dickens found many reasons to fault his American hosts.
Here's a quote from American Notes on just one aspect of his visit:
As Washington may be called the head-quarters of tobacco-tinctured saliva, the time is come when I must confess, without any disguise, that the prevalence of those two odious practices of chewing and expectorating began about this time to be anything but agreeable, and soon became most offensive and sickening. In all the public places of America, this filthy custom is recognised. In the courts of law, the judge has his spittoon, the crier his, the witness his, and the prisoner his; while the jurymen and spectators are provided for, as so many men who in the course of nature must desire to spit incessantly. In the hospitals, the students of medicine are requested, by notices upon the wall, to eject their tobacco juice into the boxes provided for that purpose, and not to discolour the stairs. In public buildings, visitors are implored, through the same agency, to squirt the essence of their quids, or 'plugs,' as I have heard them called by gentlemen learned in this kind of sweetmeat, into the national spittoons, and not about the bases of the marble columns. But in some parts, this custom is inseparably mixed up with every meal and morning call, and with all the transactions of social life. The stranger, who follows in the track I took myself, will find it in its full bloom and glory, luxuriant in all its alarming recklessness, at Washington. And let him not persuade himself (as I once did, to my shame) that previous tourists have exaggerated its extent. The thing itself is an exaggeration of nastiness, which cannot be outdone.
Another troubling issue was the lack of an international copyright law. It didn't exist then and Dickens was enough of a business man to realize what it cost him.  Our partner site, Charles Dickens – Gad's Hill Place, has a good article on the subject of Dickens and copyright laws.