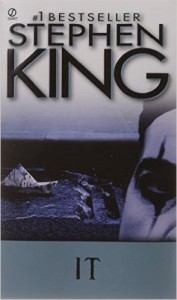 It, by Stephen King, was published in 1986. The novel won the British Fantasy Award in 1987, and received nominations for the Locus and World Fantasy Awards that same year. Publishers Weekly listed It as the best-selling book in the United States in 1986.
A miniseries based on the book aired in 1990.
If you want a good scare for Halloween, I highly recommend both the book and the miniseries.  But be warned you may never feel the same way about clowns or balloons ever again.
The terror, which would not end for another 28 years-if it ever did end-began, so far as I know or can tell, with a boat made from a sheet of newspaper floating down a gutter swollen with rain. ~ It by Stephen King
Read the book or view the miniseries.

Just in time for Halloween comes a new TV show based on Dracula by Bram Stoker.  Dracula debuts October 25th.  
In the NBC series Dracula comes to Victorian London, posing as an American entrepreneur with an interest in modern science.  (Electricity must have been very popular with the living dead crowd.) However our favorite vamp has a darker goal in mind.  He's seeking revenge on those who betrayed him long ago.
Literature and TV meet in Sleepy Hollow.  The television program by FOX brings characters from The Legend of Sleepy Hollow by Washington Irving to modern times. The television show premieres September 16th.
From the show's website:
Welcome to SLEEPY HOLLOW, the thrilling new mystery-adventure drama from co-creators/executive producers Alex Kurtzman and Roberto Orci (the "Star Trek" and "Transformers" franchises, "Fringe").

In this modern-day twist on Washington Irving's classic, ICHABOD CRANE (Tom Mison, "Salmon Fishing in the Yemen") is resurrected and pulled two and a half centuries through time to unravel a mystery that dates all the way back to the founding fathers. Revived alongside Ichabod is the infamous Headless Horseman who is on a murderous rampage in present-day Sleepy Hollow. Ichabod quickly realizes that stopping Headless is just the beginning, as the resurrected rider is but the first of the Four Horsemen of the Apocalypse and only one of the many formidable foes that Ichabod must face to protect not only Sleepy Hollow, but the world.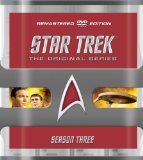 I recently watched an episode of classic Star Trek from season three entitled All Our Yesterdays.  It turns out that the title of the episode is from Macbeth.
"There would have been a time for such a word. To-morrow, and to-morrow, and to-morrow, creeps in this petty pace from day to day, to the last syllable of recorded time; And all our yesterdays have lighted fools The way to dusty death. Out, out, brief candle! Life's but a walking shadow; a poor player, that struts and frets his hour upon the stage, and then is heard no more: it is a tale told by an idiot, full of sound and fury, signifying nothing." ~ Macbeth by William Shakespeare
That's not the only reference to Shakespeare in this season.  The plot of Elaan of Troyius will be familiar to people who know of The Taming of the Shrew.  Whom Gods Destroy features a character that quotes from Shakespeare's Sonnet 18.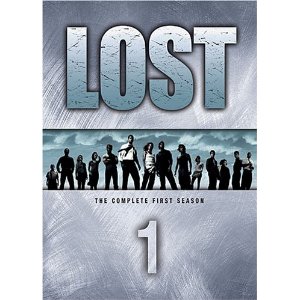 I love Netflix. One of the shows that I'm watching on it is Lost. The first season of Lost was the start of a huge adventure.  I absolutely loved it.  It was exciting.  It kept me guessing.  And there were loads of literary references.
Walkabout, the fourth episode of season one, features Jack asking Kate, "Tell me something, how come every time there's a hike into the Heart of Darkness you sign up?"
The fifth episode,  was titled White Rabbit after Alice in Wonderland.
During the flashback to Charlie's life did you notice a similarity between him and Eddie from The Dark Tower, Book 2?
At one point Kate finds Sawyer reading Watership Down.
Speaking of Sawyer reading, Hurley commented on Sawyer's reading glasses, "Dude, looks like someone steamrolled Harry Potter."
In the 17th episode Sawyer states, "Folks down on the beach might have been doctors and accountants a month ago, but it's Lord of the Flies time, now."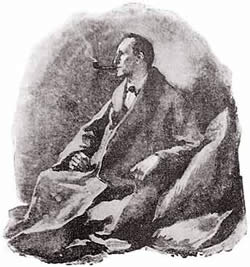 No doubt noticing the popularity of the Sherlock Holmes movies and the BBC's Sherlock, CBS is planing to launch a TV show based on the Sherlock Holmes stories.  It's early days, but some details have been announced.
The tentative title of the show is Elementary.
Jonny Lee Miller (Trainspotting, Dexter) will be playing the role of Sherlock Holmes.
Lucy Liu (Ally McBeal, Charlie's Angels) will be playing the role of Dr. Joan Watson.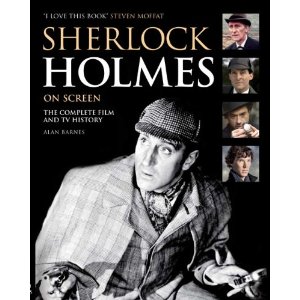 An updated edition of Sherlock Holmes On Screen is going to be released at the end of the month. However you an pre-order it now at Amazon.
Amazon has this to say:
Illustrated with rare archive pictures throughout, Sherlock Holmes on Screen is now updated with entries on the BBC's modern-day Sherlock, starring Benedict Cumberbatch, and director Guy Ritchie's all-action Sherlock Holmes, starring Robert Downey Jr – plus Sherlockian turns from Rupert Everett and Jonathan Pryce. Expanded coverage of Holmes' animated escapades opposite, among others, Batman, Scooby-Doo and the Teenage Mutant Ninja Turtles, plus new research into the Great Detective's silent film career, makes this revised edition the most comprehensive Holmes filmography ever published.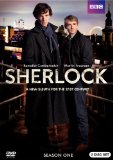 I was excited to hear the that second season of Sherlock recently started in the UK.  (Season One is available in the US from Amazon.com.)  However it sounds as though viewers got more than they bargained for with A Scandal in Belgravia.   A headline from the The Telegraph states, "Sherlock nudity before the watershed shocks viewers"   (In the UK watershed is a time period in the television schedule when adult content can be aired.)  Yikes!  I wonder what Conan Doyle would say?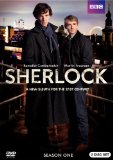 If you haven't seen this modern day retelling of the Sherlock Holmes stories then you're in for a treat.  Sherlock brilliantly walks the line between staying true to the works of Conan Doyle and giving the tale a new twist.
Wait until you see what they did with the phrase "three pipe problem." Here's the original quote:
"It is quite a three pipe problem." ~ The Red-Headed League by Sir Arthur Conan Doyle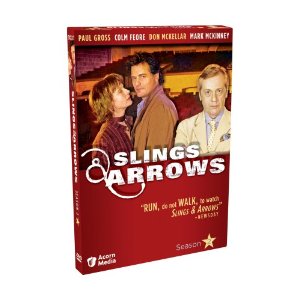 Season One of Slings & Arrows dealt with a production of Hamlet.  The second season of Slings & Arrows takes on the dreaded Macbeth.  Along the way the characters face  issues as diverse as love, death, middle age and tax audits.
What can I tell you?  It's smart.  It's funny.  I enjoyed it immensely.
"There would have been a time for such a word. To-morrow, and to-morrow, and to-morrow, creeps in this petty pace from day to day, to the last syllable of recorded time; And all our yesterdays have lighted fools The way to dusty death. Out, out, brief candle! Life's but a walking shadow; a poor player, that struts and frets his hour upon the stage, and then is heard no more: it is a tale told by an idiot, full of sound and fury, signifying nothing." – Macbeth by William Shakespeare