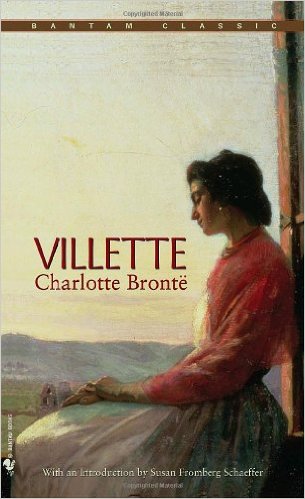 Villette is the fourth novel by Charlotte Bronte.  It was published in 1853. Bronte drew on her own experience as a teacher in Brussels in writing the novel. The book features an interesting mix of gothic and psychological themes.
I seemed to hold two lives—the life of thought, and that of reality; and, provided the former was nourished with a sufficiency of the strange necromantic joys of fancy, the privileges of the latter might remain limited to daily bread, hourly work, and a roof of shelter. ~ Villette by Charlotte Bronte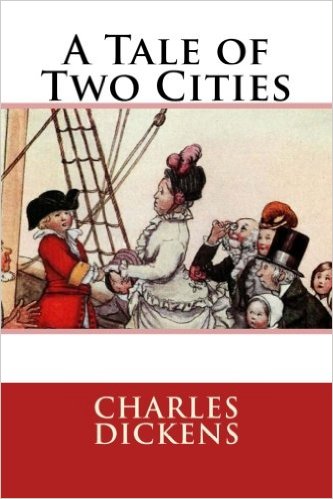 Quotes from A Tale of Two Cities
A Tale of Two Cities is the twelfth novel by Charles Dickens.  The book was published in weekly installments in All the Year Round. The first chapters of the book were published in April of 1859.  The last chapter was printed in November of that same year.
The book deals with the French revolution. It's one of the two historical novels by Dickens.  Barnaby Rudge is the other.
The idea for the novel came from a production of The Frozen Deep.  In 1857 Dickens acted in the play and portrayed the character of Richard Wardour.  (Dickens was interested in the stage and sometimes performed in amateur productions.) In the play Wardour decides that he's going to kill Frank Aldersley because Frank stole his true love, Clara Burnham.  Instead Wardour saves Aldersley's life at the cost of his own.  Wardour dies in Clara's arms and earns her eternal gratitude for saving the life of the man that she loves.
In addition to giving Dickens the idea for A Tale of Two Cites, the play brought about lasting changes to Dickens's life.  Professional actresses were hired to act in a benefit production of The Frozen Deep.  One of them was Ellen Ternan.  She became Dickens's mistress.  Their affair lasted until Dickens's death in 1870.
Learn More about A Tale of Two Cities
It was the best of times, it was the worst of times, it was the age of wisdom, it was the age of foolishness, it was the epoch of belief, it was the epoch of incredulity, it was the season of light, it was the season of darkness, it was the spring of hope, it was the winter of despair, we had everything before us, we had nothing before us, we were all going direct to heaven, we were all going direct the other way–in short, the period was so far like the present period, that some of its noisiest authorities insisted on its being received, for good or for evil, in the superlative degree of comparison only. ~ A Tale of Two Cities by Charles Dickens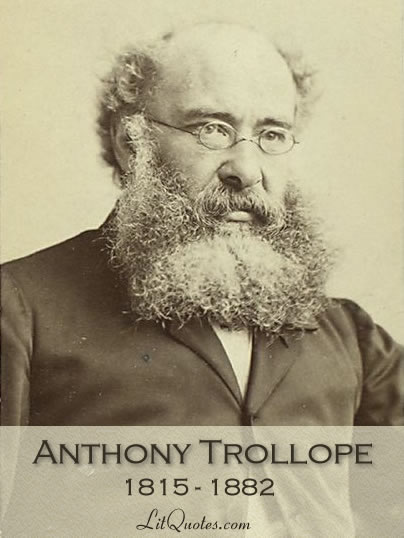 Anthony Trollope (April 24, 1815 – December 6, 1882) was one of the most successful and prolific novelists of the Victorian era. Among his best-known works is a series of novels collectively known as the Chronicles of Barsetshire, which revolves around the imaginary county of Barsetshire.
Trollope was born in London.  His father, Thomas Anthony Trollope, was an unhappy man.  He wanted his sons to be raised as gentlemen, but didn't have the means to make that happen. The money situation came to a head in 1834 when the entire Trollope family moved to Belgium to avoid being arrested for debt.
Later in 1834 Anthony accepted a position as clerk in the General Post Office in London. He worked for the postal system in various positions and locations until 1864.
Trollope wrote in his spare time and while traveling for his postal service job.  His finished his first novel, The Macdermots of Ballycloran, in 1845.
Ride at any fence hard enough, and the chances are you'll get over. The harder you ride the heavier the fall, if you get a fall; but the greater the chance of your getting over. ~ Phineas Redux by Anthony Trollope
The Novels in the Chronicles of Barsetshire are:
The Warden (1855)
Barchester Towers (1857)
Doctor Thorne (1858)
Framley Parsonage (1861)
The Small House at Allington (1864)
The Last Chronicle of Barset (1867)
Palliser Novels
Can You Forgive Her? (1865)
Phineas Finn (1869)
The Eustace Diamonds (1873)
Phineas Redux (1874)
The Prime Minister (1876)
The Duke's Children (1880)
Other Novels by Anthony Trollope
The Macdermots of Ballycloran (1847)
The Kellys and the O'Kellys (1848)
La Vendée: An Historical Romance (1850)
The Three Clerks (1858)
The Bertrams (1859)
Castle Richmond (1860)
Orley Farm (1862)
The Struggles of Brown, Jones & Robinson (1862)
Rachel Ray (1863)
Miss Mackenzie (1865)
The Belton Estate (1866)
The Claverings (1867)
Nina Balatka (1867)
Linda Tressel (1868)
He Knew He Was Right (1869)
The Vicar of Bullhampton (1870)
Sir Harry Hotspur of Humblethwaite (1871)
Ralph the Heir (1871)
The Golden Lion of Granpère (1872)
Harry Heathcote of Gangoil (1874)
Lady Anna (1874)
The Way We Live Now (1875)
The American Senator (1877)
Is He Popenjoy? (1878)
John Caldigate (1879)
An Eye for an Eye (1879)
Cousin Henry (1879)
Ayala's Angel (1881)
Doctor Wortle's School (1881)
The Fixed Period (1882)
Kept in the Dark (1882)
Marion Fay (1882)
Mr. Scarborough's Family (1883)
The Landleaguers (1883)
An Old Man's Love (1884)
Learn More about Anthony Trollope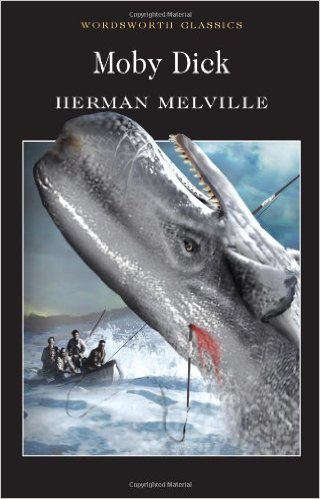 Moby Dick was written by Herman Melville. The work was first published as The Whale in London in October 1851.   The next month New York publishers issued the novel as Moby-Dick.
Moby Dick is based in part on Melville's experience on a whaler. On December 30, 1840, he signed on as a green hand on the Acushnet.
The sinking of the Nantucket ship Essex in 1820 was another inspiration for the novel.  The ship sank after it was rammed by an enraged sperm whale.
Melville also drew on one other true-life event for the tale. An article in the May 1839 issue of The Knickerbocker told about an albino whale known as Mocha Dick.  The whale was rumored to have 20 or so harpoons in his back from other whalers, and appeared to attack ships with premeditated ferocity.
Despite the popularity of the novel today, only about 3,200 copies were sold during the Melville's life.  He earned a little more than $1,200 for writing the book.
Though amid all the smoking horror and diabolism of a sea-fight, sharks will be seen longingly gazing up to the ship's decks, like hungry dogs round a table where red meat is being carved, ready to bolt down every killed man that is tossed to them. ~ Moby Dick by Herman Melville
Learn More about Moby Dick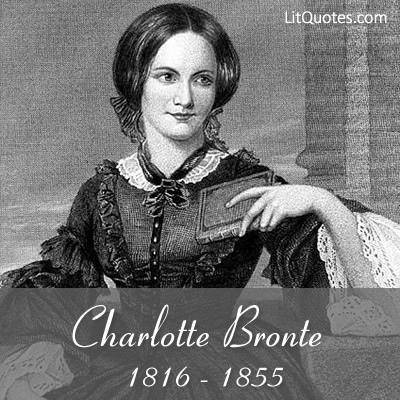 Charlotte Bronte was born on April 21, 1816 in Yorkshire.  She was the eldest of the three famous Bronte sisters.  (Anne and Emily were the other two.)  Charlotte is best known as the author of Jane Eyre.
Charlotte, Emily and Anne initially published their work using pen names.  They were Currer (Charlotte), Ellis (Emily) and Acton (Anne) Bell. The pseudonyms hid the sisters' gender while preserving their initials.
In 1854 Charlotte married Arthur Bell Nicholls.  Their courtship was turbulent.  Charlotte initially refused Arthur's marriage proposal.  Even after Charlotte accepted his proposal her father was not convinced it was a good match.  He was concerned about Nicholls's poor financial status.  Eventually all the obstacles were cleared.  They married on June 29, 1854.
Sadly, Charlotte died soon after the marriage.  She passed on March 31, 1855.  Her death certificate lists the cause of death as tuberculosis. However  some biographers suspect that she died from complications connected with the fact that she was pregnant.
To see and know the worst is to take from Fear her main advantage. ~ Villette by Charlotte Bronte
I remembered that the real world was wide, and that a varied field of hopes and fears, of sensations and excitements, awaited those who had courage to go forth into its expanse, to seek real knowledge of life amidst its perils. ~ Jane Eyre by Charlotte Bronte
Novels by Charlotte Bronte
Jane Eyre
Shirley
Villette
The Professor
Learn More about Charlotte Bronte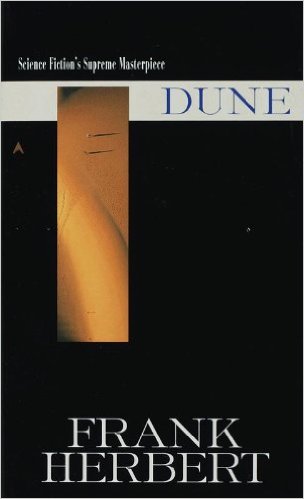 Dune, by Frank Herbert, was published in 1965.  It's the first installment of the Dune saga, and is frequently cited as the best-selling science fiction novel of all time.
There are six novels in the Dune Series by Frank Herbert:
Dune – Published in 1965
Dune Messiah – Originally serialized in the Galaxy magazine in 1969
Children of Dune – Published in 1976, it became the first hardcover best-seller in the science fiction genre
God Emperor of Dune – Published in 1981
Heretics of Dune – Published in 1984
Chapterhouse: Dune – Publisher in 1985
Herbert's Death
Frank Herbert died in 1986.  At the time of his death he'd been planning to write a seventh novel in the Dune series.  Two decades later, Brian Herbert and Kevin J. Anderson published two sequels.  Hunters of Dune  came out in 2006 and Sandworms of Dune  was published in 2007.  These two books were based in part on Frank Herbert's notes for the seventh Dune novel.
Deep in the human unconscious is a pervasive need for a logical universe that makes sense. But the real universe is always one step beyond logic. ~ Dune by Frank Herbert
Frank Herbert's full name was Frank Patrick Herbert, Jr.  He was born on October 8, 1920 in Tacoma, Washington. He's best known for his novel Dune.  Before he became a popular author he worked as a newspaper journalist, photographer, short story writer, book reviewer, ecological consultant and lecturer.  He died on February 11, 1986.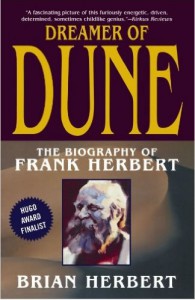 To learn more about Frank Herbert, and there's tons more to know, check out Dreamer of Dune: The Biography of Frank Herbert.  The book is written by Herbert's son, Brian.  If you're a fan of Dune you're sure to love it.  You'll also enjoy the book if you're an aspiring writer or someone trying to make a new start in life.  Frank Herbert didn't always have an easy road to travel. What he had was intellect, a strong work ethic, a unique vision and that made for one extraordinary life.  I loved this book and highly recommend it.
A fan of Dune said to me about this book, "The way that Brian presented his father, warts and all, reminded me of Dune Messiah.  Not that Brian was tearing down his father, but he presented both the good and bad about him.  I think that Frank Herbert wouldn't have had it any other way."
I must not fear. Fear is the mind-killer. Fear is the little-death that brings total obliteration. I will face my fear. I will permit it to pass over me and through me. And when it has gone past I will turn the inner eye to see its path. Where the fear has gone there will be nothing. Only I will remain. ~ Dune by Frank Herbert
Novels in the Dune Series by Frank Herbert:
Dune
Dune Messiah
Children of Dune
God Emperor of Dune
Heretics of Dune
Chapterhouse: Dune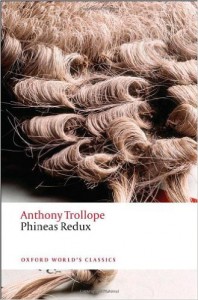 Phineas Redux, by Anthony Trollope, was first published in 1873 as a serial in The Graphic. It is the fourth of the "Palliser" series of novels.
Ride at any fence hard enough, and the chances are you'll get over. The harder you ride the heavier the fall, if you get a fall; but the greater the chance of your getting over. ~ Phineas Redux by Anthony Trollope
When you have done the rashest thing in the world it is very pleasant to be told that no man of spirit could have acted otherwise. ~ Phineas Redux by Anthony Trollope
A bull in a china shop is not a useful animal, nor is he ornamental, but there can be no doubt of his energy. ~ Phineas Redux by Anthony Trollope
More Information about Phineas Redux: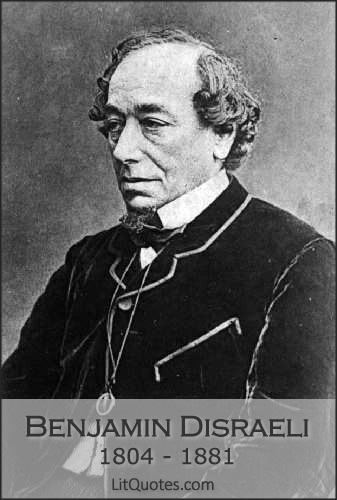 Benjamin Disraeli was born on December 21, 1804  and died on April 19, 1881.  He was a talented writer as well as a politician.  He twice served as Prime Minister. His works include Sybil, Coningsby and Vivian Grey.
While Disraeli was British, all of his grandparents and great grandparents were born in Italy
He was of Jewish birth, but later converted to Christianity.  As of this writing, he's the only person to hold the office of British Prime Minister who was born Jewish.
In 1839 Disraeli married Mary Anne Lewis.  She was twelve years older than Disraeli and had an income of £5,000 a year. "Dizzy married me for my money," his wife later said, "But, if he had the chance again, he would marry me for love."
He served as Prime Minister twice.  The first time was from February 27 to 1 December of 1868.  The second time Disraeli was Prime Minister was from February 20, 1874 to April 21, 1880.
Disraeli is remembered for his political battles with the Liberal leader, William Ewart Gladstone.
Hughenden Manor, a red brick Victorian mansion, located in High Wycombe, Buckinghamshire, England was Disraeli's country house.  In 1862 the Disraelis had the house remodelled by the architect Edward Buckton Lamb. Today, it is owned by the National Trust and open to the public.
Disraeli had a close friendship with Queen Victoria, who in 1876 created him Earl of Beaconsfield.
"There is no act of treachery or meanness of which a political party is not capable; for in politics there is no honour." ~ Vivian Grey by Benjamin Disraeli
"We are all born for love," said Morley. "It is the principle of existence, and its only end." ~ Sybil by Benjamin Disraeli
"Nurture your mind with great thoughts. To believe in the heroic makes heroes." ~ Coningsby by Benjamin Disraeli
Novels by Benjamin Disraeli
Vivian Grey
Popanilla
The Young Duke
Contarini Fleming
Ixion in Heaven
The Wondrous Tale of Alroy
The Rise of Iskander
The Infernal Marriage
Henrietta Temple
Venetia
Coningsby, or the New Generation
Sybil, or The Two Nations
Tancred, or the New Crusade
Lothair
Endymion
Falconet (unfinished)
More About Benjamin Disraeli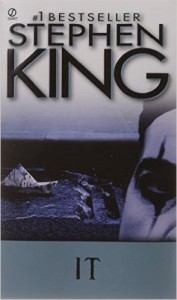 It, by Stephen King, was published in 1986. The novel won the British Fantasy Award in 1987, and received nominations for the Locus and World Fantasy Awards that same year. Publishers Weekly listed It as the best-selling book in the United States in 1986.
A miniseries based on the book aired in 1990.
If you want a good scare for Halloween, I highly recommend both the book and the miniseries.  But be warned you may never feel the same way about clowns or balloons ever again.
The terror, which would not end for another 28 years-if it ever did end-began, so far as I know or can tell, with a boat made from a sheet of newspaper floating down a gutter swollen with rain. ~ It by Stephen King
Read the book or view the miniseries.