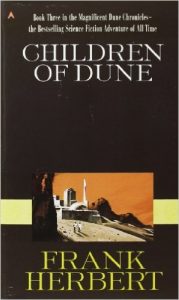 Children of Dune  by Frank Herbert is the third novel in the Dune series. Published in 1976, it was the first hardcover best-seller in the science fiction genre.
In 2003 the Sci-Fi Channel made a miniseries called Frank Herbert's Children of Dune.  The miniseries is actually an adaptation of both Dune Messiah and Children of Dune.
The book was nominated for the Hugo Award for Best Novel in 1977.  It lost to Where Late the Sweet Birds Sang by Kate Wilhelm.
The one-eyed view of our universe says you must not look far afield for problems. Such problems may never arrive. Instead, tend to the wolf within your fences. The packs ranging outside may not even exist. ~ Children of Dune by Frank Herbert
More about Children of Dune

New quotes were added to the site today.  As per usual, all of the quotes list an author and a source. We're proud that this quotation collection is curated by people and NOT by a computer program.
Here are some quotes from the new additions:
Men must want to do things of their own innermost drives. People, not commercial organizations or chains of command, are what make great civilizations work. Every civilization depends upon the quality of the individuals it produces. If you over-organize humans, over-legalize them, suppress their urge to greatness — they cannot work and their civilization collapses. ~ Children of Dune by Frank Herbert
"A sermon is not to tell you what you are, but what you ought to be, and a novel should tell you not what you are to get, but what you'd like to get." ~ The Small House at Allington by Anthony Trollope
"Must we be strangers, you and I, because there was a time in which we were almost more than friends?" ~ Phineas Finn by Anthony Trollope
Your man with a thin skin, a vehement ambition, a scrupulous conscience, and a sanguine desire for rapid improvement, is never a happy, and seldom a fortunate politician. ~ The Prime Minister by Anthony Trollope
Something unpleasant is coming when men are anxious to tell the truth. ~ The Young Duke by Benjamin Disraeli
"God did not give me my life to throw away." ~ Jane Eyre by Charlotte Bronte
The wild rains of the day are abated; the great single cloud disparts and rolls away from heaven, not passing and leaving a sea all sapphire, but tossed buoyant before a continued, long-sounding, high-rushing moonlight tempest. The moon reigns glorious, glad of the gale, as glad as if she gave herself to his fierce caress with love. ~ Shirley by Charlotte Bronte
We should acknowledge God merciful, but not always for us comprehensible. ~ Villette by Charlotte Bronte
"Your father, Jo. He never loses patience, never doubts or complains, but always hopes, and works and waits so cheerfully that one is ashamed to do otherwise before him." ~ Little Women by Louisa May Alcott
Frank Herbert's full name was Frank Patrick Herbert, Jr.  He was born on October 8, 1920 in Tacoma, Washington. He's best known for his novel Dune.  Before he became a popular author he worked as a newspaper journalist, photographer, short story writer, book reviewer, ecological consultant and lecturer.  He died on February 11, 1986.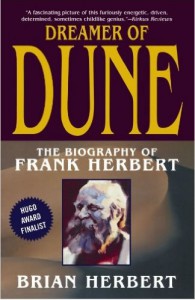 To learn more about Frank Herbert, and there's tons more to know, check out Dreamer of Dune: The Biography of Frank Herbert.  The book is written by Herbert's son, Brian.  If you're a fan of Dune you're sure to love it.  You'll also enjoy the book if you're an aspiring writer or someone trying to make a new start in life.  Frank Herbert didn't always have an easy road to travel. What he had was intellect, a strong work ethic, a unique vision and that made for one extraordinary life.  I loved this book and highly recommend it.
A fan of Dune said to me about this book, "The way that Brian presented his father, warts and all, reminded me of Dune Messiah.  Not that Brian was tearing down his father, but he presented both the good and bad about him.  I think that Frank Herbert wouldn't have had it any other way."
I must not fear. Fear is the mind-killer. Fear is the little-death that brings total obliteration. I will face my fear. I will permit it to pass over me and through me. And when it has gone past I will turn the inner eye to see its path. Where the fear has gone there will be nothing. Only I will remain. ~ Dune by Frank Herbert
Novels in the Dune Series by Frank Herbert:
Dune
Dune Messiah
Children of Dune
God Emperor of Dune
Heretics of Dune
Chapterhouse: Dune