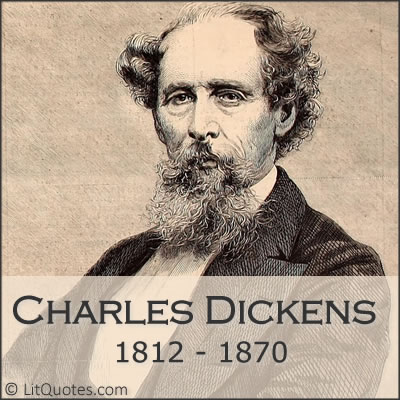 Charles Dickens was born on February 7, 1812 and died in 1870.  He's the author of A Christmas Carol, Great Expectations and other classic novels.  Now here are some things you may not know about Charles Dickens.
1 – As a child, his family was always on the verge of economic collapse. Everything fell apart for the family in 1827. Dickens' father was sent the Marshalsea debtors' prison and young Charles was sent to work in Warren's Blacking Factory. These incidents would haunt Dickens for the rest of his life.
2 – Dickens worked as law clerk, a court stenographer and even contemplated becoming an actor. Luckily for us, Dickens was ill on the day of his audition at the Lyceum Theater and couldn't go. Can you imagine a life without Scrooge?  If Dickens, who was a talented actor, had attended his audition he might not have written A Christmas Carol.
3 – In his early writing he called himself Boz. Boz? You see, one of his favorite characters in Goldsmith's Vicar of Wakefield was called Moses. Moses became Boses which became Boz.
4 – Dickens married Catherine Hogarth in 1835. There were some happy years, but in 1958 they were legally separated. One of the reasons for the separation was Dickens' interest in the actress, Ellen Ternan.
Dickens met Ellen in 1857. Matters came to a head the next year when a bracelet that Dickens bought as a present for Ellen was accidentally delivered to the Dickens household. In a scene straight from a soap opera, Catherine discovered the bracelet and accused Charles of having an affair.
5 – One of the most fascinating aspects of Charles Dickens is that he understood the power of the media. Yes, even in the Victorian Era people had to worry about the press. In September of 1860, behind his home at Gad's Hill Place, Charles Dickens tried to cover his tracks. He gathered "the accumulated letters and papers of twenty years" and set them ablaze in his backyard. What could we have learned had he not taken this action? We'll never know.
More About Charles Dickens

Happy New Year! I thought I'd start out 2015 by adding some quotes to the site.  Here are some of my favorites from the new quotes. Remember that if you have a quote that you'd like to see added to the site, you can contribute a quote.
"Many are the strange chances of the world," said Mithrandir, "and help oft shall come from the hands of the weak when the Wise falter." ~ The Silmarillion by J. R. R. Tolkien
Why do they always teach us that it's easy and evil to do what we want and that we need discipline to restrain ourselves? It's the hardest thing in the world—to do what we want. And it takes the greatest kind of courage. I mean, what we really want. ~ The Fountainhead by Ayn Rand
Sound itself appeared to be frozen up, all was so cold and still. ~ The Pickwick Papers by Charles Dickens
The mind has many watchdogs; sometimes they bark unnecessarily, but a wise man never ignores their warning. ~ A Fall of Moondust by Arthur C. Clarke
He seemed a kind of cannon loaded to the muzzle with facts, and prepared to blow them clean out of the regions of childhood at one discharge. He seemed a galvanizing apparatus, too, charged with a grim mechanical substitute for the tender young imaginations that were to be stormed away. ~ Hard Times by Charles Dickens
Is someone on your holiday shopping list a fan of Charles Dickens?  If so, may I humbly suggest you visit the Charles Dickens section of the LitQuotes Gift Shop.  One of the most popular items in the Charles Dickens section is the Novels of Charles Dickens mug.   One side features the image of the ever-popular author  of A Christmas Carol.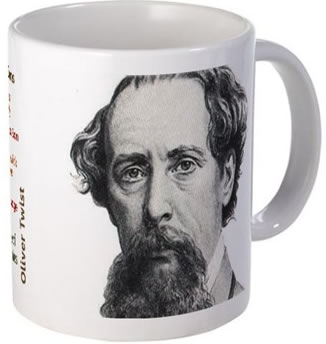 The other side lists the titles of his novels.