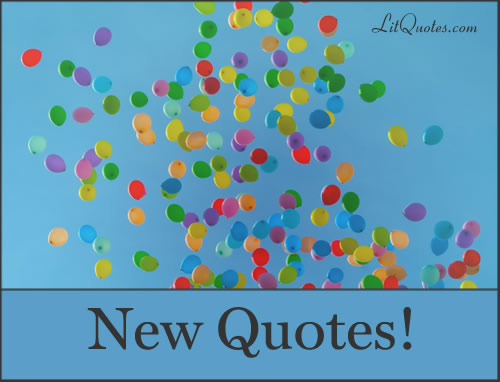 We added new quotes to the site today.  All of the quotes on this site list an author and a source. Over the next few weeks we'll add these quotes to topics.  With these new quotes we've got more than 2,800 quotes.
Here are some quotes from the new additions, but you can see them all on the new quotes page.  If you have a quote that you'd like to see added to the site, you can contribute a quote.
"I'm tired of hearing you men say that this and that and the other isn't woman's work. Any work is woman's work that a woman can do well." ~ Roast Beef, Medium by Edna Ferber
The sense of humor dies hard. ~ Personality Plus by Edna Ferber
They were strange, the facts about them: their staying inside by day, their avoidance of garlic, their death by stake, their reputed fear of crosses, their supposed dread of mirrors. ~ I Am Legend by Richard Matheson
"I say alone, for one who sits by a sleeper is indeed alone; perhaps more alone than he can realize." ~ The Shunned House by H. P. Lovecraft
There were a Rattling and Rolling, Groaning, Screeching, and Hissing, such as no Things of this Earth cou'd raise up, and which must needs have come from those Caves that only black Magick can discover, and only the Divell unlock. ~ The Dunwich Horror by H. P. Lovecraft
The ghostly winter silence had given way to the great spring murmur of awakening life. ~ The Call of the Wild by Jack London
"Didst thou ever see a lark in a cage? Such is the soul in the body." ~ The Duchess of Malfi by John Webster
"Don't think of what's past!" said she. "I am not going to think outside of now. Why should we! Who knows what to-morrow has in store?" ~ Tess of the D'Urbervilles by Thomas Hardy
"Christmas isn't a season. It's a feeling." ~ Roast Beef, Medium by Edna Ferber
I've made a new quote photo for you to share with family and friends.  I've also posted it on the LitQuotes Facebook page.  Enjoy!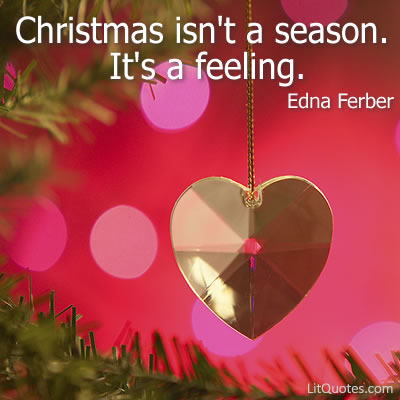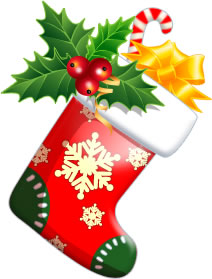 It's beginning to look a lot like Christmas at my house.  The tree is almost decorated.  We're sending Christmas cards out on Friday and the shopping is progressing nicely.   All of this has put me in the holiday spirit.  So I thought I'd share some of my favorite quotes from the LitQuotes Christmas quotations collection.
Heap on more wood!–the wind is chill;
But let it whistle as it will,
We'll keep our Christmas merry still.
~  Marmion by Sir Walter Scott
It is, indeed, the season of regenerated feeling–the season for kindling, not merely the fire of hospitality in the hall, but the genial flame of charity in the heart.
~  Old Christmas by Washington Irving
"Christmas isn't a season. It's a feeling."
 ~ Roast Beef, Medium by Edna Ferber
"I will honour Christmas in my heart, and try to keep it all the year. I will live in the Past, the Present, and the Future. The Spirits of all Three shall strive within me. I will not shut out the lessons that they teach. Oh, tell me I may sponge away the writing on this stone!" ~  A Christmas Carol by Charles Dickens