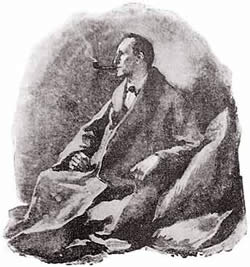 Sherlock Holmes is at your service!  Our partner site, The Chronicles of Sir Arthur Conan Doyle, has a fun feature that allows you to ask Sherlock Holmes a yes or no question.   It's fun and it's addictive!

I am one of the luckiest people I know.  My day job is as a self-employed website developer.  I get to live my dream, working from home while I help people make their dreams come true, because of the Internet. Proposed laws threaten our ability to make a living on the Internet, express ourselves on the Internet, do research on the Internet and touch other people's lives via the Internet.
On January 18th I'm blacking out my three literary sites LitQuotes, The Chronicles of Sir Arthur Conan Doyle and Charles Dickens Gad's Hill Place in protest of the Internet censorship bills, SOPA & PIPA.
If you'd like to take part in the protest you can install this WordPress plugin to your WordPress site or click here to learn about other ways to take part.
.
The Toronto Star has an interesting story of the Dickens collection of Dan Calinescu.  Mr. Calinescu's extensive collection includes first editions, pages from working manuscripts, letters and many, many copies of the works of Dickens.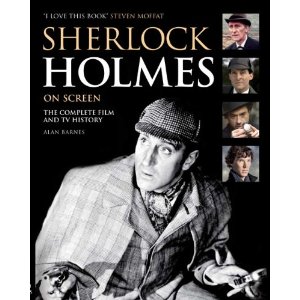 An updated edition of Sherlock Holmes On Screen is going to be released at the end of the month. However you an pre-order it now at Amazon.
Amazon has this to say:
Illustrated with rare archive pictures throughout, Sherlock Holmes on Screen is now updated with entries on the BBC's modern-day Sherlock, starring Benedict Cumberbatch, and director Guy Ritchie's all-action Sherlock Holmes, starring Robert Downey Jr – plus Sherlockian turns from Rupert Everett and Jonathan Pryce. Expanded coverage of Holmes' animated escapades opposite, among others, Batman, Scooby-Doo and the Teenage Mutant Ninja Turtles, plus new research into the Great Detective's silent film career, makes this revised edition the most comprehensive Holmes filmography ever published.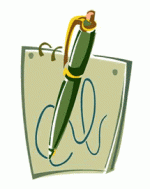 For me, no trip to Portland, Oregon is complete without a visit to Powell's Books.  The store is huge and I can spend hours happily wandering through the different sections of the store.
For those of you not in the Portland area, don't despair!  Powell's has a great website.   You can buy new, used or ebooks.   You can sell books, cast your vote for the winner of the 2012 Puddly Awards or read interesting articles like Billie Bloebaum's favorite Sci-Fi and Fantasy novels of 2011.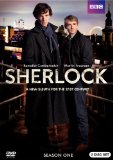 I was excited to hear the that second season of Sherlock recently started in the UK.  (Season One is available in the US from Amazon.com.)  However it sounds as though viewers got more than they bargained for with A Scandal in Belgravia.   A headline from the The Telegraph states, "Sherlock nudity before the watershed shocks viewers"   (In the UK watershed is a time period in the television schedule when adult content can be aired.)  Yikes!  I wonder what Conan Doyle would say?

Happy New Year!  May 2012 bring you health, laughter and love.  Here are some quotes from our daily quotes page for the new year . . .
The future was with Fate. The present was our own. ~ The Poison Belt by Sir Arthur Conan Doyle
"Now, I return to this young fellow. And the communication I have got to make is, that he has great expectations." ~ Great Expectations by Charles Dickens
"Ride on! Rough-shod if need be, smooth-shod if that will do, but ride on! Ride on over all obstacles, and win the race!" ~ David Copperfield by Charles Dickens