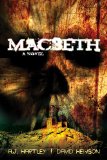 Shakespeare fans will be interested in today's Kindle Daily Deal.  The Kindle version of Macbeth: A Novel is available for less than the cost of a latte.
This is not your parents' Macbeth or the one you read in high-school English class. A dark and bloody tale of a Scottish lord and his beloved wife, Macbeth: A Novel hurtles toward readers in gripping contemporary prose, thanks to novelists David Hewson and A. J. Hartley.

Set in eleventh-century Scotland, Macbeth: A Novel is rich with ancient clans battling fiercely against one another and against the foreign marauders raiding their borders. Macbeth, Lord of Moray, and his wife, Skena, are loyal patriots, willing to kill or be killed to protect the Scottish kingdom. Yet the greatest danger to their beloved homeland is proving to be the king himself, Duncan, whose corrupt, bloody reign threatens to destroy the country. After Macbeth meets a trio of witches, the frustrated hero begins to think that perhaps Scotland needs a new king—him. But what begins as a plan fueled by the best of intentions soon spirals into murder, treachery, and personal collapse. In the language of today's fast-paced thrillers, Hewson and Hartley create an electrifying tapestry out of Shakespeare's tale, relaunching two of the most powerful characters ever created.
You might want to bookmark the Kindle Daily Deal. You never know what they'll have.
Happy Friday! I hope you enjoy this video of The Dumb Man by Sherwood Anderson.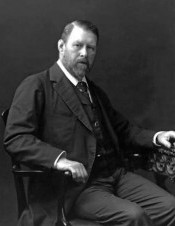 April 20th marked 100 years since the death of Bram Stoker, the author of Dracula.
An interesting fact about Stoker is that he was a late bloomer in terms of his writing career.  His work history included theater critic, civil servant and 27 years spent as the manager of the Lyceum Theater in London.  Stoker didn't publish Dracula until he was fifty years old.
Then a dog began to howl somewhere in a farmhouse far down the road, a long, agonized wailing, as if from fear. The sound was taken up by another dog, and then another and another, till, borne on the wind which now sighed softly through the Pass, a wild howling began, which seemed to come from all over the country, as far as the imagination could grasp it through the gloom of the night. ~ Dracula by Bram Stoker
[amazon_carousel widget_type="SearchAndAdd" width="450″ height="200″ title="" market_place="US" shuffle_products="False" show_border="False" keywords="dracula" browse_node="" search_index="DVD" /]
The folks at Abe Books have put together a fun video about Lewis Carroll, the author of Alice's Adventures in Wonderland.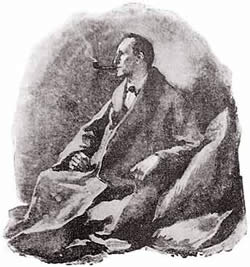 No doubt noticing the popularity of the Sherlock Holmes movies and the BBC's Sherlock, CBS is planing to launch a TV show based on the Sherlock Holmes stories.  It's early days, but some details have been announced.
The tentative title of the show is Elementary.
Jonny Lee Miller (Trainspotting, Dexter) will be playing the role of Sherlock Holmes.
Lucy Liu (Ally McBeal, Charlie's Angels) will be playing the role of Dr. Joan Watson.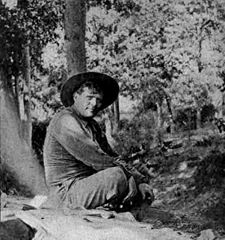 I'm reading The Scarlet Plague by Jack London.  (pictured on the left)  It's a post-apocalyptic novel written published in 1912.  The Scarlet Plague is available for free from Project Gutenberg and Amazon.
The novel has presented two shocks so far.  The first one was that the author of White Fang and Call of the Wild also wrote science fiction.  I received my second shock when I read the details of the apocalypse.   In the world of The Scarlet Plague we don't have much time left.
"2012," he shrilled, and then fell to cackling grotesquely. "That was the year Morgan the Fifth was appointed President of the United States by the Board of Magnates. It must have been one of the last coins minted, for the Scarlet Death came in 2013. Lord! Lord!—think of it!"
This audio recording, set to a series of photos, is said to be the only recording of Virginia Woolf's voice. The recording is from a BBC radio broadcast in 1937.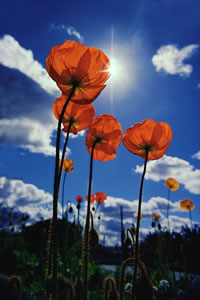 Love is no hot-house flower, but a wild plant, born of a wet night, born of an hour of sunshine; sprung from wild seed, blown along the road by a wild wind. A wild plant that, when it blooms by chance within the hedge of our gardens, we call a flower; and when it blooms outside we call a weed; but, flower or weed, whose scent and colour are always, wild! ~ The Forsyte Saga by John Galsworthy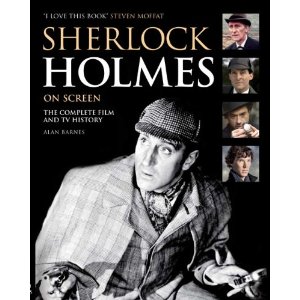 An updated edition of Sherlock Holmes On Screen is going to be released at the end of the month. However you an pre-order it now at Amazon.
Amazon has this to say:
Illustrated with rare archive pictures throughout, Sherlock Holmes on Screen is now updated with entries on the BBC's modern-day Sherlock, starring Benedict Cumberbatch, and director Guy Ritchie's all-action Sherlock Holmes, starring Robert Downey Jr – plus Sherlockian turns from Rupert Everett and Jonathan Pryce. Expanded coverage of Holmes' animated escapades opposite, among others, Batman, Scooby-Doo and the Teenage Mutant Ninja Turtles, plus new research into the Great Detective's silent film career, makes this revised edition the most comprehensive Holmes filmography ever published.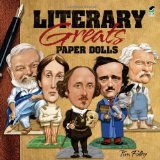 Oh, how I wish I'd seen this before Christmas!   I would have added the Literary Greats Paper Dolls Collection to my wish list.  This paper doll set for grownups contains 35 caricatures of famous authors, including Shakespeare, Mary Shelley, Edgar Allan Poe, Ayn Rand, and Charles Dickens. Each doll has three costumes that relate to the author's work.  Fox example,  the Conan Doyle doll has a Sherlock Holmes costume and Agatha Christie can be decked out as Miss Marple.  Fun stuff!!