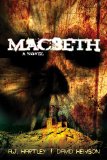 Shakespeare fans will be interested in today's Kindle Daily Deal.  The Kindle version of Macbeth: A Novel is available for less than the cost of a latte.
This is not your parents' Macbeth or the one you read in high-school English class. A dark and bloody tale of a Scottish lord and his beloved wife, Macbeth: A Novel hurtles toward readers in gripping contemporary prose, thanks to novelists David Hewson and A. J. Hartley.

Set in eleventh-century Scotland, Macbeth: A Novel is rich with ancient clans battling fiercely against one another and against the foreign marauders raiding their borders. Macbeth, Lord of Moray, and his wife, Skena, are loyal patriots, willing to kill or be killed to protect the Scottish kingdom. Yet the greatest danger to their beloved homeland is proving to be the king himself, Duncan, whose corrupt, bloody reign threatens to destroy the country. After Macbeth meets a trio of witches, the frustrated hero begins to think that perhaps Scotland needs a new king—him. But what begins as a plan fueled by the best of intentions soon spirals into murder, treachery, and personal collapse. In the language of today's fast-paced thrillers, Hewson and Hartley create an electrifying tapestry out of Shakespeare's tale, relaunching two of the most powerful characters ever created.
You might want to bookmark the Kindle Daily Deal. You never know what they'll have.