Do you follow us on Twitter? If not, you'll want to check it out.  Here are some interesting items that we've tweeted about recently:
Dickens vs Shakespeare: A tale of two writers – Life & Style – NZ Herald News nzh.tw/10848513 via @nzherald

— LitQuotes (@LitQuotesSite) November 25, 2012
Thomas Hardy and George Eliot fall out of fashion while Dickens and Austen do well via @telegraph soc.li/MeCMpeD

— LitQuotes (@LitQuotesSite) November 13, 2012
Ask Srcrooge a Question: Our partner site, Charles Dickens Gad's Hill Place, has a fun… goo.gl/fb/H74rF

— LitQuotes (@LitQuotesSite) November 12, 2012
Our Twitter Feed also has a separate daily quote.

No one can be happy in eternal solitude. ~The Tenant of Wildfell Hall by Anne Bronte litquotes.com/single.php?Rid…

— LitQuotes (@LitQuotesSite) November 23, 2012
This was torment indeed, to inherit the responsibility of one's own life. ~The Rainbow by D. H. Lawrence ow.ly/f08oQ #Quote

— LitQuotes (@LitQuotesSite) November 13, 2012
The fool wonders, the wise man asks. ~ Count Alarcos: A Tragedy by Benjamin #Disraeli litquotes.com/single.php?Rid…

— LitQuotes (@LitQuotesSite) November 11, 2012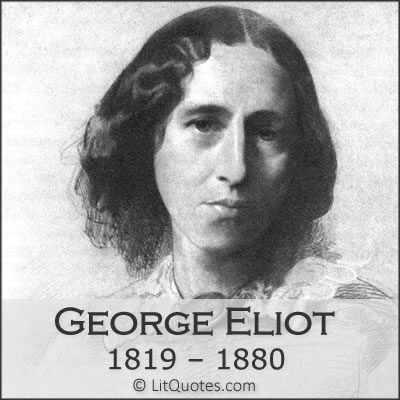 Mary Anne Evans, commonly known as George Eliot, was born on November 22, 1819.   Evans wrote under a male pen name to ensure that her works  would be taken seriously.  At the time it was thought that women authors wrote only lighthearted romances.
Middlemarch, for instance, deals with subjects like the Great Reform Bill, the beginnings of railways and the death of King George IV.  Virginia Woolf once said that Middlemarch, "is one of the few English novels written for grown-up people."
Other novels by George Eliot include Adam Bede, The Mill on the Floss, Silas Marner,   Romola, Daniel Deronda as well as Felix Holt, the Radical.
Pride helps us; and pride is not a bad thing when it only urges us to hide our own hurts—not to hurt others. ~ Middlemarch by George Eliot
Novels by George Eliot
Adam Bede
The Mill on the Floss
Silas Marner
Romola
Felix Holt, the Radical
Middlemarch
Daniel Deronda
More About George Eliot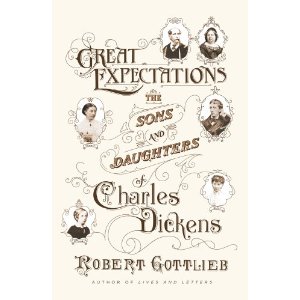 What a great year for books about Charles Dickens! The 200th birthday of the author has seen the publication of some interesting  biographies. The latest, Great Expectations: The Sons and Daughters of Charles Dickens by Robert Gottlieb, hits the bookstores on November 27th.
Gottlieb's book focuses on the lives of the ten children of Charles Dickens.  (Yep, he had ten children.)  It also touches on a possible child that Dickens had with his mistress, Ellen Ternan.
I haven't read a review copy, but Publisher's Weekly has.  In their review of  Great Expectations: The Sons and Daughters of Charles Dickens PW says, "This smart and accessible biography is written in a clever, conversational tone that radiates coziness during even the coldest moments, keeping the pages swiftly turning. "
Here's what Amazon has to say about the book:
Charles Dickens, famous for the indelible child characters he created—from Little Nell to Oliver Twist and David Copperfield—was also the father of ten children (and a possible eleventh). What happened to those children is the fascinating subject of Robert Gottlieb's Great Expectations. With sympathy and understanding he narrates the highly various and surprising stories of each of Dickens's sons and daughters, from Kate, who became a successful artist, to Frank, who died in Moline, Illinois, after serving a grim stretch in the Royal Canadian Mounted Police.

Each of these lives is fascinating on its own. Together they comprise a unique window on Victorian England as well as a moving and disturbing study of Dickens as a father and as a man.
Go to Amazon.com to buy Great Expectations: The Sons and Daughters of Charles Dickens
Here's a new quote photo.  This funny quote is from A Woman of No Importance by Oscar Wilde.   I've also added it to the LitQuotes Facebook page for easier sharing.
"After a good dinner one can forgive anybody, even one's own relations." ~ A Woman of No Importance by Oscar Wilde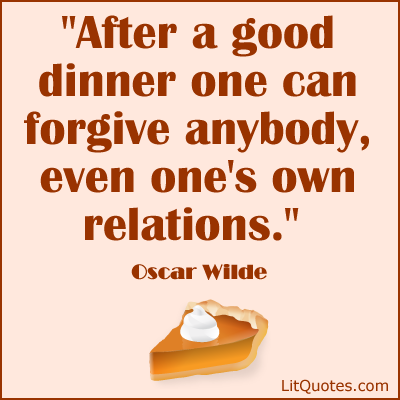 Classic literature can be inspirational.  It can be poetic.  It can be educational.  Classic literature can also be really funny!  Check out these ten funny quotes from literature:
1 – "How dreadful!" cried Lord Henry. "I can stand brute force, but brute reason is quite unbearable. There is something unfair about its use. It is hitting below the intellect." ~  The Picture of Dorian Gray by Oscar Wilde
2 – "If you could see my legs when I take my boots off, you'd form some idea of what unrequited affection is."  ~  Dombey and Son by Charles Dickens
3 – Indeed, he would sometimes remark, when a man fell into his anecdotage, it was a sign for him to retire from the world. ~  Lothair by Benjamin Disraeli
4 – You cannot make a man by standing a sheep on its hind-legs. But by standing a flock of sheep in that position you can make a crowd of men. ~  Zuleika Dobson by Sir Max Beerbohm
5 – The bishop did not whistle: we believe that they lose the power of doing so on being consecrated. ~  The Warden by Anthony Trollope
6 – A story with a moral appended is like the bill of a mosquito. It bores you, and then injects a stinging drop to irritate your conscience. ~  Strictly Business by O. Henry
7  – From politics, it was an easy step to silence. ~  Northanger Abbey by Jane Austen
8 – Few things are harder to put up with than the annoyance of a good example. ~  The Tragedy of Pudd'nhead Wilson by Mark Twain
9 – It is not that I object to the work, mind you; I like work: it fascinates me. I can sit and look at it for hours. ~  Three Men in a Boat by Jerome K. Jerome
10 – I don't want to repeat my innocence. I want the pleasure of losing it again. ~  This Side of Paradise by F. Scott Fitzgerald
If you enjoyed these quotes check out our humorous quotes page or our random funny quote feature.
This Friday (November 16th) a movie adaptation of Anna Karenina opens in limited release in the United States. As you can see by the below trailer, the movie is a lush period piece.
I've never read the book so I looked for the Kindle version of Anna Karenina at Amazon. I'm not sure how long it will be at this price, but I see that it's free today.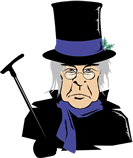 Our partner site, Charles Dickens Gad's Hill Place, has a fun feature that you may enjoy.  Go there to ask Ebenezer Scrooge a yes or no question.    And if you're a Scrooge fan, check out our gift shop for Scrooge clothing, mugs and more.
Darkness is cheap, and Scrooge liked it.
  A Christmas Carol by Charles Dickens
Yesterday I wrote about the practice of sticking love letters Casa di Giulietta (Juliet's House) in Verona.  I discovered that there was a movie made about the custom.  Here's the trailer . . .
Letters to Juliet DVD
Quotes from Romeo and Juliet by William Shakespeare
In Verona, Italy there's a house called Casa di Giulietta or Juliet's House.  While Romeo and Juliet are fictional characters, that hasn't stopped thousands of tourists from flocking to Juliet's house and attaching their love letters to Juliet's wall.  It's said that affixing a love letter to the wall will make the love everlasting.
It's very romantic and evidently very messy as the notes are often stuck to the wall using chewing gum.  The Verona city council has now banned the practice except for specially marked panels.  The fine for bypassing the special panels and attaching a note to the wall of Juliet's house is 500 euros.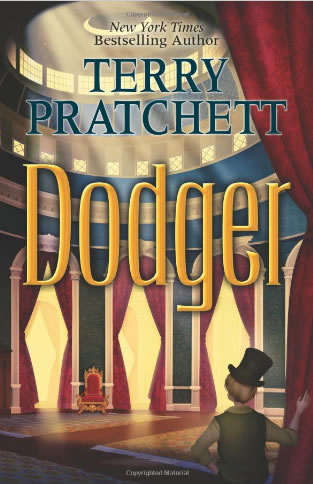 Terry Pratchett, author of the Discworld novels,  leaves fantasy for a moment to write about Victorian England with Dodger.
As you might guess, the main character of the novel is  based on the Artful Dodger from Oliver Twist.   Dodger is  a young adult who lives by his wits in London.  The story starts out on, pardon the cliché, a dark and stormy night …
A storm. Rain-lashed city streets. A flash of lightning. A scruffy lad sees a girl leap desperately from a horse-drawn carriage in a vain attempt to escape her captors. Can the lad stand by and let her be caught again? Of course not, because he's . . . Dodger.

Seventeen-year-old Dodger may be a street urchin, but he gleans a living from London's sewers, and he knows a jewel when he sees one. He's not about to let anything happen to the unknown girl—not even if her fate impacts some of the most powerful people in England.

From Dodger's encounter with the mad barber Sweeney Todd to his meetings with the great writer Charles Dickens and the calculating politician Benjamin Disraeli, history and fantasy intertwine in a breathtaking account of adventure and mystery.

Beloved and bestselling author Sir Terry Pratchett combines high comedy with deep wisdom in this tale of an unexpected coming-of-age and one remarkable boy's rise in a complex and fascinating world.