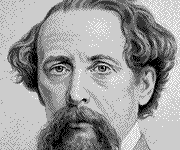 The BBC has just published an interesting article on the travels of Charles Dickens to America.   To say that the first visit didn't go well would be an understatement.  Dickens found many reasons to fault his American hosts.
Here's a quote from American Notes on just one aspect of his visit:
As Washington may be called the head-quarters of tobacco-tinctured saliva, the time is come when I must confess, without any disguise, that the prevalence of those two odious practices of chewing and expectorating began about this time to be anything but agreeable, and soon became most offensive and sickening. In all the public places of America, this filthy custom is recognised. In the courts of law, the judge has his spittoon, the crier his, the witness his, and the prisoner his; while the jurymen and spectators are provided for, as so many men who in the course of nature must desire to spit incessantly. In the hospitals, the students of medicine are requested, by notices upon the wall, to eject their tobacco juice into the boxes provided for that purpose, and not to discolour the stairs. In public buildings, visitors are implored, through the same agency, to squirt the essence of their quids, or 'plugs,' as I have heard them called by gentlemen learned in this kind of sweetmeat, into the national spittoons, and not about the bases of the marble columns. But in some parts, this custom is inseparably mixed up with every meal and morning call, and with all the transactions of social life. The stranger, who follows in the track I took myself, will find it in its full bloom and glory, luxuriant in all its alarming recklessness, at Washington. And let him not persuade himself (as I once did, to my shame) that previous tourists have exaggerated its extent. The thing itself is an exaggeration of nastiness, which cannot be outdone.
Another troubling issue was the lack of an international copyright law. It didn't exist then and Dickens was enough of a business man to realize what it cost him.  Our partner site, Charles Dickens – Gad's Hill Place, has a good article on the subject of Dickens and copyright laws.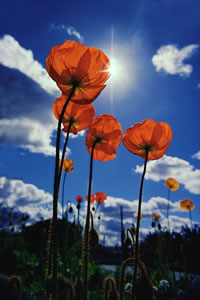 Love is no hot-house flower, but a wild plant, born of a wet night, born of an hour of sunshine; sprung from wild seed, blown along the road by a wild wind. A wild plant that, when it blooms by chance within the hedge of our gardens, we call a flower; and when it blooms outside we call a weed; but, flower or weed, whose scent and colour are always, wild! ~ The Forsyte Saga by John Galsworthy
Yesterday (February 9th) was the 184th anniversary of the birthday of Jules Verne. In honor of his contribution to literature and science (because after all, doesn't science fiction inspire science) here's a short, French movie from 1902 based on the work of Jules Verne.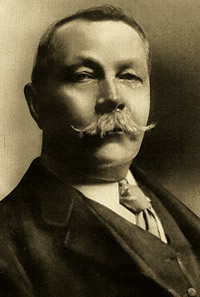 In 1912 there was an announcement that rocked the scientific world.  The remains of an early form of man had been found in the British village of Piltdown.  It was exciting because Piltdown Man was much different from his Cro-Magnon and Neanderthal cousins.  He had an enormous brain.  A large tool that looked kind of like a cricket bat was  found near the skull fragments.  Piltdown Man was certainly one of a kind.
It turns out that the reason Piltdown Man was so different is because the artifacts were forged.
In 1953 it was proven that the artifacts were actually the skull of a modern human and  the jawbone of an orangutan or chimpanzee.  Now only one mystery remains.  Who perpetrated the hoax?
It seems likely that Charles Dawson, the man who first found the remains, was in on the scheme.  Dawson, nicknamed the Wizard of  Sussex, was famous for his archeological finds.  However Dawson's discoveries have not stood the test of time.
Dr Miles Russell of Bournemouth University studied Dawson's collection.  In 2003 Russell declared that at least 38 specimens were fakes. He further stated that Dawson's  career was "built upon deceit, sleight of hand, fraud and deception, the ultimate gain being international recognition"
But did Dawson act alone?  Sir Arhtur Conan Doyle has always been suspected of assisting Dawson.  As a doctor Conan Doyle had the means to create the forged artifacts.  As a Spiritualist he may have also had the motive to take a jab at the scientific community.
In a few weeks British researchers are going to study the remains of Piltdown Man.  Their objective will be to find out everything they can about the artifacts and hopefully discover who took part in the fraud.
More Information: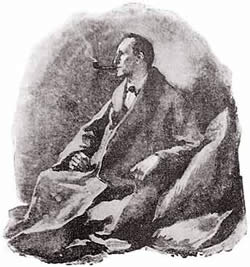 Sherlock Holmes is at your service!  Our partner site, The Chronicles of Sir Arthur Conan Doyle, has a fun feature that allows you to ask Sherlock Holmes a yes or no question.   It's fun and it's addictive!

I am one of the luckiest people I know.  My day job is as a self-employed website developer.  I get to live my dream, working from home while I help people make their dreams come true, because of the Internet. Proposed laws threaten our ability to make a living on the Internet, express ourselves on the Internet, do research on the Internet and touch other people's lives via the Internet.
On January 18th I'm blacking out my three literary sites LitQuotes, The Chronicles of Sir Arthur Conan Doyle and Charles Dickens Gad's Hill Place in protest of the Internet censorship bills, SOPA & PIPA.
If you'd like to take part in the protest you can install this WordPress plugin to your WordPress site or click here to learn about other ways to take part.
.
The Toronto Star has an interesting story of the Dickens collection of Dan Calinescu.  Mr. Calinescu's extensive collection includes first editions, pages from working manuscripts, letters and many, many copies of the works of Dickens.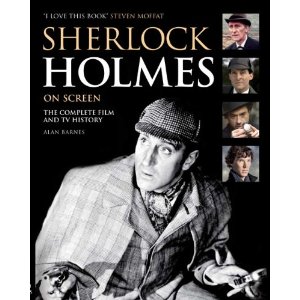 An updated edition of Sherlock Holmes On Screen is going to be released at the end of the month. However you an pre-order it now at Amazon.
Amazon has this to say:
Illustrated with rare archive pictures throughout, Sherlock Holmes on Screen is now updated with entries on the BBC's modern-day Sherlock, starring Benedict Cumberbatch, and director Guy Ritchie's all-action Sherlock Holmes, starring Robert Downey Jr – plus Sherlockian turns from Rupert Everett and Jonathan Pryce. Expanded coverage of Holmes' animated escapades opposite, among others, Batman, Scooby-Doo and the Teenage Mutant Ninja Turtles, plus new research into the Great Detective's silent film career, makes this revised edition the most comprehensive Holmes filmography ever published.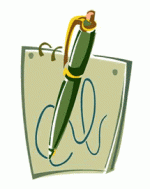 For me, no trip to Portland, Oregon is complete without a visit to Powell's Books.  The store is huge and I can spend hours happily wandering through the different sections of the store.
For those of you not in the Portland area, don't despair!  Powell's has a great website.   You can buy new, used or ebooks.   You can sell books, cast your vote for the winner of the 2012 Puddly Awards or read interesting articles like Billie Bloebaum's favorite Sci-Fi and Fantasy novels of 2011.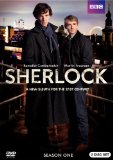 I was excited to hear the that second season of Sherlock recently started in the UK.  (Season One is available in the US from Amazon.com.)  However it sounds as though viewers got more than they bargained for with A Scandal in Belgravia.   A headline from the The Telegraph states, "Sherlock nudity before the watershed shocks viewers"   (In the UK watershed is a time period in the television schedule when adult content can be aired.)  Yikes!  I wonder what Conan Doyle would say?