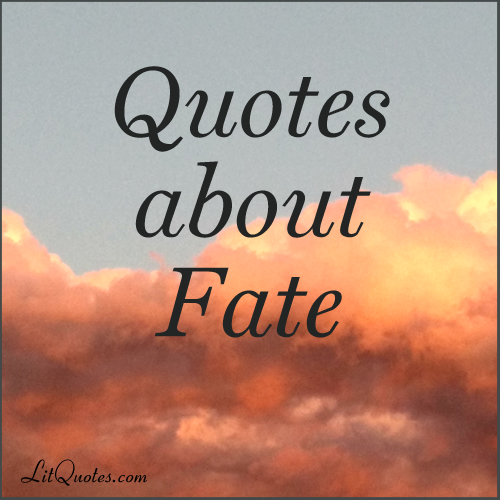 It is never quite safe to think we have done with life. When we imagine we have finished our story fate has a trick of turning the page and showing us yet another chapter. ~ Rainbow Valley by Lucy Maud Montgomery
It matters not how strait the gate,
How charged with punishments the scroll,
I am the master of my fate:
I am the captain of my soul. ~ Invictus by William Ernest Henley
You pay for what you get, you own what you pay for… and sooner or later whatever you own comes back home to you. ~ It by Stephen King
We are merely the stars' tennis-balls, struck and banded Which way please them. ~ The Duchess of Malfi by John Webster
Were we no better than chessmen, moved by an unseen power, vessels the potter fashions at his fancy, for honour or for shame? ~ Lord Arthur Savile's Crime by Oscar Wilde
There's a divinity that shapes our ends,
Rough-hew them how we will. ~ Hamlet, Prince of Denmark by William Shakespeare
Fortune's a right whore: If she give aught, she deals it in small parcels, That she may take away all at one swoop. ~ The White Devil by John Webster
But often the great cat Fate lets us go only to clutch us again in a fiercer grip. ~ The Curse of Eve by Sir Arthur Conan Doyle
It is curious to look back and realize upon what trivial and apparently coincidental circumstances great events frequently turn as easily and naturally as a door on its hinges. ~ Allan Quatermain by H. Rider Haggard
"This whole act's immutably decreed. 'Twas rehearsed by thee and me a billion years before this ocean rolled. Fool! I am the Fates' lieutenant; I act under orders." ~ Moby Dick by Herman Melville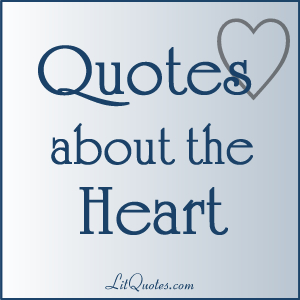 These are some of the sweetest quotes about hearts from literature.
"Friendship, I fancy, means one heart between two." ~ Diana of the Crossways by George Meredith
Life's more than breath and the quick round of blood;
It is a great spirit and a busy heart. ~ Festus by Philip James Bailey
Men who look on nature, and their fellow-men, and cry that all is dark and gloomy, are in the right; but the sombre colours are reflections from their own jaundiced eyes and hearts. The real hues are delicate, and need a clearer vision. ~ Oliver Twist by Charles Dickens
Maybe, he thought, there aren't any such things as good or bad friends – maybe there are just friends, people who stand by you when you're hurt and who help you feel not so lonely. Maybe they're always worth being scared for, and hoping for, and living for. Maybe worth dying for, too, if that's what has to be. No good friends. No bad friends. Only people you want, need to be with; people who build their houses in your heart. ~ It by Stephen King
She had found her heart at last. Never having known its worth till now, she had never known the worth of his. ~ Barnaby Rudge by Charles Dickens
"I carry my own church about under my own hat," said I. "Bricks and mortar won't make a staircase to heaven. I believe with your Master that the human heart is the best temple." ~ The Stark Munro Letters by Sir Arthur Conan Doyle
Heaven knows we need never be ashamed of our tears, for they are rain upon the blinding dust of earth, overlying our hard hearts. ~ Great Expectations by Charles Dickens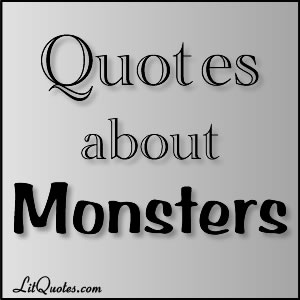 Eddie discovered one of his childhood's great truths. Grownups are the real monsters, he thought. ~ It by Stephen King
It seemed to be a sort of monster, or symbol representing a monster, of a form which only a diseased fancy could conceive. If I say that my somewhat extravagant imagination yielded simultaneous pictures of an octopus, a dragon, and a human caricature, I shall not be unfaithful to the spirit of the thing. A pulpy, tentacled head surmounted a grotesque and scaly body with rudimentary wings; but it was the general outline of the whole which made it most shockingly frightful. ~ The Call of Cthulhu by H. P. Lovecraft
It was the incarnation of blind and insensate Greed. It was a monster devouring with a thousand mouths, trampling with a thousand hoofs; it was the Great Butcher–it was the spirit of Capitalism made flesh. ~ The Jungle by Upton Sinclair
"O, beware, my lord, of jealousy! It is the green-eyed monster, which doth mock the meat it feeds on." ~ Othello by William Shakespeare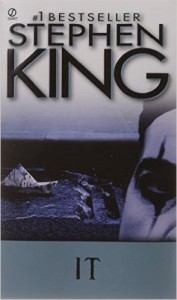 It, by Stephen King, was published in 1986. The novel won the British Fantasy Award in 1987, and received nominations for the Locus and World Fantasy Awards that same year. Publishers Weekly listed It as the best-selling book in the United States in 1986.
A miniseries based on the book aired in 1990.
If you want a good scare for Halloween, I highly recommend both the book and the miniseries.  But be warned you may never feel the same way about clowns or balloons ever again.
The terror, which would not end for another 28 years-if it ever did end-began, so far as I know or can tell, with a boat made from a sheet of newspaper floating down a gutter swollen with rain. ~ It by Stephen King
Read the book or view the miniseries.


I added new quotes to the site today.  It's a fun group of quotes and includes some by Stephen King.
Here are some of my favorites from the new batch:
The daylight, the trailing glory of the sun, went streaming out of the sky, was drawn aside like some luminous curtain, and at last I looked into the blue gulf of immensity which the sunshine hides, and saw the floating hosts of the stars. ~ The Island of Doctor Moreau by H. G. Wells
The Anglo-Saxon genius for parliamentary government asserted itself; there was a great deal of talk and no decisive action. ~ The Invisible Man by H. G. Wells
But dreams come through stone walls, light up dark rooms, or darken light ones, and their persons make their exits and their entrances as they please, and laugh at locksmiths. ~ Carmilla by J. Sheridan Le Fanu
Come on back and we'll see if you remember the simplest thing of all – how it is to be children, secure in belief and thus afraid of the dark. ~ It by Stephen King
My hour for tea is half-past five, and my buttered toast waits for nobody. ~ The Woman in White by Wilkie Collins