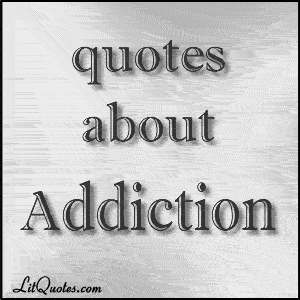 "I remember a mass of things, but nothing distinctly; a quarrel, but nothing wherefore. O God, that men should put an enemy in their mouths to steal away their brains!" ~ Othello by William Shakespeare
He raised his eyes languidly from the old black-letter volume which he had opened. "It is cocaine," he said, "a seven-per-cent solution. Would you care to try it?" ~ The Sign of The Four by Sir Arthur Conan Doyle
Drugs age you after mental excitement. Lethargy then. Why? Reaction. A lifetime in a night. Gradually changes your character. ~ Ulysses by James Joyce
"I am only myself when I am drunk. Liquor makes me human. At other times I'm merely Charley Steele!" ~ The Right of Way by Gilbert Parker
"I see that a man cannot give himself up to drinking without being miserable one-half his days and mad the other." ~ The Tenant of Wildfell Hall by Anne Bronte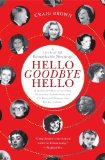 In Hello Goodbye Hello: A Circle of 101 Remarkable Meetings Craig Brown chronicles the encounters of famous people.  What makes the book so interesting, aside from the fact that it's all true, is the way the stories are linked.  In one section Person A will meet Person B.  In the next, Person B will have a chance encounter with Person C.
The book starts and ends with Adolf Hitler.  In between are people like Madonna, Nancy Reagan, Salvador Dali, Sigmund Freud and a slew of others.  I was happy to note that there are numerous writers included in the book.  Some of the authors included are Ernest Hemingway, James Joyce, Oscar Wilde, George  Bernard Shaw and H.G. Wells.
Hello Goodbye Hello is a daisy chain of 101 fascinating true encounters, a book that has been hailed by reviewers in London as "howlingly funny" (The Spectator), "original and a complete delight" (The Sunday Times), and "rich and hugely enjoyable" (The Guardian). Or, as the London Evening Standard put it, "the truth and nothing but the plain, bonkers, howling truth . . . It is partly a huge karmic parlour game, partly a dance to the music of chaos—and only the genius of Craig Brown could have produced it."


I added more quotes quotes to the site today.  The quotes are from:
Pride and Prejudice by Jane Austen
Persuasion by Jane Austen
The Secret Adversary by Agatha Christie
Ulysses by James Joyce
Remember, if you have a quote that you'd like to see in the collection, please feel free to submit a quote.
Angry people are not always wise. ~ Pride and Prejudice by Jane Austen
She prized the frank, the open-hearted, the eager character beyond all others. Warmth and enthusiasm did captivate her still. She felt that she could so much more depend upon the sincerity of those who sometimes looked or said a careless or a hasty thing, than of those whose presence of mind never varied, whose tongue never slipped. ~ Persuasion by Jane Austen
Every life is many days, day after day. We walk through ourselves, meeting robbers, ghosts, giants, old men, young men, wives, widows, brothers-in-love, but always meeting ourselves. ~ Ulysses by James Joyce

What do I mean by LitQuotes Duo?  Sometimes quotes, like chocolate chip cookies, are best served in pairs. Duos may be similar, surprising, contradictory or odd. They can make you smile or even make you think.
Today's Duo is one of my favorites! It deals with all things green.
Quote One: "O, beware, my lord, of jealousy! It is the green-eyed monster, which doth mock the meat it feeds on." ~ Othello by William Shakespeare
Quote Two: The snotgreen sea. The scrotumtightening sea. ~ Ulysses by James Joyce