Did you know that SparkNotes has a series of YouTube videos?  I sure didn't.  Here's the video they made for Mary Shelly's Frankenstein.
While the video is interesting, it's a little dry.  However it does point out an inconsistency in the storyline and there's a brief discussion of themes.
But don't cheat yourself. Be sure to read the book.
The moon gazed on my midnight labours, while, with unrelaxed and breathless eagerness, I pursued nature to her hiding-places. ~ Frankenstein by Mary Shelley
Read more quotes from Frankenstein.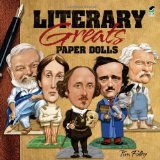 Oh, how I wish I'd seen this before Christmas!   I would have added the Literary Greats Paper Dolls Collection to my wish list.  This paper doll set for grownups contains 35 caricatures of famous authors, including Shakespeare, Mary Shelley, Edgar Allan Poe, Ayn Rand, and Charles Dickens. Each doll has three costumes that relate to the author's work.  Fox example,  the Conan Doyle doll has a Sherlock Holmes costume and Agatha Christie can be decked out as Miss Marple.  Fun stuff!!