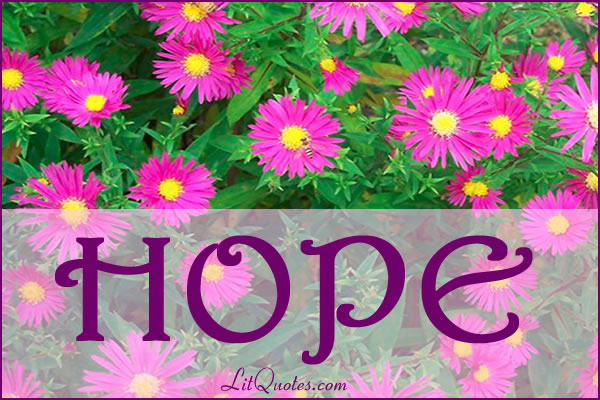 But our wishes are like tinder: the flint and steel of circumstances are continually striking out sparks, which vanish immediately, unless they chance to fall upon the tinder of our wishes; then, they instantly ignite, and the flame of hope is kindled in a moment.  ~ Agnes Grey by Anne Bronte
God shall be my hope,
My stay, my guide, and lantern to my feet. ~ Henry VI, Part Two by William Shakespeare
I hope, or I could not live. ~ The Island of Doctor Moreau by H. G. Wells
These fellow-mortals, every one, must be accepted as they are: you can neither straighten their noses, nor brighten their wit, nor rectify their dispositions; and it is these people–amongst whom your life is passed–that it is needful you should tolerate, pity, and love: it is these more or less ugly, stupid, inconsistent people whose movements of goodness you should be able to admire–for whom you should cherish all possible hopes, all possible patience. ~ Adam Bede by George Eliot
The cool peace and dewy sweetness of the night filled me with a mood of hope: not hope on any definite point, but a general sense of encouragement and heart-ease. ~ Villette by Charlotte Bronte
Remember to the last, that while there is life there is hope. ~ Wreck of the Golden Mary by Charles Dickens
"Our highest assurance of the goodness of Providence seems to me to rest in the flowers. All other things, our powers, our desires, our food, are all really necessary for our existence in the first instance. But this rose is an extra. Its smell and its color are an embellishment of life, not a condition of it. It is only goodness which gives extras, and so I say again that we have much to hope from the flowers." ~ The Naval Treaty by Sir Arthur Conan Doyle
Pride is one of the seven deadly sins; but it cannot be the pride of a mother in her children, for that is a compound of two cardinal virtues — faith and hope. ~ Nicholas Nickleby by Charles Dickens
"In this world you've just got to hope for the best and prepare for the worst and take whatever God sends." ~ Anne Of Avonlea by Lucy Maud Montgomery
My spirits were elevated by the enchanting appearance of nature; the past was blotted from my memory, the present was tranquil, and the future gilded by bright rays of hope and anticipations of joy. ~ Frankenstein by Mary Shelley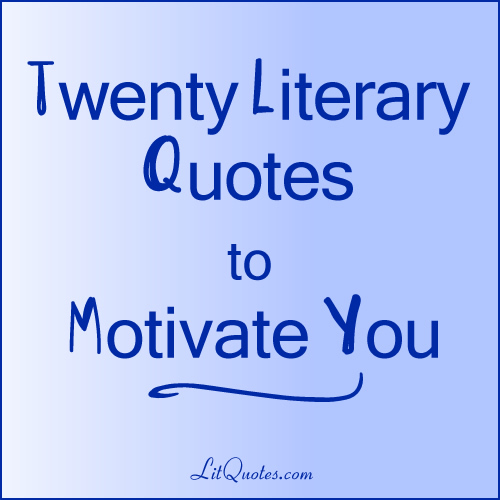 Let's face it.  Life can be tough. To help get you through, here are twenty of the best motivational quotes that literature has to offer . . .
If you need something to worship, then worship life — all life, every last crawling bit of it! We're all in this beauty together! ~ Dune Messiah by Frank Herbert
Even on this small stage we have our two sides, and something might be done by throwing all one's weight on the scale of breadth, tolerance, charity, temperance, peace, and kindliness to man and beast. We can't all strike very big blows, and even the little ones count for something. ~ The Stark Munro Letters by Sir Arthur Conan Doyle
The mind is its own place, and in it self
Can make a Heaven of Hell, a Hell of Heaven. ~ Paradise Lost by John Milton
Out of the night that covers me,
Black as the pit From pole to pole,
I thank whatever gods may be
For my unconquerable soul. ~ Invictus by William Ernest Henley
"I say that the strongest principle of growth lies in human choice." ~ Daniel Deronda by George Eliot
"I hope that real love and truth are stronger in the end than any evil or misfortune in the world." ~ David Copperfield by Charles Dickens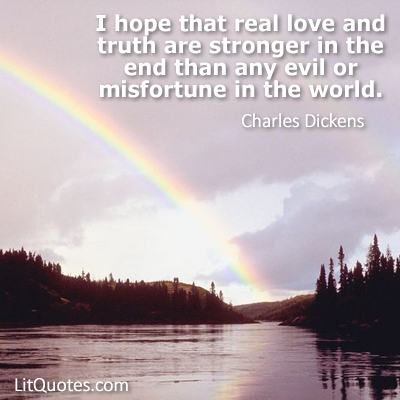 "Look at that sea, girls–all silver and shadow and vision of things not seen. We couldn't enjoy its loveliness any more if we had millions of dollars and ropes of diamonds." ~ Anne of Green Gables by Lucy Maud Montgomery
"I'm not afraid of storms, for I'm learning how to sail my ship." ~ Little Women by Louisa May Alcott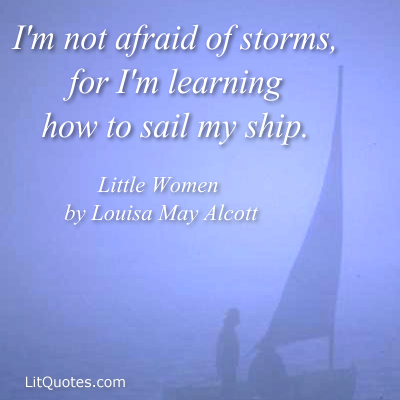 "People are always blaming circumstances for what they are. I don't believe in circumstances. The people who get on in this world are the people who get up and look for the circumstances they want, and, if they can't find them, make them." ~ Mrs. Warren's Profession by George Bernard Shaw
The Sun himself is weak when he first rises, and gathers strength and courage as the day gets on. ~ The Old Curiosity Shop by Charles Dickens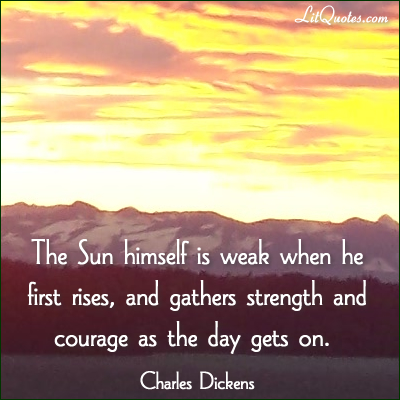 "Nurture your mind with great thoughts. To believe in the heroic makes heroes." ~ Coningsby by Benjamin Disraeli
"As long as the heart beats, as long as body and soul keep together, I cannot admit that any creature endowed with a will has need to despair of life." ~ Journey to the Center of the Earth by Jules Verne
"Love has no age, no limit; and no death." ~ The Forsyte Saga by John Galsworthy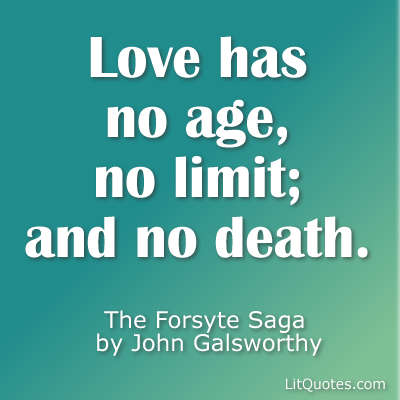 "There are times, young fellah, when every one of us must make a stand for human right and justice, or you never feel clean again." ~ The Lost World by Sir Arthur Conan Doyle
"Virtue is bold, and goodness never fearful." ~ Measure for Measure by William Shakespeare
"The sun does not shine upon this fair earth to meet frowning eyes, depend upon it." ~ Nicholas Nickleby by Charles Dickens
"That is one good thing about this world. . .there are always sure to be more springs." ~ Anne Of Avonlea by Lucy Maud Montgomery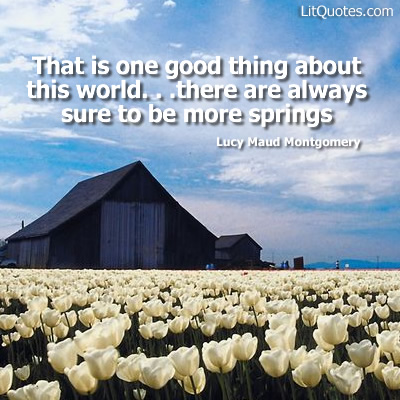 Come what may, I am bound to think that all things are ordered for the best; though when the good is a furlong off, and we with our beetle eyes can only see three inches, it takes some confidence in general principles to pull us through. ~ The Stark Munro Letters by Sir Arthur Conan Doyle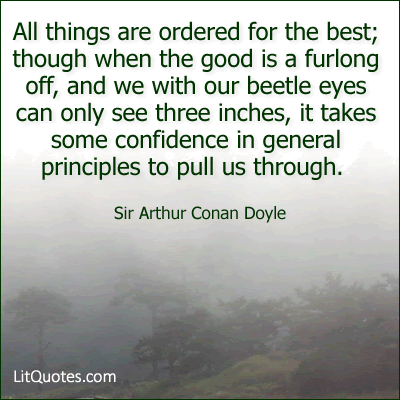 "You know, there are two good things in life, freedom of thought and freedom of action." ~ Of Human Bondage by W. Somerset Maugham
There are dark shadows on the earth, but its lights are stronger in the contrast. ~ The Pickwick Papers by Charles Dickens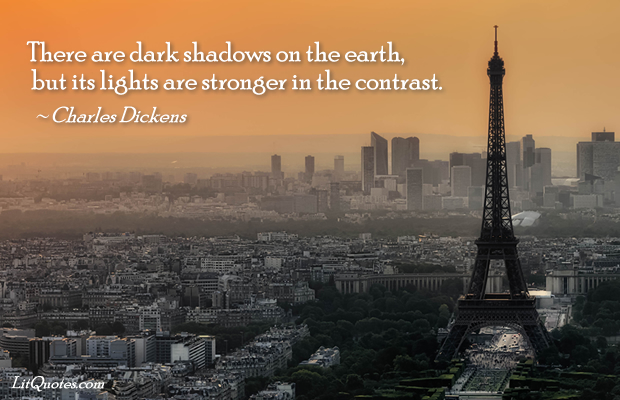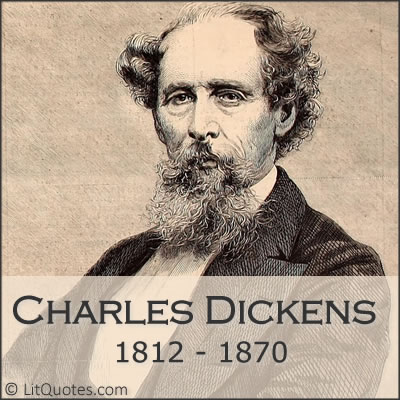 Charles Dickens was born on February 7, 1812 and died in 1870.  He's the author of A Christmas Carol, Great Expectations and other classic novels.  Now here are some things you may not know about Charles Dickens.
1 – As a child, his family was always on the verge of economic collapse. Everything fell apart for the family in 1827. Dickens' father was sent the Marshalsea debtors' prison and young Charles was sent to work in Warren's Blacking Factory. These incidents would haunt Dickens for the rest of his life.
2 – Dickens worked as law clerk, a court stenographer and even contemplated becoming an actor. Luckily for us, Dickens was ill on the day of his audition at the Lyceum Theater and couldn't go. Can you imagine a life without Scrooge?  If Dickens, who was a talented actor, had attended his audition he might not have written A Christmas Carol.
3 – In his early writing he called himself Boz. Boz? You see, one of his favorite characters in Goldsmith's Vicar of Wakefield was called Moses. Moses became Boses which became Boz.
4 – Dickens married Catherine Hogarth in 1835. There were some happy years, but in 1958 they were legally separated. One of the reasons for the separation was Dickens' interest in the actress, Ellen Ternan.
Dickens met Ellen in 1857. Matters came to a head the next year when a bracelet that Dickens bought as a present for Ellen was accidentally delivered to the Dickens household. In a scene straight from a soap opera, Catherine discovered the bracelet and accused Charles of having an affair.
5 – One of the most fascinating aspects of Charles Dickens is that he understood the power of the media. Yes, even in the Victorian Era people had to worry about the press. In September of 1860, behind his home at Gad's Hill Place, Charles Dickens tried to cover his tracks. He gathered "the accumulated letters and papers of twenty years" and set them ablaze in his backyard. What could we have learned had he not taken this action? We'll never know.
More About Charles Dickens
Is someone on your holiday shopping list a fan of Charles Dickens?  If so, may I humbly suggest you visit the Charles Dickens section of the LitQuotes Gift Shop.  One of the most popular items in the Charles Dickens section is the Novels of Charles Dickens mug.   One side features the image of the ever-popular author  of A Christmas Carol.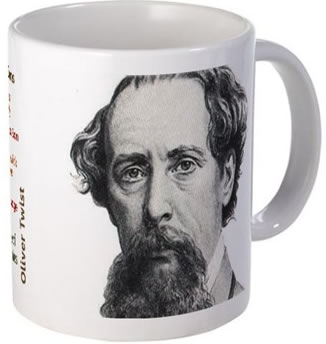 The other side lists the titles of his novels.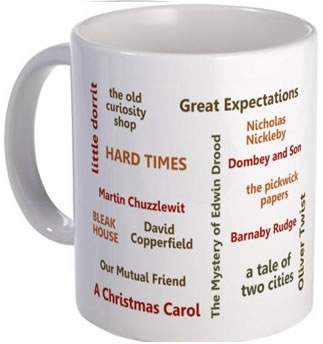 Happy Friday!  I hope your weekend will prove to be nice and sunny.  If not, hopefully spring will be coming your way soon!
The Sun himself is weak when he first rises, and gathers strength and courage as the day gets on. ~  The Old Curiosity Shop by Charles Dickens
"I don't want sunbursts and marble halls. I just want you." ~  Anne of the Island by Lucy Maud Montgomery
The whole earth was brimming sunshine that morning. She tripped along, the clear sky pouring liquid blue into her soul. ~  Sister Carrie by Theodore Dreiser
"Love comforteth like sunshine after rain." ~ Venus and Adonis by William Shakespeare
"The sun does not shine upon this fair earth to meet frowning eyes, depend upon it." ~ Nicholas Nickleby by Charles Dickens
See all our Literary Sun Quotes