Today is the first day of autumn. To mark the day, here's a fun collection of five autumnal quotes from literature.
"Draw your chair up and hand me my violin, for the only problem we have still to solve is how to while away these bleak autumnal evenings." ~ The Adventure of the Noble Bachelor by Sir Arthur Conan Doyle
On the motionless branches of some trees, autumn berries hung like clusters of coral beads, as in those fabled orchards where the fruits were jewels. ~ Martin Chuzzlewit by Charles Dickens
It was, as I have said, a fine autumnal day; the sky was clear and serene, and nature wore that rich and golden livery which we always associate with the idea of abundance. The forests had put on their sober brown and yellow, while some trees of the tenderer kind had been nipped by the frosts into brilliant dyes of orange, purple, and scarlet. ~ The Legend of Sleepy Hollow by Washington Irving
The place, with its gray sky and withered garlands, its bared spaces and scattered dead leaves, was like a theater after the performance–all strewn with crumpled playbills. ~ The Turn of the Screw by Henry James
He lowered the window, and looked out at the rising sun. There was a ridge of ploughed land, with a plough upon it where it had been left last night when the horses were unyoked; beyond, a quiet coppice-wood, in which many leaves of burning red and golden yellow still remained upon the trees. Though the earth was cold and wet, the sky was clear, and the sun rose bright, placid, and beautiful. ~ A Tale of Two Cities by Charles Dickens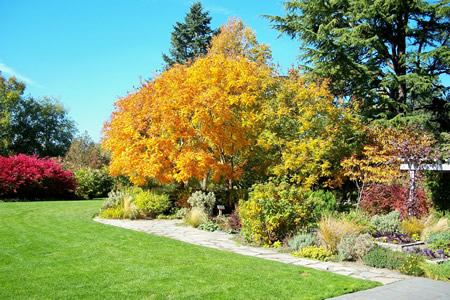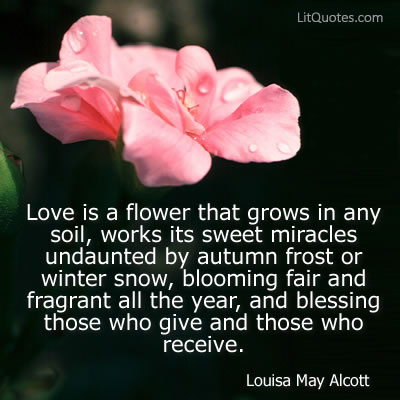 Love is a flower that grows in any soil, works its sweet miracles undaunted by autumn frost or winter snow, blooming fair and fragrant all the year, and blessing those who give and those who receive. ~ Little Men by Louisa May Alcott
Here's a quote photo to share with friends and family.  I've posted it on the LitQuotes Facebook page for easier sharing. It's also on the LitQuotes Pinterest page.