"Second to the right, and straight on till morning." ~ Peter Pan by James M. Barrie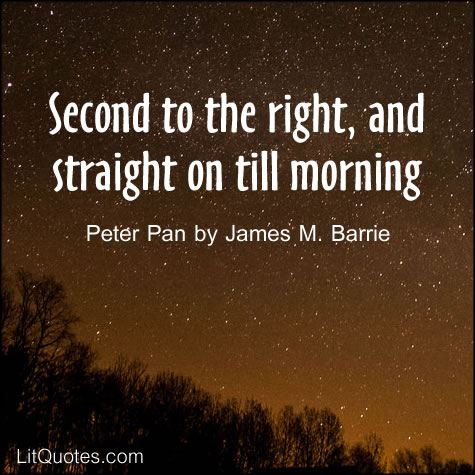 I've also posted this at the LitQuotes Facebook page, the LitQuotes Twitter page AND our Pinterest page.
Let's hear it for our feathered friends!  Here are five quotes about birds from literature.
The sigh of all the seas breaking in measure round the isles soothed them; the night wrapped them; nothing broke their sleep, until, the birds beginning and the dawn weaving their thin voices in to its whiteness. ~ To the Lighthouse by Virginia Woolf
"There is many a young cockerel that will stand upon a dunghill and crow about his father, by way of making his own plumage to shine." ~ Cousin Phillis by Elizabeth Gaskell
Nothing in the world is quite as adorably lovely as a robin when he shows off-and they are nearly always doing it. ~ The Secret Garden by Frances Hodgson Burnett
"Do you know," Peter asked "why swallows build in the eaves of houses? It is to listen to the stories." ~ Peter Pan by James M. Barrie
All is going on as it was wont. The waves are hoarse with repetition of their mystery; the dust lies piled upon the shore; the sea-birds soar and hover; the winds and clouds go forth upon their trackless flight; the white arms beckon, in the moonlight, to the invisible country far away. ~ Dombey and Son by Charles Dickens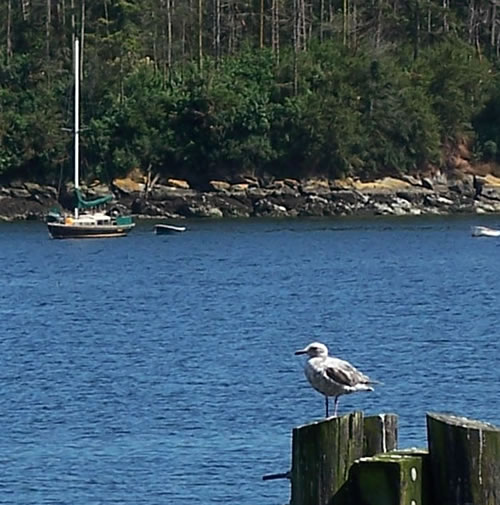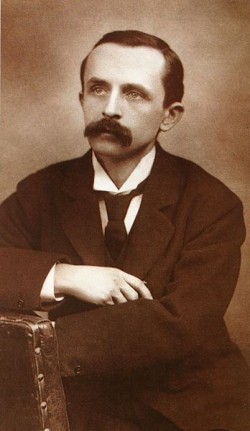 Could James M. Barrie, the author of Peter Pan, be the literary Kevin Bacon of his day? It might sound a little nutty, but take a look at his connections:
He had a long-standing correspondence with Robert Louis Stevenson.  Despite that fact that the two wrote many letters, they never met in person.
George Meredith, the author of The Ordeal of Richard Feverel, was his friend.
George Bernard Shaw was Barrie's neighbor for several years.
He collaborated with H.B. Marriott Watson on a biography of Richard Savage.
Barrie's friend H. G. Wells tried to help him with his marital problems.
Barrie knew Thomas Hardy.
Sir Arthur Conan Doyle and James M. Barrie were good friends.  You can read about their friendship at our partner site, The Chronicles of Sir Arthur Conan Doyle.
Barrie's formed a cricket team, the Allah-Akabarries. Some of Barrie's teammates included, Conan Dolye, H. G. Wells, Jerome K. Jerome, P. G. Wodehouse, A. E. W. Mason, E. V. Lucas, E. W. Hornung, Maurice Hewlett, A. A. Milne (of Winnie the Pooh fame) and G. K. Chesterton.