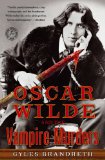 Oscar Wilde and the Vampire Murders – In the latest in the series of Oscar Wilde murder mysteries,  Wilde and his good friend Sir Arthur Conan Doyle face something very odd indeed.  A duchess is found murdered—with two tiny puncture marks on her throat. Hmm . . . I wonder what that could mean?
You May Also Like: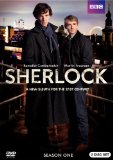 If you haven't seen this modern day retelling of the Sherlock Holmes stories then you're in for a treat.  Sherlock brilliantly walks the line between staying true to the works of Conan Doyle and giving the tale a new twist.
Wait until you see what they did with the phrase "three pipe problem." Here's the original quote:
"It is quite a three pipe problem." ~ The Red-Headed League by Sir Arthur Conan Doyle
Check out this fascinating YouTube video showing Sir Arthur Conan Doyle talking about how he came up with the idea for Sherlock Holmes.
Learn more about Sir Arthur Conan Doyle:
The Chronicles of Sir Arthur Conan Doyle – This is our partner site on the life and work of Sir Arthur Conan Doyle.  While I enjoy Sherlock Holmes, there's a lot more to Conan Doyle than his most famous creation.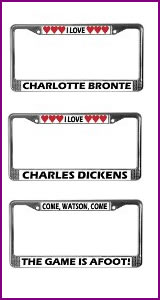 Show the world that you're a fan of literature with out new license plate frames.  We've got them for Charles Dickens, Sir Arthur Conan Doyle, Mark Twain, Edgar Allan Poe and more.

Welcome to the new LitQuotes blog! While LitQuotes has been a source of quotations for years, the blog is brand new.
So what are we going to talk about here? I'm sure that things will change over time, but as of right now I plan to blog about: