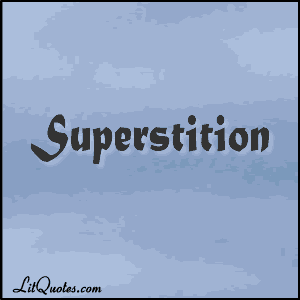 At this time of the year, superstition seems like a timely thing to contemplate.
All men, however highly educated, retain some superstitious inklings. ~ The Invisible Man by H. G. Wells
All this disquisition upon superstition leads me up to the fact that Mr. Manson, our second mate, saw a ghost last night–or, at least, says that he did, which of course is the same thing. ~ The Captain of the Polestar by Sir Arthur Conan Doyle
"Young men of this class never do anything for themselves that they can get other people to do for them, and it is the infatuation, the devotion, the superstition of others that keeps them going. These others in ninety-nine cases out of a hundred are women." ~ Washington Square by Henry James
Instead of trying to still his fears, he encouraged them, with that superstitious impression which clings to us all, that if we expect evil very strongly it is the less likely to come. ~ Silas Marner by George Eliot

I added new quotes to the site today.  It's a fun group of quotes and includes some by Stephen King.
Here are some of my favorites from the new batch:
The daylight, the trailing glory of the sun, went streaming out of the sky, was drawn aside like some luminous curtain, and at last I looked into the blue gulf of immensity which the sunshine hides, and saw the floating hosts of the stars. ~ The Island of Doctor Moreau by H. G. Wells
The Anglo-Saxon genius for parliamentary government asserted itself; there was a great deal of talk and no decisive action. ~ The Invisible Man by H. G. Wells
But dreams come through stone walls, light up dark rooms, or darken light ones, and their persons make their exits and their entrances as they please, and laugh at locksmiths. ~ Carmilla by J. Sheridan Le Fanu
Come on back and we'll see if you remember the simplest thing of all – how it is to be children, secure in belief and thus afraid of the dark. ~ It by Stephen King
My hour for tea is half-past five, and my buttered toast waits for nobody. ~ The Woman in White by Wilkie Collins