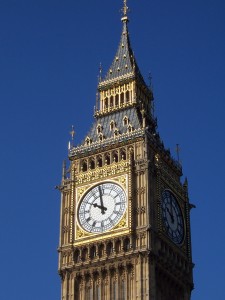 "I think that I may go so far as to say, Watson, that I have not lived wholly in vain," he remarked. "If my record were closed to-night I could still survey it with equanimity. The air of London is the sweeter for my presence." ~  The Final Problem by Sir Arthur Conan Doyle
There are houses whose souls have passed into the limbo of Time, leaving their bodies in the limbo of London. ~  The Forsyte Saga by John Galsworthy
"If you lived in London, where the whole system is one of false good-fellowship, and you may know a man for twenty years without finding out that he hates you like poison, you would soon have your eyes opened. There we do unkind things in a kind way: we say bitter things in a sweet voice: we always give our friends chloroform when we tear them to pieces." ~  You Never Can Tell by George Bernard Shaw
London was beginning to illuminate herself against the night. Electric lights sizzled and jagged in the main thoroughfares, gas-lamps in the side streets glimmered a canary gold or green. ~  Howards End by E. M. Forster
All day the wind had screamed and the rain had beaten against the windows, so that even here in the heart of great, hand-made London we were forced to raise our minds for the instant from the routine of life and to recognise the presence of those great elemental forces which shriek at mankind through the bars of his civilisation, like untamed beasts in a cage. ~  The Five Orange Pips by Sir Arthur Conan Doyle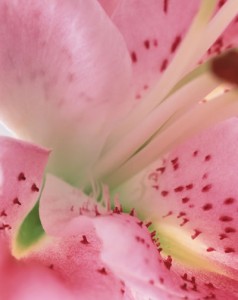 Here's my favorite love quote from the collection.  Happy Valentine's Day!
Love is no hot-house flower, but a wild plant, born of a wet night, born of an hour of sunshine; sprung from wild seed, blown along the road by a wild wind. A wild plant that, when it blooms by chance within the hedge of our gardens, we call a flower; and when it blooms outside we call a weed; but, flower or weed, whose scent and colour are always, wild! ~ The Forsyte Saga by John Galsworthy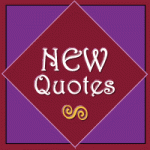 Today I added over 40 new quotes to the database.  Here are my favorite quotes from the new batch. If you have a quote that you'd like to see added, feel free to contribute a quote.
To Sherlock Holmes she is always the woman. I have seldom heard him mention her under any other name. ~ A Scandal in Bohemia by Sir Arthur Conan Doyle
"This looks like one of those unwelcome social summonses which call upon a man either to be bored or to lie." ~ The Adventure of the Noble Bachelor by Sir Arthur Conan Doyle
"Instinct is a marvellous thing," mused Poirot. "It can neither be explained nor ignored." ~ The Mysterious Affair at Styles by Agatha Christie
The longest way must have its close,—the gloomiest night will wear on to a morning. ~ Uncle Tom's Cabin by Harriet Beecher Stowe
Anne was always glad in the happiness of her friends; but it is sometimes a little lonely to be surrounded everywhere by a happiness that is not your own. ~ Anne of the Island by Lucy Maud Montgomery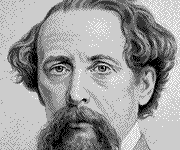 Today marks the 201st anniversary of the birth of Charles Dickens.  To mark the event I thought I'd share 10 of my favorite Dickens quotes:
Heaven knows we need never be ashamed of our tears, for they are rain upon the blinding dust of earth, overlying our hard hearts. ~  Great Expectations
At last, in the dead of the night, when the street was very still indeed, Little Dorrit laid the heavy head upon her bosom, and soothed her to sleep. And thus she sat at the gate, as it were alone; looking up at the stars, and seeing the clouds pass over them in their wild flight–which was the dance at Little Dorrit's party. ~  Little Dorrit
"If you could see my legs when I take my boots off, you'd form some idea of what unrequited affection is."  ~  Dombey and Son
"It's in vain, Trot, to recall the past, unless it works some influence upon the present."  ~  David Copperfield
All other swindlers upon earth are nothing to the self-swindlers, and with such pretences did I cheat myself. Surely a curious thing. That I should innocently take a bad half-crown of somebody else's manufacture, is reasonable enough; but that I should knowingly reckon the spurious coin of my own make, as good money!  ~  Great Expectations
"You may be an undigested bit of beef, a blot of mustard, a crumb of cheese, a fragment of underdone potato. There's more of gravy than of grave about you, whatever you are!" ~  A Christmas Carol
It was the best of times, it was the worst of times, it was the age of wisdom, it was the age of foolishness, it was the epoch of belief, it was the epoch of incredulity, it was the season of light, it was the season of darkness, it was the spring of hope, it was the winter of despair, we had everything before us, we had nothing before us, we were all going direct to heaven, we were all going direct the other way–in short, the period was so far like the present period, that some of its noisiest authorities insisted on its being received, for good or for evil, in the superlative degree of comparison only. ~  A Tale of Two Cities
Annual income twenty pounds, annual expenditure nineteen nineteen and six, result happiness. Annual income twenty pounds, annual expenditure twenty pounds ought and six, result misery. ~  David Copperfield
"Its matter was not new to me, but was presented in a new aspect. It shook me in my habit – the habit of nine-tenths of the world – of believing that all was right about me, because I was used to it." ~  Dombey and Son
"No one is useless in this world," retorted the Secretary, "who lightens the burden of it for any one else." ~  Our Mutual Friend
You might also enjoy these Dickens resources: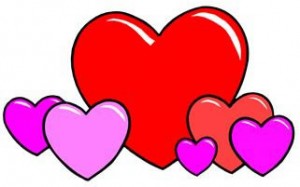 It can sometimes be hard to come up with just the right words.  If you're looking for some quotes to add to a Valentine's Day card or letter, you know just what I mean.   Not to worry.  These ten love  quotes from literature will help.
"Love comforteth like sunshine after rain." ~  Venus and Adonis by William Shakespeare
"Love knows not distance; it hath no continent; its eyes are for the stars." ~  Parables Of A Province by Gilbert Parker
The winds were warm about us, the whole earth seemed the wealthier for our love. ~  The Amber Gods by Harriet Prescott Spofford
Without, the sun shines bright and the birds are singing amid the ivy on the drooping beeches. Their choice is made, and they turn away hand-in-hand, with their backs to the darkness and their faces to the light. ~  The White Company by Sir Arthur Conan Doyle
"Love has no age, no limit; and no death." ~  The Forsyte Saga by John Galsworthy
"A heart well worth winning, and well won. A heart that, once won, goes through fire and water for the winner, and never changes, and is never daunted." ~  Our Mutual Friend by Charles Dickens
"If I loved you less, I might be able to talk about it more." ~  Emma by Jane Austen
"You are my heart, my life, my one and only thought." ~  The White Company by Sir Arthur Conan Doyle
Love is a flower that grows in any soil, works its sweet miracles undaunted by autumn frost or winter snow, blooming fair and fragrant all the year, and blessing those who give and those who receive. ~  Little Men by Louisa May Alcott
Did my heart love till now? forswear it, sight!
For I ne'er saw true beauty till this night.
Romeo and Juliet by William Shakespeare
See All of Our Love Quotes from Literature