There's another great deal at Amazon today. (7/29/14 only) The Kindle version of The Hunger Games is available for only $1.99. I've seen the movie, but never read the book. Now's my chance!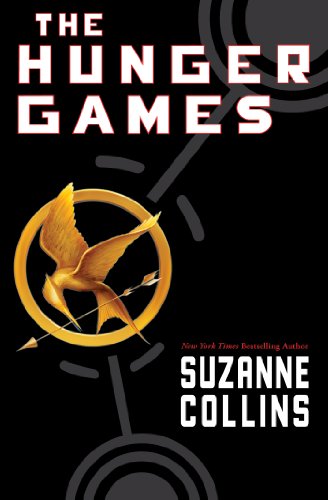 It's the weekend.  Time to relax and kick back.  Now if only you had a good book to read.  Lucky you, because today's Gold Box Deal of the Day at Amazon features tons of Kindle mysteries and thrillers
on sale for just $1.99 each.  Yes, I would say the weekend is off to a very promising start.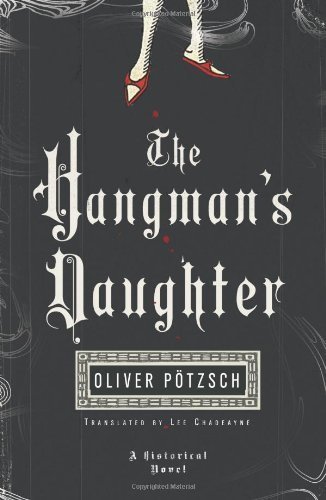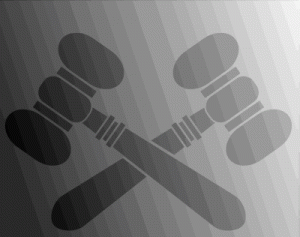 It's surprising how many quotes about the legal system end up in literature.
"Nothing is so unproductive as the law. It is expensive whether you win or lose." ~ The Money Master by Gilbert Parker
In one respect at least the Martians are a happy people; they have no lawyers. ~ A Princess of Mars by Edgar Rice Burroughs
But the Law is still, in certain inevitable cases, the pre-engaged servant of the long purse. ~ The Woman in White by Wilkie Collins
For, according to our old saying, the three learned professions live by roguery on the three parts of a man. The doctor mauls our bodies; the parson starves our souls, but the lawyer must be the adroitest knave, for he has to ensnare our minds. ~ Lorna Doone by R. D. Blackmore
You can hire logic, in the shape of a lawyer, to prove anything that you want to prove. ~ The Autocrat of the Breakfast Table by Oliver Wendell Holmes, Sr.
The other day I mentioned that TeeFury was doing something new.  Here's an example.  This fantastic tee based on Lewis Carroll's books originally debuted last year.  However because of its popularity you can still purchase it in the gallery area of the TeeFury website. The price is higher than the daily featured tee, but hey . . . it's a darned cute t-shirt!
Did you know that Carroll did not use the term The Mad Hatter?  In Alice's Adventures in Wonderland the character is called simply The Hatter.  In Through the Looking Glass he's called Hatta.
The most incredible thing about miracles is that they happen. ~ The Innocence of Father Brown (The Blue Cross) by G. K. Chesterton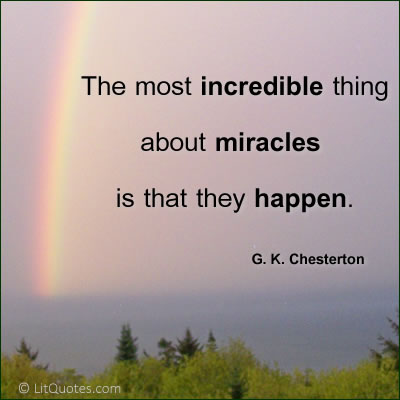 I hope that you all have a MIRACULOUS day!!  BTW, I've posted this quote photo on the LitQuotes Facebook page as well as the LitQuotes Google Plus page for easier sharing.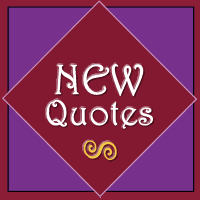 Today I added  new quotes to the collection.  Here are my favorites.  AND if you have a quote that you'd like to see added, feel free to contribute a quote.
"Books are the mirrors of the soul." ~ Between the Acts by Virginia Woolf
Rigid, the skeleton of habit alone upholds the human frame. ~ Mrs. Dalloway by Virginia Woolf
The bird that would soar above the level plain of tradition and prejudice must have strong wings. ~ The Awakening by Kate Chopin
May the wind under your wings bear you where the sun sails and the moon walks. ~ The Hobbit by J. R. R. Tolkien
"Many that live deserve death. And some that die deserve life. Can you give it to them? Then do not be too eager to deal out death in judgement. For even the very wise cannot see all ends." ~ The Fellowship of the Ring by J. R. R. Tolkien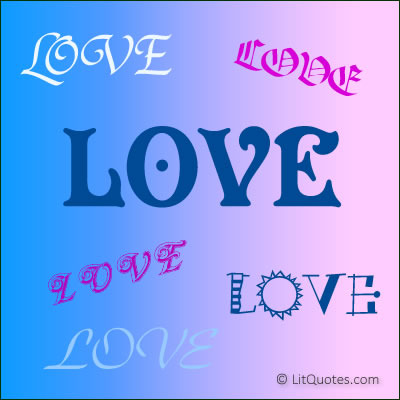 How is it that the poets have said so many fine things about our first love, so few about our later love? Are their first poems their best? Or are not those the best which come from their fuller thought, their larger experience, their deeper-rooted affections? ~ Adam Bede by George Eliot
These fellow-mortals, every one, must be accepted as they are: you can neither straighten their noses, nor brighten their wit, nor rectify their dispositions; and it is these people–amongst whom your life is passed–that it is needful you should tolerate, pity, and love: it is these more or less ugly, stupid, inconsistent people whose movements of goodness you should be able to admire–for whom you should cherish all possible hopes, all possible patience. ~ Adam Bede by George Eliot
Such young unfurrowed souls roll to meet each other like two velvet peaches that touch softly and are at rest; they mingle as easily as two brooklets that ask for nothing but to entwine themselves and ripple with ever-interlacing curves in the leafiest hiding-places. ~ Adam Bede by George Eliot
A difference of taste in jokes is a great strain on the affections. ~ Daniel Deronda by George Eliot
She and Stephen were in that stage of courtship which makes the most exquisite moment of youth, the freshest blossom-time of passion,–when each is sure of the other's love, but no formal declaration has been made, and all is mutual divination, exalting the most trivial word, the lightest gesture, into thrills delicate and delicious as wafted jasmine scent. ~ The Mill on the Floss by George Eliot
Fans of The Hobbit and Lord of the Rings are sure to enjoy today's shirts at TeeFury.  Yep, I said shirts.  They have not one, but two shirts inspired by the work of J.R.R. Tolkien.  If you like the shirts be sure to order today.  (7/17/2014)  They've changed things at TeeFury so you may be able to pick them up tomorrow, but there are no guarantees and the price goes up.
I've ordered from this company and been pleased with the merchandise. The only thing to watch for is the sizing on the women's shirts. Read the size chart before you order.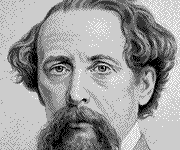 We have all some experience of a feeling, that comes over us occasionally, of what we are saying and doing having been said and done before, in a remote time – of our having been surrounded, dim ages ago, by the same faces, objects, and circumstances – of our knowing perfectly what will be said next, as if we suddenly remembered it! ~ David Copperfield by Charles Dickens
There is a drowsy state, between sleeping and waking, when you dream more in five minutes with your eyes half open, and yourself half conscious of everything that is passing around you, than you would in five nights with your eyes fast closed, and your senses wrapt in perfect unconsciousness. At such time, a mortal knows just enough of what his mind is doing, to form some glimmering conception of its mighty powers, its bounding from earth and spurning time and space, when freed from the restraint of its corporeal associate. ~ Oliver Twist by Charles Dickens
Metaphysics from Charles Dickens?  Who'd have thought it possible?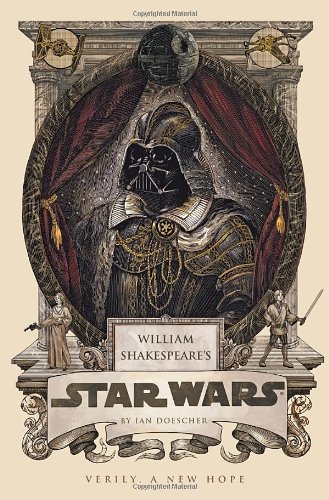 I was reading the newspaper yesterday and this book was mentioned.  William Shakespeare's Star Wars.
Who knew?
Return once more to a galaxy far, far away with this sublime retelling of George Lucas's epic Star Wars in the style of the immortal Bard of Avon. The saga of a wise (Jedi) knight and an evil (Sith) lord, of a beautiful princess held captive and a young hero coming of age, Star Wars abounds with all the valor and villainy of Shakespeare's greatest plays. 'Tis a tale told by fretful droids, full of faithful Wookiees and fearstome Stormtroopers, signifying…pretty much everything.