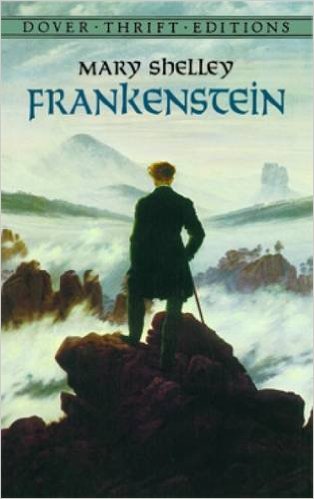 Frankenstein was written by Mary Wollstonecraft Shelley in 1816.
The summer of 1816 was dreary one because of the eruption of Mount Tambora in 1815. It adversely affected the weather and some people called 1816 "the year without a summer." That year Mary Shelley, then Mary Godwin, and her future husband, Percy Bysshe Shelley, visited Lord Byron at the Villa Diodati by Lake Geneva in Switzerland. Because of the bad weather the group ended up spending a lot of time indoors.  One of the things they did to pass the time was to read ghost stories.  That gave Byron an idea.  He proposed that they "each write a ghost story."  That challenge lead to Mary Shelley writing Frankenstein.
The first edition of the book was published anonymously in London in 1818. Shelley's name appears on the second edition, published in France in 1823.
The moon gazed on my midnight labours, while, with unrelaxed and breathless eagerness, I pursued nature to her hiding-places. ~ Frankenstein by Mary Shelley
More About Frankenstein by Mary Shelley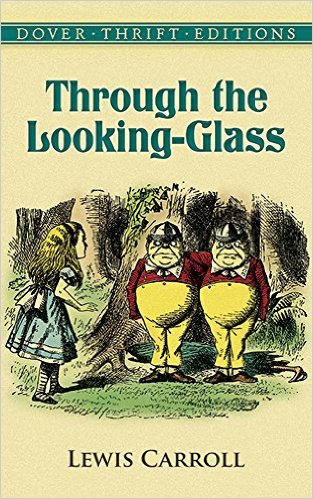 Through the Looking-Glass, and What Alice Found There by Lewis Carroll was published in 1871. The novel is a sequel to Alice's Adventures in Wonderland.
In Through the Looking-Glass Alice climbs through a mirror into another world. Characters in the book include:
Bandersnatch
Haigha (March Hare)
Hatta (The Hatter)
Humpty Dumpty
The Jabberwock
Jubjub bird
Red King
Red Queen
The Lion and the Unicorn
The Sheep
The Walrus and the Carpenter
Tweedledum and Tweedledee
White King
White Knight
White Queen
"'Well, now that we HAVE seen each other," said the Unicorn, "if you'll believe in me, I'll believe in you." ~ Through the Looking-Glass by Lewis Carroll
More about Through the Looking-Glass
The folks at Ript Apparel are featuring a fun Lord of the Rings design today, March 4, 2016.  If you miss the Ale 0f Isengard design today check out their Graveyard and Last Call pages.  If they haven't sold out you might be able to get one there.
May the wind under your wings bear you where the sun sails and the moon walks. ~ The Hobbit by J. R. R. Tolkien
"It was as true . . . as turnips is. It was as true . . . as taxes is. And nothing's truer than them." ~ David Copperfield by Charles Dickens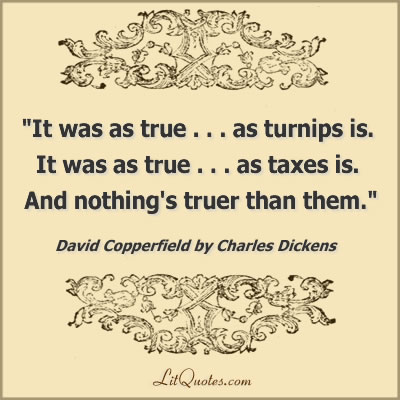 I've posted this at the LitQuotes Facebook page and the LitQuotes Twitter page in case you'd like to share the photo. AND it's on our new Pinterest page.
The end of religion is not to teach us how to die, but how to live. ~ Agnes Grey by Anne Bronte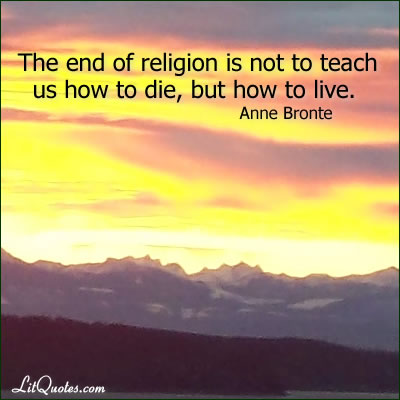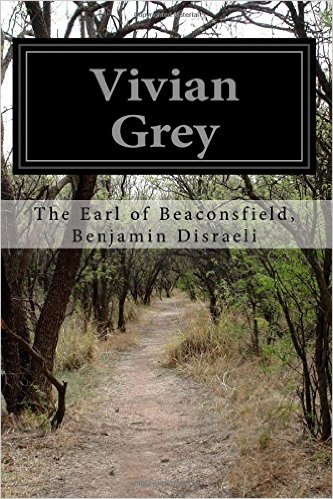 Vivian Grey is the first novel written by Disraeli.  It was published anonymously in 1826.
The novel depicts the life of Vivian Grey as he grows up and attempts to succeed in the world of politics.   The novel has autobiographical elements and is also a satire on the social and political life of the time.  Its publication caused quite a stir as the members of London society tried to deduce the name of the author.
The praise of a fool is incense to the wisest of us. ~ Vivian Grey by Benjamin Disraeli
More about Vivian Grey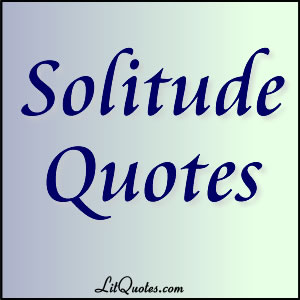 I can live alone, if self-respect, and circumstances require me so to do. I need not sell my soul to buy bliss. I have an inward treasure born with me, which can keep me alive if all extraneous delights should be withheld, or offered only at a price I cannot afford to give. ~ Jane Eyre by Charlotte Bronte
She discovered that, while solitude with dreams is glorious, solitude without them has few charms. ~ Anne of the Island by Lucy Maud Montgomery
She was not accustomed to taste the joys of solitude except in company. ~ The House of Mirth by Edith Wharton
One bright day in the last week of February, I was walking in the park, enjoying the threefold luxury of solitude, a book, and pleasant weather. ~ Agnes Grey by Anne Bronte
At the enchanted metropolitan twilight I felt a haunting loneliness sometimes, and felt it in others–poor young clerks who loitered in front of windows waiting until it was time for a solitary restaurant dinner–young clerks in the dusk, wasting the most poignant moments of night and life. ~ The Great Gatsby by F. Scott Fitzgerald
More Quotes about Solitude from Literature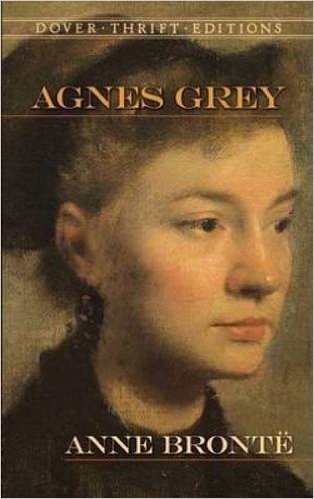 Agnes Grey was published in 1847 under Anne's pen name of Action Bell.  A second edition of the novel was printed in 1850. The second version of the book was edited by Anne's sister, Charlotte Bronte.
The story follows Agnes Grey, a governess, as she works for well-to-do English families.  Anne herself worked as a eagerness for five years so the novel is partly autobiographical.  The novel deals with the precarious nature of being a governess and how that affected women in that position.
But our wishes are like tinder: the flint and steel of circumstances are continually striking out sparks, which vanish immediately, unless they chance to fall upon the tinder of our wishes; then, they instantly ignite, and the flame of hope is kindled in a moment.  ~ Agnes Grey by Anne Bronte
More about Agnes Grey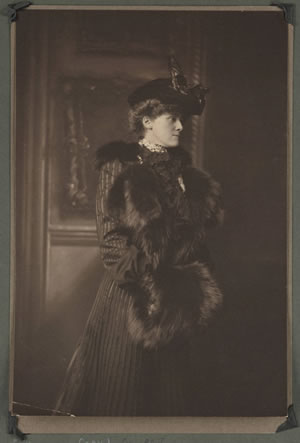 Edith Wharton was an American novelist, short story writer, and designer. She's best knows for her Pulitzer-winning novel, The Age of Innocence as well as Ethan Frome and The House of Mirth.
Edith Newbold Jones was born in New York City in 1862.  Her family was wealthy.  In fact the saying "keeping up with the Joneses" is said to refer to her father's family.
She was always interested in writing.  Wharton began her first novel at eleven.  When she was 15 she was published for the first time.  (It was a translation of a German poem.) Later she would go on to write fifteen novels, seven novellas, eighty-five short stores as well as poems and non-fiction.
In 1885 she married Edward (Teddy) Robbins Wharton.  He shared her love of travel. Sadly, their travels ceased because of Edward's acute depression.  Later his metal health grew worse.  Edith divorced him in 1913 after 28 years of marriage.
During World War One she lived in Paris and was involved in humanitarian projects.   In 1914 Wharton opened a workroom for unemployed women that provided food and employment.  She was involved in the American Hostels for Refugees organization as well as the Children of Flanders Rescue Committee.
Edith Wharton knew many of the well-known people of her time.  This includes Henry James, Sinclair Lewis, Theodore Roosevelt, Bernard Berenson, and Kenneth Clark.
"Half the trouble in life is caused by pretending there isn't any." ~ The House of Mirth by Edith Wharton
More About Edith Wharton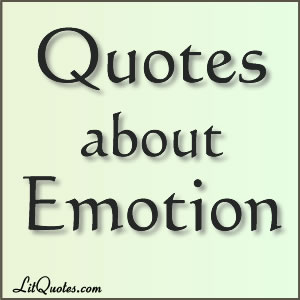 Reason is the first victim of strong emotion. ~ Dune Messiah by Frank Herbert
They came to her, naturally, since she was a woman, all day long with this and that; one wanting this, another that; the children were growing up; she often felt she was nothing but a sponge sopped full of human emotions. ~ To the Lighthouse by Virginia Woolf
But sleep, in the long run, proves greater than all emotions. ~ The Wendigo by Algernon Blackwood
A crowd, proportionately to its size, magnifies all that in its units pertains to the emotions, and diminishes all that in them pertains to thought. ~ Zuleika Dobson by Sir Max Beerbohm
The human brain is capable of only one strong emotion at a time, and if it be filled with curiosity or scientific enthusiasm, there is no room for fear. ~ The Brown Hand by Sir Arthur Conan Doyle
For it is the mind which creates the world about us, and, even though we stand side by side in the same meadow, my eyes will never see what is beheld by yours, my heart will never stir to the emotions with which yours is touched. ~ The Private Papers of Henry Ryecroft by George Gissing
After violent emotion most people and all boys demand food. ~ Captains Courageous by Rudyard Kipling
More Emotion Quotes from Literature