"Tell Wind and Fire where to stop," returned madame; "but don't tell me." ~ A Tale of Two Cities by Charles Dickens
Could I come near your beauty with my nails,
I could set my ten commandments in your face. ~ Henry VI, Part Two by William Shakespeare
"How beautiful you are! You are more beautiful in anger than in repose. I don't ask you for your love; give me yourself and your hatred; give me yourself and that pretty rage; give me yourself and that enchanting scorn; it will be enough for me." ~ The Mystery of Edwin Drood by Charles Dickens
"Holy men? Holy cabbages! Holy bean-pods! What do they do but live and suck in sustenance and grow fat? If that be holiness, I could show you hogs in this forest who are fit to head the calendar. Think you it was for such a life that this good arm was fixed upon my shoulder, or that head placed upon your neck? There is work in the world, man, and it is not by hiding behind stone walls that we shall do it." ~ The White Company by Sir Arthur Conan Doyle
"From hell's heart I stab at thee; for hate's sake I spit my last breath at thee." ~ Moby Dick by Herman Melville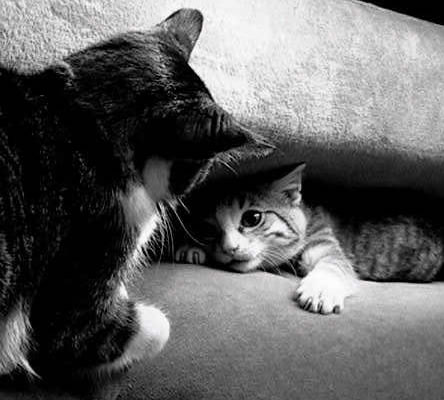 Check out this fun mashup of Alice's Adventures in Wonderland and Doctor Who's TARDIS.  TeeFury is offering this design on men's and women's tees in the gallery portion of their site.   I've ordered from this company and been pleased with the merchandise. The only thing to watch for is the sizing on the women's shirts. Read the size chart before you order.
If you missed this tee, all may not be lost.  Check out the gallery section of TeeFury's website.  They offer their most popular tees there after the date they were featured.
"Why, sometimes I've believed as many as six impossible things before breakfast." ~ Through the Looking-Glass by Lewis Carroll
"Tut, tut, child!" said the Duchess. "Everything's got a moral, if only you can find it." ~ Alice's Adventures in Wonderland by Lewis Carroll
Want to share this quote photo with others?  No problem!  I've posted this quote photo on the LitQuotes Facebook page as well as the LitQuotes Google Plus page to make that easy.
She could not explain in so many words, but she felt that those who prepare for all the emergencies of life beforehand may equip themselves at the expense of joy. ~ Howards End by E. M. Forster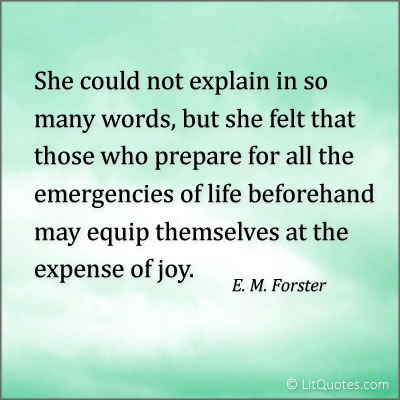 We've added a new feature. Our Random Words of Wisdom Quote page gives you sage thinking from some trusted sources. Maybe you'll get a quote from Charles Dickens, Mark Twain or George Eliot. Our Words of Wisdom collection also contains entries from unexpected sources like Bram Stoker and Algernon Blackwood. I wonder what quote you'll get?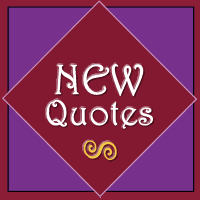 I'm thinking about literature this Labor Day weekend.  OK, who am I kidding?  One look at my numerous bookshelves shows that I'm always thinking about literature.
Anyway, the point is that I've added new quotes to the collection.  Here are my favorites, but if you'd like to see all the new quotes, visit the new quotes page.  Remember that if you have a quote that you'd like to see added, you can contribute a quote.
The world is full enough of hurts and mischances without wars to multiply them. ~ The Return of the King by J. R. R. Tolkien
There is no charm equal to tenderness of heart. ~ Emma by Jane Austen
Could I come near your beauty with my nails,
I could set my ten commandments in your face. ~ Henry VI, Part Two by William Shakespeare
The revenge of an elder sister may be long in coming, but, like a South-Eastern express, it arrives in its own good time. ~ Reginald by Saki
He had, in fact, got everything from the church and Sunday School, except, perhaps, any longing whatever for decency and kindness and reason. ~ Elmer Gantry by Sinclair Lewis
Who knows the end? What has risen may sink, and what has sunk may rise. Loathsomeness waits and dreams in the deep, and decay spreads over the tottering cities of men. ~ The Call of Cthulhu by H. P. Lovecraft
Other LitQuotes Features
There's love and then there's love that's gone bad. . .
"I loved her till they was a dryness like ashes inside me." ~ The Night Horseman by Max Brand
"Since mine own doors refuse to entertain me,
I'll knock elsewhere, to see if they'll disdain me." ~ The Comedy of Errors by William Shakespeare
He thought her beautiful, believed her impeccably wise; dreamed of her, wrote poems to her, which, ignoring the subject, she corrected in red ink. ~ Mrs. Dalloway by Virginia Woolf
Their lives were ruined,he thought; ruined by the fundamental error of their matrimonial union: that of having based a permanent contract on a temporary feeling. ~ Jude the Obscure by Thomas Hardy
"You said I killed you – haunt me, then! The murdered do haunt their murderers, I believe. I know that ghosts have wandered on earth. Be with me always – take any form – drive me mad! only do not leave me in this abyss, where I cannot find you!" ~ Wuthering Heights by Emily Bronte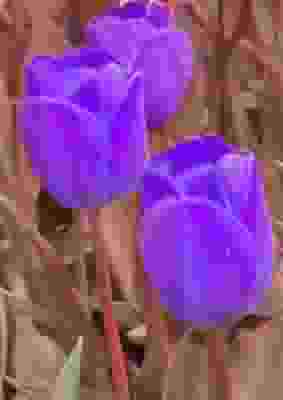 Happy Monday!  I saw this quote and was reminded about the yin and yang of life.  I've posted this quote photo on the LitQuotes Facebook page as well as the LitQuotes Google Plus page for easier sharing.
"The web of our life is of a mingled yarn, good and ill together. Our virtues would be proud if our faults whipt them not; and our crimes would despair if they were not cherish'd by our virtues." ~ All's Well That Ends Well by William Shakespeare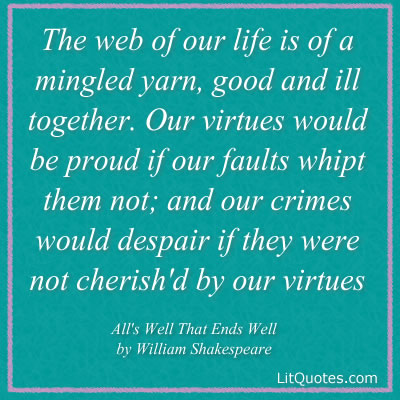 There was such a positive response to the quote photo featuring the below quote, that I've turned it into a greeting card.    You can order the Miracles Quote greeting card, and other fun literary gifts, at the LitQuotes CafePress gift shop.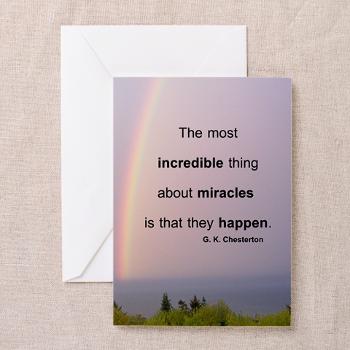 The most incredible thing about miracles is that they happen. ~ The Innocence of Father Brown (The Blue Cross) by G. K. Chesterton
"I'm afraid to speak or move for fear all this wonderful beauty will vanish just like a broken silence." ~ Anne of the Island by Lucy Maud Montgomery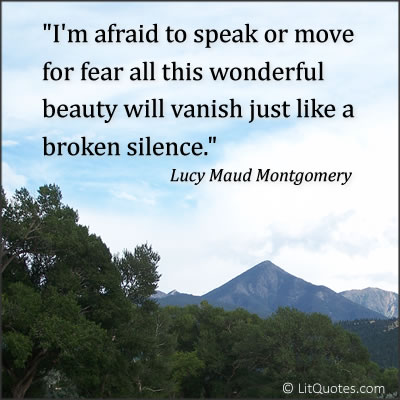 I've posted this quote photo on the LitQuotes Facebook page as well as the LitQuotes Google Plus page for easier sharing.
For the first time she was vaguely perceiving that life is everlasting movement. ~ Alice Adams by Booth Tarkington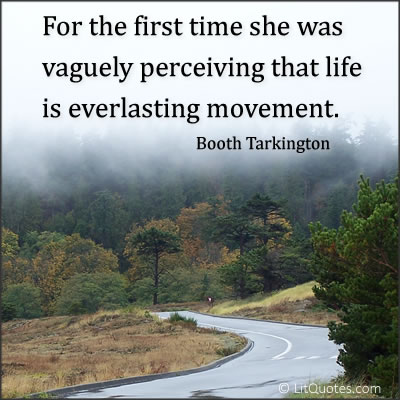 As usual, I've posted this quote photo on the LitQuotes Facebook page as well as the LitQuotes Google Plus page for easier sharing.