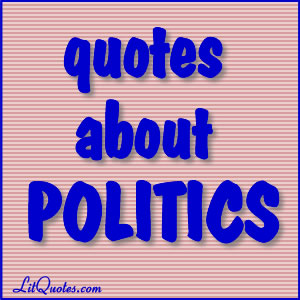 Often I must speak other than I think. That is called diplomacy. ~ Dune Messiah by Frank Herbert
"There is no act of treachery or meanness of which a political party is not capable; for in politics there is no honour." ~ Vivian Grey by Benjamin Disraeli
A drunkard or a gambler may be weaned from his ways, but not a politician. ~ Phineas Redux by Anthony Trollope
He was born to be a senator. He never said anything important, and he always said it sonorously. ~ Elmer Gantry by Sinclair Lewis
"There is no gambling like politics." ~ Endymion by Benjamin Disraeli
"You see my kind of loyalty was loyalty to one's country, not to its institutions or its office-holders. The country is the real thing, the substantial thing, the eternal thing; it is the thing to watch over, and care for, and be loyal to; institutions are extraneous." ~ A Connecticut Yankee in King Arthur's Court by Mark Twain
A drunkard or a gambler may be weaned from his ways, but not a politician. ~ Phineas Redux by Anthony Trollope
From politics, it was an easy step to silence. ~ Northanger Abbey by Jane Austen
"The world is wearied of statesmen; whom democracy has degraded into politicians." ~ Lothair by Benjamin Disraeli
And he gave it for his opinion, "that whoever could make two ears of corn, or two blades of grass, to grow upon a spot of ground where only one grew before, would deserve better of mankind, and do more essential service to his country, than the whole race of politicians put together." ~ Gulliver's Travels by Jonathan Swift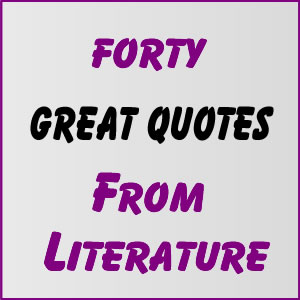 Need some advice or perspective?  Here are 40 great quotes from literature that may help.  These are some of our favorites from our words of wisdom quote collection.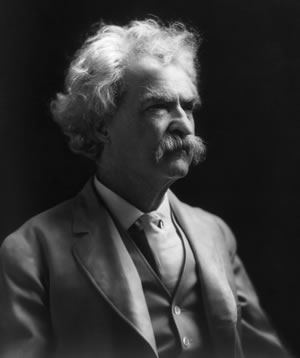 1 – Mark Twain, whose real name was Samuel Langhorne Clemens, was born on November 30th 1835. He died on April 21st, 1910.
2 – For a time he worked as a riverboat pilot on the Mississippi River. He also worked as a newspaper journalist and a miner before he turned to writing fiction.
3 – While he was well paid as a writer, he was plagued with financial problems. One of his biggest problems was bad investments. He lost a lot of money with his investment in Paige Compositor, a mechanical typesetter. Twain eventually declared bankruptcy. However later he paid back all of his creditors.
4 – He married Olivia Landon in 1870. They remained together until her death in 1904. They had four children.
5 – Twain was born shortly after a visit by Halley's Comet. He told people that he would "go out with it" as well. Here's a quote from Twain in 1909.
I came in with Halley's Comet in 1835. It is coming again next year, and I expect to go out with it. It will be the greatest disappointment of my life if I don't go out with Halley's Comet. The Almighty has said, no doubt: 'Now here are these two unaccountable freaks; they came in together, they must go out together'.
Twain predicted correctly. He died the day after the comet's return.
Novels by Mark Twain
The Gilded Age: A Tale of Today
The Adventures of Tom Sawyer
The Prince and the Pauper
Adventures of Huckleberry Finn
A Connecticut Yankee in King Arthur's Court
The American Claimant
The Tragedy of Pudd'nhead Wilson
Tom Sawyer Abroad
Personal Recollections of Joan of Arc
Tom Sawyer, Detective
The Mysterious Stranger (published posthumously)
More about Mark Twain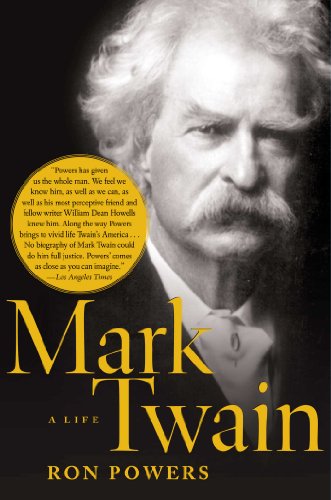 Check out the Kindle version of Mark Twain: A Life
 :
 In Mark Twain, Ron Powers consummates years of thought and research with a tour de force on the life of our culture's founding father, re-creating the 19th century's vital landscapes and tumultuous events while restoring the human being at their center. He offers Sam Clemens as he lived, breathed, and wrote — drawing heavily on the preserved viewpoints of the people who knew him best (especially the great William Dean Howells, his most admiring friend and literary co-conspirator), and on the annals of the American 19th century that he helped shape. Powers's prose rivals Mark Twain's own in its blend of humor, telling detail, and flights of lyricism. With the assistance of the Mark Twain Project at Berkeley, he has been able to draw on thousands of letters and notebook entries, many only recently discovered.
Nothing so needs reforming as other people's habits. ~ The Tragedy of Pudd'nhead Wilson by Mark Twain
Now he found out a new thing–namely, that to promise not to do a thing is the surest way in the world to make a body want to go and do that very thing. ~ The Adventures of Tom Sawyer by Mark Twain
Old habit of mind is one of the toughest things to get away from in the world. It transmits itself like physical form and feature. ~ A Connecticut Yankee in King Arthur's Court by Mark Twain