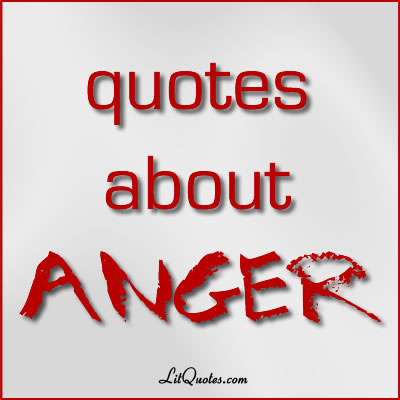 "You do not know how the people of this country bear malice. It is the boast of some of them that they can keep a stone in their pocket seven years, turn it at the end of that time, keep it seven years longer, and hurl it and hit their mark 'at last.'" ~ Shirley by Charlotte Bronte
How often it is that the angry man rages denial of what his inner self is telling him. ~ The Woman in White by Wilkie Collins
Any woman who is sure of her own wits is a match at any time for a man who is not sure of his own temper. ~ The Woman in White by Wilkie Collins
Anger and jealousy can no more bear to lose sight of their objects than love. ~ The Mill on the Floss by George Eliot
Anger's my meat; I sup upon myself,
And so shall starve with feeding. ~ Coriolanus by William Shakespeare
"From hell's heart I stab at thee; for hate's sake I spit my last breath at thee." ~ Moby Dick by Herman Melville
With a fierce action of her hand, as if she sprinkled hatred on the ground, and with it devoted those who were standing there to destruction, she looked up once at the black sky, and strode out into the wild night. ~ Dombey and Son by Charles Dickens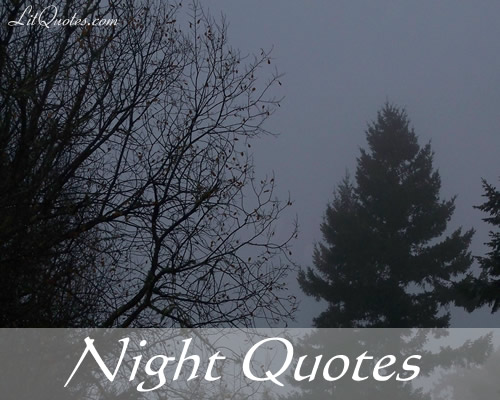 No man knows till he has suffered from the night how sweet and dear to his heart and eye the morning can be. ~ Dracula by Bram Stoker
"The owl, night's herald." ~ Venus and Adonis by William Shakespeare
They never pulled the curtains till it was too dark to see, nor shut the windows till it was too cold. Why shut out the day before it was over? The flowers were still bright; the birds chirped. You could see more in the evening often when nothing interrupted, when there was no fish to order, no telephone to answer. ~ Between the Acts by Virginia Woolf
The longest way must have its close,—the gloomiest night will wear on to a morning. ~ Uncle Tom's Cabin by Harriet Beecher Stowe
In the dead vast and middle of the night. ~ Hamlet, Prince of Denmark by William Shakespeare
At the enchanted metropolitan twilight I felt a haunting loneliness sometimes, and felt it in others–poor young clerks who loitered in front of windows waiting until it was time for a solitary restaurant dinner–young clerks in the dusk, wasting the most poignant moments of night and life. ~ The Great Gatsby by F. Scott Fitzgerald
The cool peace and dewy sweetness of the night filled me with a mood of hope: not hope on any definite point, but a general sense of encouragement and heart-ease. ~ Villette by Charlotte Bronte
Night, the mother of fear and mystery, was coming upon me. ~ The War of the Worlds by H. G. Wells
Once upon a midnight dreary, while I pondered, weak and weary,
Over many a quaint and curious volume of forgotten lore– ~ The Raven by Edgar Allan Poe
With a fierce action of her hand, as if she sprinkled hatred on the ground, and with it devoted those who were standing there to destruction, she looked up once at the black sky, and strode out into the wild night. ~ Dombey and Son by Charles Dickens
Leonard looked at her wondering, and had the sense of great things sweeping out of the shrouded night. But he could not receive them, because his heart was still full of little things. ~ Howards End by E. M. Forster
And when, on the still cold nights, he pointed his nose at a star and howled long and wolflike, it was his ancestors, dead and dust, pointing nose at star and howling down through the centuries and through him. ~ The Call of the Wild by Jack London
"Lead on!" said Scrooge. "Lead on! The night is waning fast, and it is precious time to me, I know. Lead on, Spirit!" ~ A Christmas Carol by Charles Dickens
"Good night, sweet prince, and flights of angels sing thee to thy rest!" ~ Hamlet, Prince of Denmark by William Shakespeare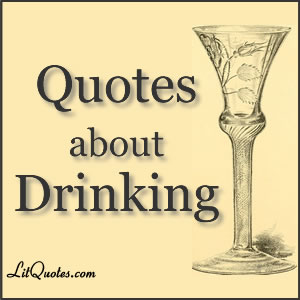 Does it mean anything that three out of the five quotes are from Charles Dickens?
Late hours, nocturnal cigars, and midnight drinkings, pleasurable though they may be, consume too quickly the free-flowing lamps of youth, and are fatal at once to the husbanded candle-ends of age. ~ Phineas Redux by Anthony Trollope
"Fan the sinking flame of hilarity with the wing of friendship; and pass the rosy wine." ~ The Old Curiosity Shop by Charles Dickens
There are two things that will be believed of any man whatsoever, and one of them is that he has taken to drink. ~ Penrod by Booth Tarkington
In particular, there was a butler in a blue coat and bright buttons, who gave quite a winey flavour to the table beer; he poured it out so superbly. ~ Dombey and Son by Charles Dickens
"Take another glass of wine, and excuse my mentioning that society as a body does not expect one to be so strictly conscientious in emptying one's glass, as to turn it bottom upwards with the rim on one's nose."  ~ Great Expectations by Charles Dickens
More Quotes about Drinking from Literature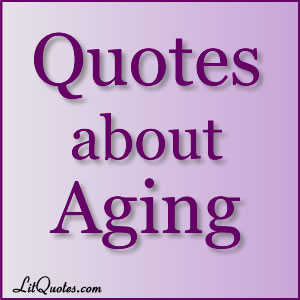 "At forty you stand upon the threshold of life, with values learned and rubbish cleared away. " ~ A Prisoner in Fairyland by Algernon Blackwood
"Anybody is liable to rheumatism in her legs, Anne. It's only old people who should have rheumatism in their souls, though. Thank goodness, I never have. When you get rheumatism in your soul you might as well go and pick out your coffin." ~ Anne of the Island by Lucy Maud Montgomery
At last, however, his conversation became unbearable–a foul young man is odious, but a foul old one is surely the most sickening thing on earth. One feels that the white upon the hair, like that upon the mountain, should signify a height attained. ~ The Stark Munro Letters by Sir Arthur Conan Doyle
When one grew old, the whole world was in conspiracy to limit freedom, and for what reason?–just to keep the breath in him a little longer. He did not want it at such cost. ~ The Forsyte Saga by John Galsworthy
Indeed, he would sometimes remark, when a man fell into his anecdotage, it was a sign for him to retire from the world. ~ Lothair by Benjamin Disraeli
"No one is ever too old to do a foolish thing." ~ Uncle Silas by J. Sheridan Le Fanu
"As I said just now, the world has gone past me. I don't blame it; but I no longer understand it. Tradesmen are not the same as they used to be, apprentices are not the same, business is not the same, business commodities are not the same. Seven-eighths of my stock is old-fashioned. I am an old-fashioned man in an old-fashioned shop, in a street that is not the same as I remember it. I have fallen behind the time, and am too old to catch it again." ~ Dombey and Son by Charles Dickens
"The young have aspirations that never come to pass, the old have reminiscences of what never happened. It's only the middle-aged who are really conscious of their limitations–that is why one should be so patient with them." ~ Reginald by Saki
Don't ever think the poetry is dead in an old man because his forehead is wrinkled, or that his manhood has left him when his hand trembles! If they ever WERE there, they ARE there still! ~ The Autocrat of the Breakfast Table by Oliver Wendell Holmes, Sr.
There comes with old age a time when the heart is no longer fusible or malleable, and must retain the form in which it has cooled down. ~ Uncle Silas by J. Sheridan Le Fanu
What is the meaning of life? That was all–a simple question; one that tended to close in on one with years. The great revelation had never come. The great revelation perhaps never did come. Instead there were little daily miracles, illuminations, matches struck unexpectedly in the dark. ~ To the Lighthouse by Virginia Woolf
More Quotes About Aging from Literature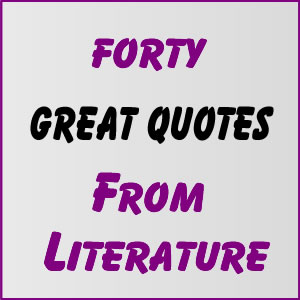 Need some advice or perspective?  Here are 40 great quotes from literature that may help.  These are some of our favorites from our words of wisdom quote collection.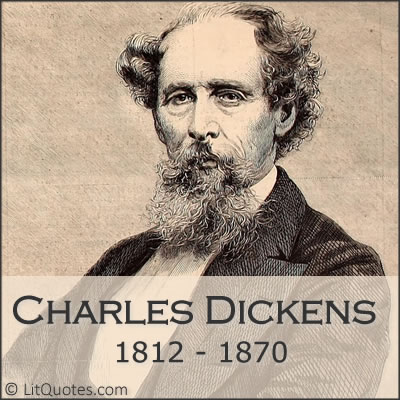 Charles Dickens was born on February 7, 1812 and died in 1870.  He's the author of A Christmas Carol, Great Expectations and other classic novels.  Now here are some things you may not know about Charles Dickens.
1 – As a child, his family was always on the verge of economic collapse. Everything fell apart for the family in 1827. Dickens' father was sent the Marshalsea debtors' prison and young Charles was sent to work in Warren's Blacking Factory. These incidents would haunt Dickens for the rest of his life.
2 – Dickens worked as law clerk, a court stenographer and even contemplated becoming an actor. Luckily for us, Dickens was ill on the day of his audition at the Lyceum Theater and couldn't go. Can you imagine a life without Scrooge?  If Dickens, who was a talented actor, had attended his audition he might not have written A Christmas Carol.
3 – In his early writing he called himself Boz. Boz? You see, one of his favorite characters in Goldsmith's Vicar of Wakefield was called Moses. Moses became Boses which became Boz.
4 – Dickens married Catherine Hogarth in 1835. There were some happy years, but in 1958 they were legally separated. One of the reasons for the separation was Dickens' interest in the actress, Ellen Ternan.
Dickens met Ellen in 1857. Matters came to a head the next year when a bracelet that Dickens bought as a present for Ellen was accidentally delivered to the Dickens household. In a scene straight from a soap opera, Catherine discovered the bracelet and accused Charles of having an affair.
5 – One of the most fascinating aspects of Charles Dickens is that he understood the power of the media. Yes, even in the Victorian Era people had to worry about the press. In September of 1860, behind his home at Gad's Hill Place, Charles Dickens tried to cover his tracks. He gathered "the accumulated letters and papers of twenty years" and set them ablaze in his backyard. What could we have learned had he not taken this action? We'll never know.
More About Charles Dickens
Is someone on your holiday shopping list a fan of Charles Dickens?  If so, may I humbly suggest you visit the Charles Dickens section of the LitQuotes Gift Shop.  One of the most popular items in the Charles Dickens section is the Novels of Charles Dickens mug.   One side features the image of the ever-popular author  of A Christmas Carol.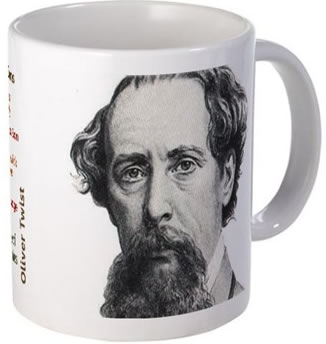 The other side lists the titles of his novels.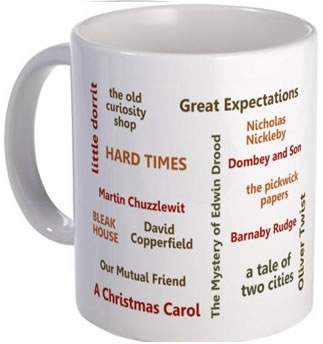 Let's hear it for our feathered friends!  Here are five quotes about birds from literature.
The sigh of all the seas breaking in measure round the isles soothed them; the night wrapped them; nothing broke their sleep, until, the birds beginning and the dawn weaving their thin voices in to its whiteness. ~ To the Lighthouse by Virginia Woolf
"There is many a young cockerel that will stand upon a dunghill and crow about his father, by way of making his own plumage to shine." ~ Cousin Phillis by Elizabeth Gaskell
Nothing in the world is quite as adorably lovely as a robin when he shows off-and they are nearly always doing it. ~ The Secret Garden by Frances Hodgson Burnett
"Do you know," Peter asked "why swallows build in the eaves of houses? It is to listen to the stories." ~ Peter Pan by James M. Barrie
All is going on as it was wont. The waves are hoarse with repetition of their mystery; the dust lies piled upon the shore; the sea-birds soar and hover; the winds and clouds go forth upon their trackless flight; the white arms beckon, in the moonlight, to the invisible country far away. ~ Dombey and Son by Charles Dickens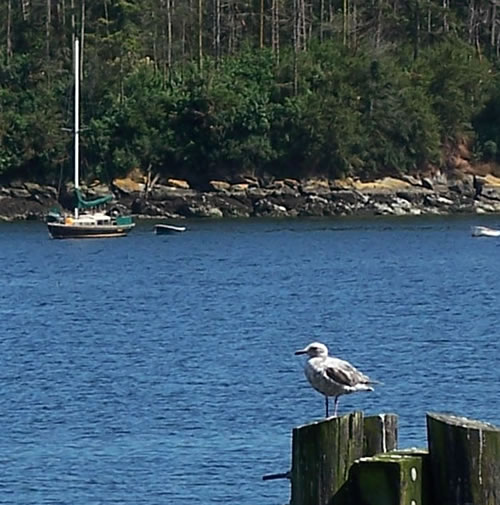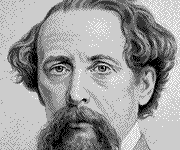 Today marks the 201st anniversary of the birth of Charles Dickens.  To mark the event I thought I'd share 10 of my favorite Dickens quotes:
Heaven knows we need never be ashamed of our tears, for they are rain upon the blinding dust of earth, overlying our hard hearts. ~  Great Expectations
At last, in the dead of the night, when the street was very still indeed, Little Dorrit laid the heavy head upon her bosom, and soothed her to sleep. And thus she sat at the gate, as it were alone; looking up at the stars, and seeing the clouds pass over them in their wild flight–which was the dance at Little Dorrit's party. ~  Little Dorrit
"If you could see my legs when I take my boots off, you'd form some idea of what unrequited affection is."  ~  Dombey and Son
"It's in vain, Trot, to recall the past, unless it works some influence upon the present."  ~  David Copperfield
All other swindlers upon earth are nothing to the self-swindlers, and with such pretences did I cheat myself. Surely a curious thing. That I should innocently take a bad half-crown of somebody else's manufacture, is reasonable enough; but that I should knowingly reckon the spurious coin of my own make, as good money!  ~  Great Expectations
"You may be an undigested bit of beef, a blot of mustard, a crumb of cheese, a fragment of underdone potato. There's more of gravy than of grave about you, whatever you are!" ~  A Christmas Carol
It was the best of times, it was the worst of times, it was the age of wisdom, it was the age of foolishness, it was the epoch of belief, it was the epoch of incredulity, it was the season of light, it was the season of darkness, it was the spring of hope, it was the winter of despair, we had everything before us, we had nothing before us, we were all going direct to heaven, we were all going direct the other way–in short, the period was so far like the present period, that some of its noisiest authorities insisted on its being received, for good or for evil, in the superlative degree of comparison only. ~  A Tale of Two Cities
Annual income twenty pounds, annual expenditure nineteen nineteen and six, result happiness. Annual income twenty pounds, annual expenditure twenty pounds ought and six, result misery. ~  David Copperfield
"Its matter was not new to me, but was presented in a new aspect. It shook me in my habit – the habit of nine-tenths of the world – of believing that all was right about me, because I was used to it." ~  Dombey and Son
"No one is useless in this world," retorted the Secretary, "who lightens the burden of it for any one else." ~  Our Mutual Friend
You might also enjoy these Dickens resources:

Classic literature can be inspirational.  It can be poetic.  It can be educational.  Classic literature can also be really funny!  Check out these ten funny quotes from literature:
1 – "How dreadful!" cried Lord Henry. "I can stand brute force, but brute reason is quite unbearable. There is something unfair about its use. It is hitting below the intellect." ~  The Picture of Dorian Gray by Oscar Wilde
2 – "If you could see my legs when I take my boots off, you'd form some idea of what unrequited affection is."  ~  Dombey and Son by Charles Dickens
3 – Indeed, he would sometimes remark, when a man fell into his anecdotage, it was a sign for him to retire from the world. ~  Lothair by Benjamin Disraeli
4 – You cannot make a man by standing a sheep on its hind-legs. But by standing a flock of sheep in that position you can make a crowd of men. ~  Zuleika Dobson by Sir Max Beerbohm
5 – The bishop did not whistle: we believe that they lose the power of doing so on being consecrated. ~  The Warden by Anthony Trollope
6 – A story with a moral appended is like the bill of a mosquito. It bores you, and then injects a stinging drop to irritate your conscience. ~  Strictly Business by O. Henry
7  – From politics, it was an easy step to silence. ~  Northanger Abbey by Jane Austen
8 – Few things are harder to put up with than the annoyance of a good example. ~  The Tragedy of Pudd'nhead Wilson by Mark Twain
9 – It is not that I object to the work, mind you; I like work: it fascinates me. I can sit and look at it for hours. ~  Three Men in a Boat by Jerome K. Jerome
10 – I don't want to repeat my innocence. I want the pleasure of losing it again. ~  This Side of Paradise by F. Scott Fitzgerald
If you enjoyed these quotes check out our humorous quotes page or our random funny quote feature.