The House of Mirth was was written by Edith Wharton and published as a book in October of 1905. (Earlier in that year it was serialized in Scribner's Magazine.)  The novel tells the tale of socialite Lily Bart as she deals with issues of money, a woman's place in society and social expectations.
"Half the trouble in life is caused by pretending there isn't any." ~ The House of Mirth by Edith Wharton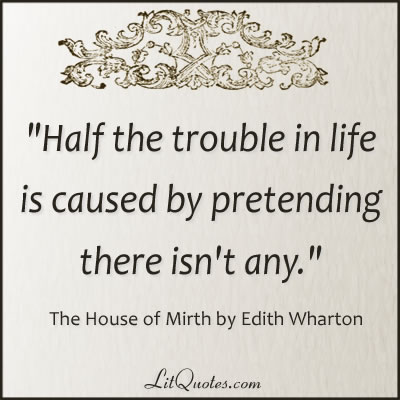 I've also posted this at the LitQuotes Facebook page, the LitQuotes Twitter page and our Pinterest page.
Dawn has power to fertilise the most matter-of-fact vision. ~ The Forsyte Saga by John Galsworthy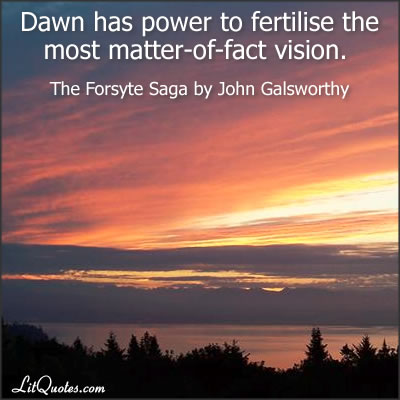 John Galsworthy (1867 – 1933)
I've also posted this at the LitQuotes Facebook page, the LitQuotes Twitter page and our Pinterest page.
After all, the true seeing is within. ~ Middlemarch by George Eliot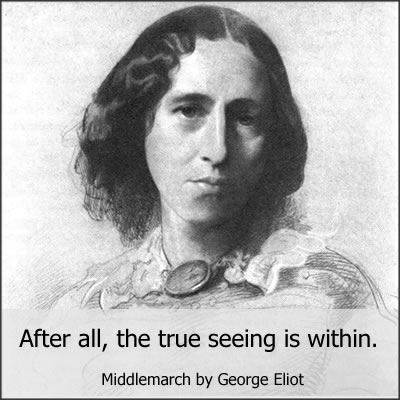 George Eliot (1819-1880)
I've also posted this at the LitQuotes Facebook page, the LitQuotes Twitter page and our Pinterest page.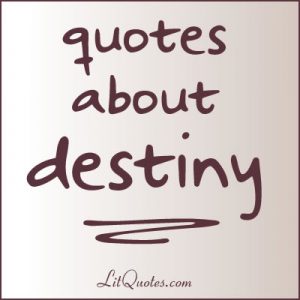 History is a wheel, for the nature of man is fundamentally unchanging. What has happened before will perforce happen again. ~ A Feast for Crows by George R. R. Martin
Can we outrun the heavens? ~ Henry VI, Part Two by William Shakespeare
Were we no better than chessmen, moved by an unseen power, vessels the potter fashions at his fancy, for honour or for shame? ~ Lord Arthur Savile's Crime by Oscar Wilde
Destiny has a constant passion for the incongruous. ~ The Magnificent Ambersons by Booth Tarkington
But often the great cat Fate lets us go only to clutch us again in a fiercer grip. ~ The Curse of Eve by Sir Arthur Conan Doyle
"This whole act's immutably decreed. 'Twas rehearsed by thee and me a billion years before this ocean rolled. Fool! I am the Fates' lieutenant; I act under orders." ~ Moby Dick by Herman Melville
"Men's courses will foreshadow certain ends, to which, if persevered in, they must lead," said Scrooge. "But if the courses be departed from, the ends will change. Say it is thus with what you show me!" ~ A Christmas Carol by Charles Dickens
TeeFury has a great Lord of the Rings t-shirt.
You can get this design, Black Rider Motorcycle Club, at TeeFury.
From splendour he fell through arrogance to contempt for all things save himself, a spirit wasteful and pitiless.
~ The Silmarillion by J. R. R. Tolkien
The folks at Ript Apparel are featuring a fun Lord of the Rings design today.  If you miss the LOTR design check out their Graveyard page.  If they haven't sold out you might be able to get one there.
"All we have to decide is what to do with the time that is given us." ~ The Fellowship of the Ring by J. R. R. Tolkien
Guest post by Lucy Adams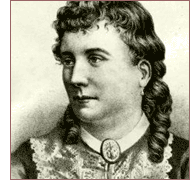 Literature has a way of preserving memories, entertaining a reader, and teaching valuable lessons to generations. People who have written it may have long been dead yet living because of their captivating pieces. Such was the case of Mary Elizabeth Braddon (1835-1915), an English novelist in the Victorian era. Here are more facts about her life and work:
Braddon's parents were separated – Her mother, Fanny, left her husband when Braddon was only four. The major reason for the move was infidelity. During that time, being a single mother was very rare.
She was well educated – Braddon was privately educated in England and France.
Mary Elizabeth Braddon was also an actress – Besides writing, Braddon was an actor. Her motivation was the fact that her family was going through financial difficulties. She supported her mother with the money that she raised. The acting career lasted for 8 years. Because of the controversy involved in being an actress,   she took a stage name-Mary Seyton.
She had famous mentors – Just like many great people, Braddon had mentors to offer her the advice and help that she needed to thrive in her career. The most prominent ones were John Gilby and Edward Bulwer-Lytton.
Braddon was one of the founders of "sensation fiction" – Along with Willkie Collins and Ellen Wood (Mrs. Henry Wood), Braddon was responsible for the genre of sensation fiction. Her most popular sensational novel was the Lady Audrey's Secret (1862).
She founded a magazine – In 1866, Braddon founded the Belgravia magazine. She presented sensational novels, travel narratives fashion its and poems among other literary works to the audience.
She had a controversial love life – In 1860, Braddon met John Maxwell. She moved in with him the next year, despite the fact that he was already married. Upon the death of the first wife, in 1874, the couple got married.
Certainly, Mary Elizabeth Braddon was a great writer and was able to overcome many odds in her life. She rose above these problems and is still famous today.
Phoebe Marks was a person who never lost her individuality. Silent and self-constrained, she seemed to hold herself within herself, and take no color from the outer world. ~ Lady Audley's Secret by Mary Elizabeth Braddon
---
Guest Author Bio:
Lucy Adams is a blogger from edublogawards.org. She's an author that never refuses to cover intriguing topics. Lucy is always in touch and very responsive so that you can expect a fast reply to your each and every request. Share the ideas you have in mind and start a mutually beneficial collaboration right away!
You can get this design, Science of Deduction, at TeeFury.
While you're there, check out their special collections and sales.
"Pshaw, my dear fellow, what do the public, the great unobservant public, who could hardly tell a weaver by his tooth or a compositor by his left thumb, care about the finer shades of analysis and deduction!" ~ The Adventure of the Copper Beeches by Sir Arthur Conan Doyle
There are shadows because there are hills. ~ A Room With A View by E. M. Forster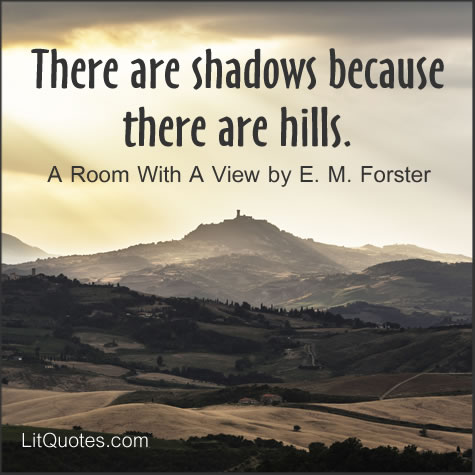 Want to share the photo?  I've also posted this at the LitQuotes Facebook page, the LitQuotes Twitter page AND our Pinterest page.
You can get this design today (11/20/16) at TeeFury.  If you've missed it, don't despair! Go to their site and type "Lovecraft" into the search box.  They have past designs in their special collections and sales.
The sky was darkened, and a low rumbling sound was heard in the air. There was a rushing of many wings, a great chattering and laughing, and the sun came out of the dark sky to show the Wicked Witch surrounded by a crowd of monkeys, each with a pair of immense and powerful wings on his shoulders. ~ The Wonderful Wizard of Oz by L. Frank Baum