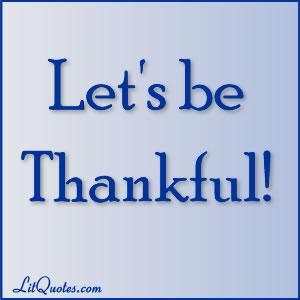 Here are some quotes from literature about being thankful.
The best way to be thankful is to use the goods the gods provide you. ~ The Last Chronicle of Barset by Anthony Trollope
For his part, every beauty of art or nature made him thankful as well as happy, and that the pleasure to be had in listening to fine music, as in looking at the stars in the sky, or at a beautiful landscape or picture, was a benefit for which we might thank Heaven as sincerely as for any other worldly blessing. ~ Vanity Fair by William Makepeace Thackeray
I admire machinery as much is any man, and am as thankful to it as any man can be for what it does for us. But it will never be a substitute for the face of a man, with his soul in it, encouraging another man to be brave and true. ~ Wreck of the Golden Mary by Charles Dickens
More Thankfulness Quotes from Literature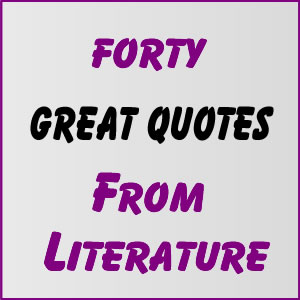 Need some advice or perspective?  Here are 40 great quotes from literature that may help.  These are some of our favorites from our words of wisdom quote collection.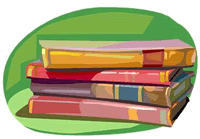 Morning made a considerable difference in my general prospect of Life, and brightened it so much that it scarcely seemed the same. ~  Great Expectations by Charles Dickens
"Self-love, my liege, is not so vile a sin, As self-neglecting." ~  Henry V by William Shakespeare
"Would the world ever have been made if its maker had been afraid of making trouble? Making life means making trouble." ~ Pygmalion by George Bernard Shaw
The mind is its own place, and in it self
Can make a Heaven of Hell, a Hell of Heaven. ~ Paradise Lost by John Milton
"Next to trying and winning, the best thing is trying and failing." ~ Anne of Green Gables by Lucy Maud Montgomery
The world is a looking-glass, and gives back to every man the reflection of his own face. Frown at it, and it will in turn look sourly upon you; laugh at it and with it, and it is a jolly kind companion; and so let all young persons take their choice. ~ Vanity Fair by William Makepeace Thackeray
Conventionality is not morality. Self-righteousness is not religion. To attack the first is not to assail the last. ~ Jane Eyre by Charlotte Bronte
"We learn from failure, not from success!" ~  Dracula by Bram Stoker
It is a fair, even-handed, noble adjustment of things, that while there is infection in disease and sorrow, there is nothing in the world so irresistibly contagious as laughter and good-humour. ~  A Christmas Carol by Charles Dickens
"This above all,–to thine own self be true; and it must follow, as the night the day, thou canst not then be false to any man." ~  Hamlet, Prince of Denmark by William Shakespeare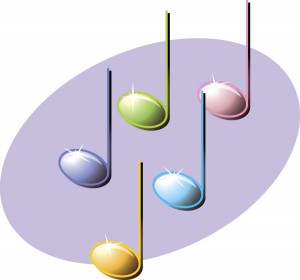 "I do hate singing before that sort of audience. It is like giving them your soul to look at, and you don't want them to see it. It seems indecent. To my mind, music is the most REVEALING thing in the world." ~  The Rosary by Florence L. Barclay
For his part, every beauty of art or nature made him thankful as well as happy, and that the pleasure to be had in listening to fine music, as in looking at the stars in the sky, or at a beautiful landscape or picture, was a benefit for which we might thank Heaven as sincerely as for any other worldly blessing. ~  Vanity Fair by William Makepeace Thackeray
At a single strain of music, the scent of a flower, or even one glimpse of a path of moonlight lying fair upon a Summer sea, the barriers crumble and fall. Through the long corridors the ghosts of the past walk unforbidden, hindered only by broken promises, dead hopes, and dream-dust. ~  Old Rose and Silver by Myrtle Reed
"Your voice and music are the same to me." ~  The Haunted Man by Charles Dickens
She made up her mind to tell them to play loud–there was a lot of music in a cornet, if the man would only put his soul into it. ~  The Forsyte Saga by John Galsworthy
"I think I should have no other mortal wants, if I could always have plenty of music. It seems to infuse strength into my limbs, and ideas into my brain. Life seems to go on without effort, when I am filled with music." ~  The Mill on the Floss by George Eliot
"And now, Doctor, we've done our work, so it's time we had some play. A sandwich and a cup of coffee, and then off to violin-land, where all is sweetness and delicacy and harmony, and there are no red-headed clients to vex us with their conundrums." ~  The Red-Headed League by Sir Arthur Conan Doyle
see all of the music quotes from literature