"It was as true . . . as turnips is. It was as true . . . as taxes is. And nothing's truer than them." ~ David Copperfield by Charles Dickens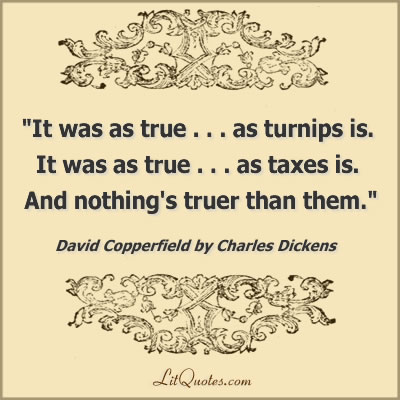 I've posted this at the LitQuotes Facebook page and the LitQuotes Twitter page in case you'd like to share the photo. AND it's on our new Pinterest page.
The end of religion is not to teach us how to die, but how to live. ~ Agnes Grey by Anne Bronte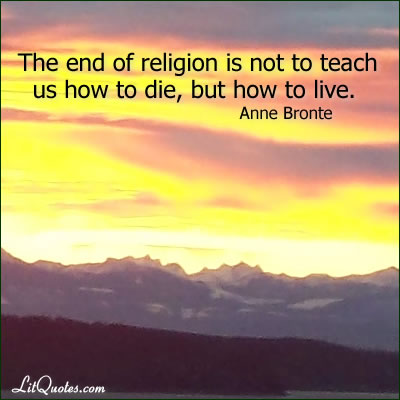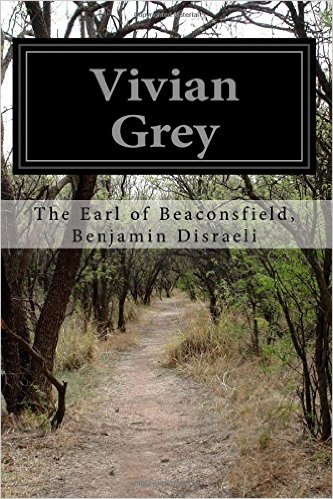 Vivian Grey is the first novel written by Disraeli.  It was published anonymously in 1826.
The novel depicts the life of Vivian Grey as he grows up and attempts to succeed in the world of politics.   The novel has autobiographical elements and is also a satire on the social and political life of the time.  Its publication caused quite a stir as the members of London society tried to deduce the name of the author.
The praise of a fool is incense to the wisest of us. ~ Vivian Grey by Benjamin Disraeli
More about Vivian Grey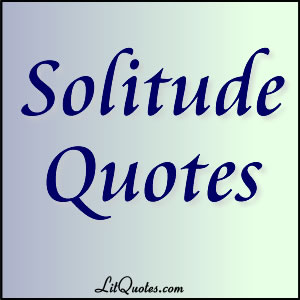 I can live alone, if self-respect, and circumstances require me so to do. I need not sell my soul to buy bliss. I have an inward treasure born with me, which can keep me alive if all extraneous delights should be withheld, or offered only at a price I cannot afford to give. ~ Jane Eyre by Charlotte Bronte
She discovered that, while solitude with dreams is glorious, solitude without them has few charms. ~ Anne of the Island by Lucy Maud Montgomery
She was not accustomed to taste the joys of solitude except in company. ~ The House of Mirth by Edith Wharton
One bright day in the last week of February, I was walking in the park, enjoying the threefold luxury of solitude, a book, and pleasant weather. ~ Agnes Grey by Anne Bronte
At the enchanted metropolitan twilight I felt a haunting loneliness sometimes, and felt it in others–poor young clerks who loitered in front of windows waiting until it was time for a solitary restaurant dinner–young clerks in the dusk, wasting the most poignant moments of night and life. ~ The Great Gatsby by F. Scott Fitzgerald
More Quotes about Solitude from Literature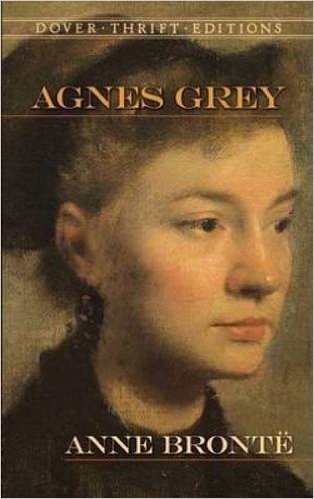 Agnes Grey was published in 1847 under Anne's pen name of Action Bell.  A second edition of the novel was printed in 1850. The second version of the book was edited by Anne's sister, Charlotte Bronte.
The story follows Agnes Grey, a governess, as she works for well-to-do English families.  Anne herself worked as a eagerness for five years so the novel is partly autobiographical.  The novel deals with the precarious nature of being a governess and how that affected women in that position.
But our wishes are like tinder: the flint and steel of circumstances are continually striking out sparks, which vanish immediately, unless they chance to fall upon the tinder of our wishes; then, they instantly ignite, and the flame of hope is kindled in a moment.  ~ Agnes Grey by Anne Bronte
More about Agnes Grey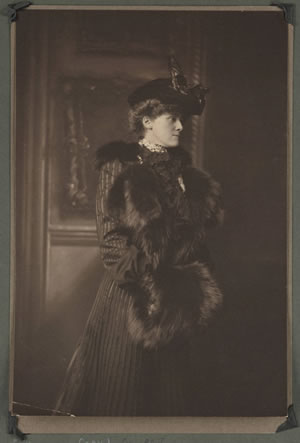 Edith Wharton was an American novelist, short story writer, and designer. She's best knows for her Pulitzer-winning novel, The Age of Innocence as well as Ethan Frome and The House of Mirth.
Edith Newbold Jones was born in New York City in 1862.  Her family was wealthy.  In fact the saying "keeping up with the Joneses" is said to refer to her father's family.
She was always interested in writing.  Wharton began her first novel at eleven.  When she was 15 she was published for the first time.  (It was a translation of a German poem.) Later she would go on to write fifteen novels, seven novellas, eighty-five short stores as well as poems and non-fiction.
In 1885 she married Edward (Teddy) Robbins Wharton.  He shared her love of travel. Sadly, their travels ceased because of Edward's acute depression.  Later his metal health grew worse.  Edith divorced him in 1913 after 28 years of marriage.
During World War One she lived in Paris and was involved in humanitarian projects.   In 1914 Wharton opened a workroom for unemployed women that provided food and employment.  She was involved in the American Hostels for Refugees organization as well as the Children of Flanders Rescue Committee.
Edith Wharton knew many of the well-known people of her time.  This includes Henry James, Sinclair Lewis, Theodore Roosevelt, Bernard Berenson, and Kenneth Clark.
"Half the trouble in life is caused by pretending there isn't any." ~ The House of Mirth by Edith Wharton
Novels and Novellas by Edith Wharton
The Touchstone, 1900
The Valley of Decision, 1902
Sanctuary, 1903
The House of Mirth, 1905
Madame de Treymes, 1907
The Fruit of the Tree, 1907
Ethan Frome, 1911
The Reef, 1912
The Custom of the Country, 1913
Bunner Sisters, 1916
Summer, 1917
The Marne, 1918
The Age of Innocence, 1920
The Glimpses of the Moon, 1922
A Son at the Front, 1923
Old New York: False Dawn, The Old Maid, The Spark, New Year's Day, 1924
The Mother's Recompense, 1925
Twilight Sleep, 1927
The Children, 1928
Hudson River Bracketed, 1929
The Gods Arrive, 1932
The Buccaneers, 1938 (unfinished)
Fast and Loose: A Novelette, 1938 (written in 1876–1877)
More About Edith Wharton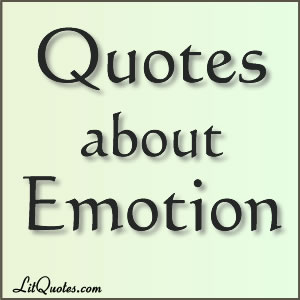 Reason is the first victim of strong emotion. ~ Dune Messiah by Frank Herbert
They came to her, naturally, since she was a woman, all day long with this and that; one wanting this, another that; the children were growing up; she often felt she was nothing but a sponge sopped full of human emotions. ~ To the Lighthouse by Virginia Woolf
But sleep, in the long run, proves greater than all emotions. ~ The Wendigo by Algernon Blackwood
A crowd, proportionately to its size, magnifies all that in its units pertains to the emotions, and diminishes all that in them pertains to thought. ~ Zuleika Dobson by Sir Max Beerbohm
The human brain is capable of only one strong emotion at a time, and if it be filled with curiosity or scientific enthusiasm, there is no room for fear. ~ The Brown Hand by Sir Arthur Conan Doyle
For it is the mind which creates the world about us, and, even though we stand side by side in the same meadow, my eyes will never see what is beheld by yours, my heart will never stir to the emotions with which yours is touched. ~ The Private Papers of Henry Ryecroft by George Gissing
After violent emotion most people and all boys demand food. ~ Captains Courageous by Rudyard Kipling
More Emotion Quotes from Literature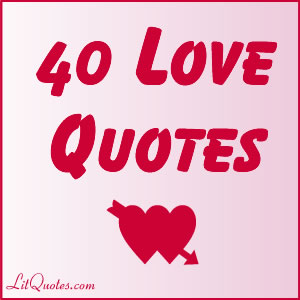 Love looks not with the eyes, but with the mind;
And therefore is wing'd Cupid painted blind. ~ A Midsummer Night's Dream by William Shakespeare

"I do love you surely in a better way than he does." He thought. "Yes—really in a better way. I want you to have your own thoughts even when I hold you in my arms." ~ A Room With A View by E. M. Forster
"God's law is only Love." ~ A Woman of No Importance by Oscar Wilde
I ask you to pass through life at my side—to be my second self, and best earthly companion. ~ Jane Eyre by Charlotte Bronte
Doubt thou the stars are fire;
Doubt that the sun doth move;
Doubt truth to be a liar;
But never doubt I love. ~ Hamlet, Prince of Denmark by William Shakespeare
Love is a flower that grows in any soil, works its sweet miracles undaunted by autumn frost or winter snow, blooming fair and fragrant all the year, and blessing those who give and those who receive. ~ Little Men by Louisa May Alcott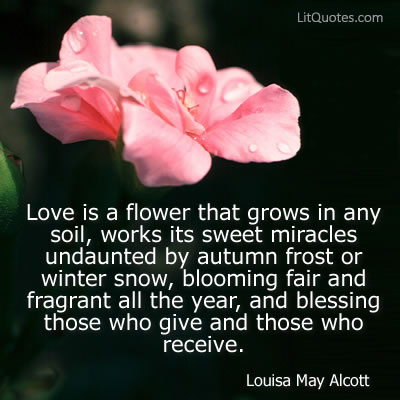 Every atom of your flesh is as dear to me as my own: in pain and sickness it would still be dear. ~ Jane Eyre by Charlotte Bronte
Lovers and madmen have such seething brains,
Such shaping fantasies, that apprehend
More than cool reason ever comprehends. ~ A Midsummer Night's Dream by William Shakespeare
"I don't want sunbursts and marble halls. I just want you." ~ Anne of the Island by Lucy Maud Montgomery
That which is loved may pass, but love hath no end. ~ Parables Of A Province by Gilbert Parker
The winds were warm about us, the whole earth seemed the wealthier for our love. ~ The Amber Gods by Harriet Prescott Spofford
"I hope that real love and truth are stronger in the end than any evil or misfortune in the world." ~  David Copperfield by Charles Dickens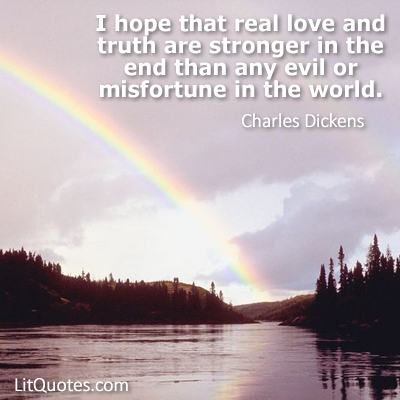 I loved her against reason, against promise, against peace, against hope, against happiness, against all discouragement that could be. ~ Great Expectations by Charles Dickens
Young men's love, then, lies
Not truly in their hearts, but in their eyes. ~ Romeo and Juliet by William Shakespeare
She had found her heart at last. Never having known its worth till now, she had never known the worth of his. ~ Barnaby Rudge by Charles Dickens
It is best to love wisely, no doubt: but to love foolishly is better than not to be able to love at all. ~ The History of Pendennis by William Makepeace Thackeray
"Love has no age, no limit; and no death." ~ The Forsyte Saga by John Galsworthy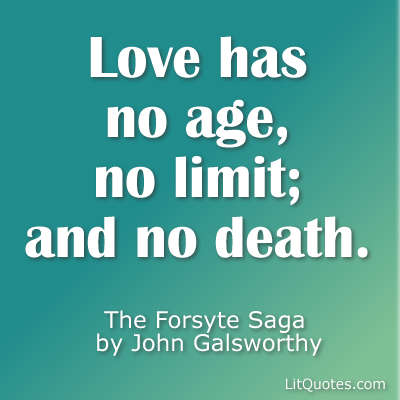 Maggie said that love was the flower of life, and blossomed unexpectedly and without law, and must be plucked where it was found, and enjoyed for the brief hour of its duration. ~ The Rainbow by D. H. Lawrence
"Love comforteth like sunshine after rain." ~ Venus and Adonis by William Shakespeare
"Love knows not distance; it hath no continent; its eyes are for the stars." ~ Parables Of A Province by Gilbert Parker
How is it that the poets have said so many fine things about our first love, so few about our later love? Are their first poems their best? Or are not those the best which come from their fuller thought, their larger experience, their deeper-rooted affections? ~ Adam Bede by George Eliot
Love, it is said, is blind, but love is not blind. It is an extra eye, which shows us what is most worthy of regard. To see the best is to see most clearly, and it is the lover's privilege. ~ The Little Minister by James M. Barrie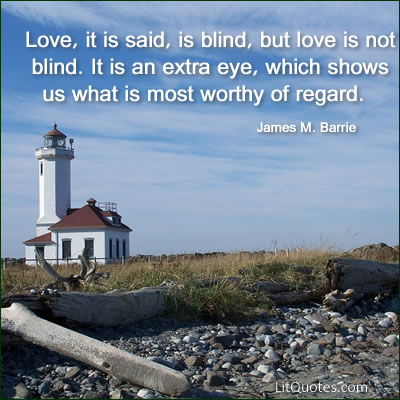 "Love of man for woman–love of woman for man. That's the nature, the meaning, the best of life itself." ~ Riders of the Purple Sage by Zane Grey
"I loved you madly; in the distasteful work of the day, in the wakeful misery of the night, girded by sordid realities, or wandering through Paradises and Hells of visions into which I rushed, carrying your image in my arms, I loved you madly." ~ The Mystery of Edwin Drood by Charles Dickens
"We are all born for love," said Morley. "It is the principle of existence, and its only end." ~ Sybil by Benjamin Disraeli
He knew that when he kissed this girl, and forever wed his unutterable visions to her perishable breath, his mind would never romp again like the mind of God. So he waited, listening for a moment longer to the tuning fork that had been struck upon a star. Then he kissed her. At his lips' touch she blossomed for him like a flower and the incarnation was complete. ~ The Great Gatsby by F. Scott Fitzgerald
"My bounty is as boundless as the sea,
My love as deep; the more I give to thee,
The more I have, for both are infinite." ~ Romeo and Juliet by William Shakespeare
"The best of life is built on what we say when we're in love. It isn't nonsense, Katharine," she urged, "it's the truth, it's the only truth." ~ Night and Day by Virginia Woolf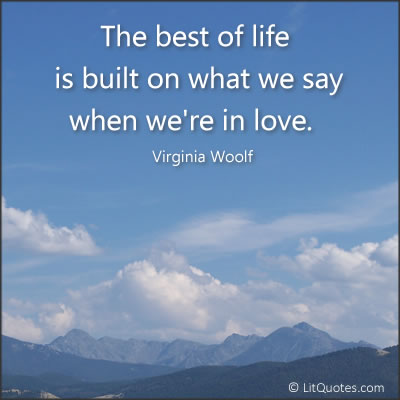 Love is no hot-house flower, but a wild plant, born of a wet night, born of an hour of sunshine; sprung from wild seed, blown along the road by a wild wind. A wild plant that, when it blooms by chance within the hedge of our gardens, we call a flower; and when it blooms outside we call a weed; but, flower or weed, whose scent and colour are always, wild! ~ The Forsyte Saga by John Galsworthy
She lifted her face to him, and he bent forward and kissed her on the mouth, gently, with the one kiss that is an eternal pledge. And as he kissed her his heart strained again in his breast. He never intended to love her. But now it was over. He had crossed over the gulf to her, and all that he had left behind had shrivelled and become void. ~ The Horse Dealer's Daughter by D. H. Lawrence
"If I loved you less, I might be able to talk about it more." ~ Emma by Jane Austen
"Men always want to be a woman's first love. That is their clumsy vanity. We women have a more subtle instinct about things. What we like is to be a man's last romance." ~ A Woman of No Importance by Oscar Wilde
She loved him with too clear a vision to fear his cloudiness. ~ Howards End by E. M. Forster
"I see you everywhere, in the stars, in the river; to me you're everything that exists; the reality of everything." ~ Night and Day by Virginia Woolf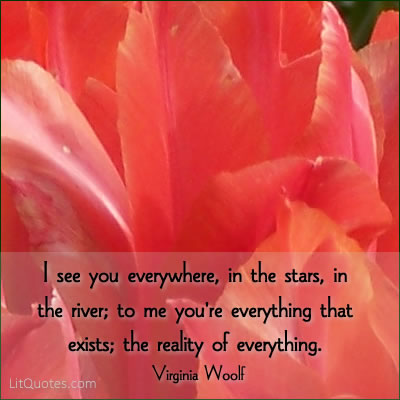 "Is love a tender thing? It is too rough,
Too rude, too boist'rous; and it pricks like thorn." ~ Romeo and Juliet by William Shakespeare
"He's more myself than I am. Whatever our souls are made of, his and mine are the same, and Linton's is as different as a moonbeam from lightning, or frost from fire." ~ Wuthering Heights by Emily Bronte
The course of true love never did run smooth. ~ A Midsummer Night's Dream by William Shakespeare
"Those who speak of love most promiscuously are the ones who've never felt it. They make some sort of feeble stew out of sympathy, compassion, contempt and general indifference, and they call it love. Once you've felt what it means to love as you and I know it–the total passion for the total height–you're incapable of anything less." ~ The Fountainhead by Ayn Rand
"You are my heart, my life, my one and only thought." ~ The White Company by Sir Arthur Conan Doyle
"Who, being loved, is poor?" ~ A Woman of No Importance by Oscar Wilde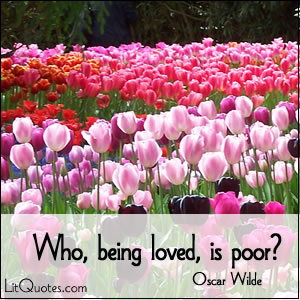 Ready for more?  See our entire love quote collection.