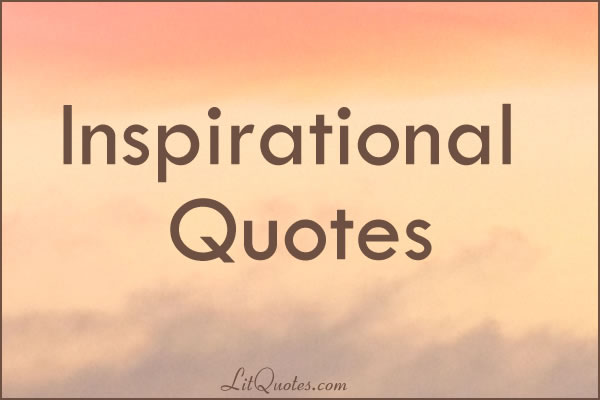 "Everything that's worth having is some trouble." ~ Anne Of Avonlea by Lucy Maud Montgomery
If you need something to worship, then worship life — all life, every last crawling bit of it! We're all in this beauty together! ~ Dune Messiah by Frank Herbert
To see and know the worst is to take from Fear her main advantage. ~ Villette by Charlotte Bronte
May the wind under your wings bear you where the sun sails and the moon walks. ~ The Hobbit by J. R. R. Tolkien
These fellow-mortals, every one, must be accepted as they are: you can neither straighten their noses, nor brighten their wit, nor rectify their dispositions; and it is these people–amongst whom your life is passed–that it is needful you should tolerate, pity, and love: it is these more or less ugly, stupid, inconsistent people whose movements of goodness you should be able to admire–for whom you should cherish all possible hopes, all possible patience. ~ Adam Bede by George Eliot
"You know, there are two good things in life, freedom of thought and freedom of action." ~ Of Human Bondage by W. Somerset Maugham
"Man is not the creature of circumstances. Circumstances are the creatures of men." ~ Vivian Grey by Benjamin Disraeli
"Simple, generous goodness is the best capital to found the business of this life upon. It lasts when fame and money fail, and is the only riches we can take out of this world with us." ~ Little Men by Louisa May Alcott
Men who look on nature, and their fellow-men, and cry that all is dark and gloomy, are in the right; but the sombre colours are reflections from their own jaundiced eyes and hearts. The real hues are delicate, and need a clearer vision. ~ Oliver Twist by Charles Dickens
Be men, or be more than men. Be steady to your purposes and firm as a rock. This ice is not made of such stuff as your hearts may be; it is mutable and cannot withstand you if you say that it shall not. ~ Frankenstein by Mary Shelley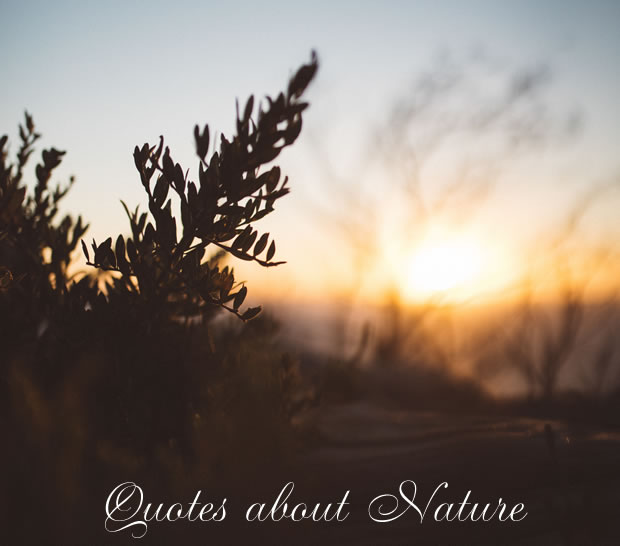 There are many literary quotes about nature.  Here are some of the best.
"There is no such thing as magic, though there is such a thing as a knowledge of the secrets of Nature." ~ She by H. Rider Haggard
"Bees do have a smell, you know, and if they don't they should, for their feet are dusted with spices from a million flowers." ~ Dandelion Wine by Ray Bradbury
If you need something to worship, then worship life — all life, every last crawling bit of it! We're all in this beauty together! ~ Dune Messiah by Frank Herbert
It was October, and the air was cool and sharp, woodsmoke and damp moss exquisitely mingled in it with the subtle odours of the pines. ~ Secret Worship by Algernon Blackwood
The western sky was clear and flushed with vivid crimson, towards which the prairie rolled away in varying tones of blue. ~ Blake's Burden by Harold Bindloss
Sunlight is the life-blood of Nature. Mother Earth looks at us with such dull, soulless eyes, when the sunlight has died away from out of her. It makes us sad to be with her then; she does not seem to know us or to care for us. ~ Three Men in a Boat by Jerome K. Jerome
Have you ever observed a humming-bird moving about in an aerial dance among the flowers–a living prismatic gem that changes its colour with every change of position. ~ Green Mansions by W. H. Hudson
Nature is the true revelation of the Deity to man. The nearest green field is the inspired page from which you may read all that it is needful for you to know. ~ The Stark Munro Letters by Sir Arthur Conan Doyle
Photo by Billy Pasco on Unsplash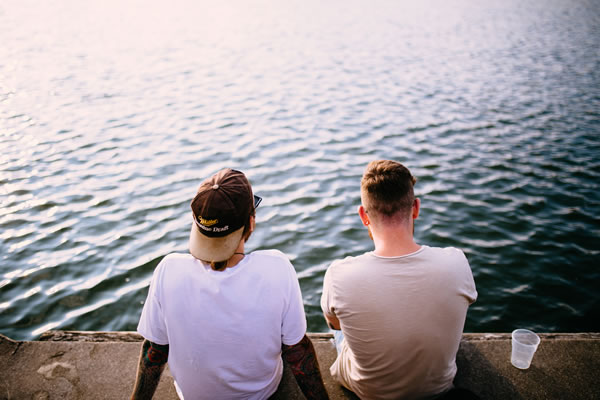 The site has a large collection of literary quotes about communication.  These are some of my favorites.
In reality they all lived in a kind of hieroglyphic world, where the real thing was never said or done or even thought, but only represented by a set of arbitrary signs. ~ The Age of Innocence by Edith Wharton
"Old men only lie in wait for people to ask them to talk. Then they rattle on like a rusty elevator wheezing up a shaft." ~ Dandelion Wine by Ray Bradbury
Often I must speak other than I think. That is called diplomacy. ~ Dune Messiah by Frank Herbert
"With no intention to take offence, I deny your right to put words into my mouth." ~ Treasure Island by Robert Louis Stevenson
Our words are giants when they do us an injury, and dwarfs when they do us a service. ~ The Woman in White by Wilkie Collins
"Words," said the host, at length, "is worse'n bullets. You never know what they'll hit." ~ The Night Horseman by Max Brand
Fair speech may hide a foul heart. ~ The Two Towers by J. R. R. Tolkien
We are never half so interesting when we have learned that language is given us to enable us to conceal our thoughts. ~ Anne of the Island by Lucy Maud Montgomery
"I make no manner of doubt that you threw a very diamond of truth at me, though you see it hit me so directly in the face that it wasn't exactly appreciated, at first." ~ Uncle Tom's Cabin by Harriet Beecher Stowe
Never tell all you know—not even to the person you know best. ~ The Secret Adversary by Agatha Christie
Fine, large, meaningless, general terms like romance and business can always be related. They take the place of thinking, and are highly useful to optimists and lecturers. ~ The Job by Sinclair Lewis
The fool wonders, the wise man asks. ~ Count Alarcos: A Tragedy by Benjamin Disraeli
A slight throbbing about the temples told me that this discussion had reached saturation point. ~ Right Ho, Jeeves by P. G. Wodehouse
Mrs. Bittacy rustled ominously, holding her peace meanwhile. She feared long words she did not understand. Beelzebub lay hid among too many syllables. ~ The Man Whom the Trees Loved by Algernon Blackwood
To read between the lines was easier than to follow the text. ~ The Portrait of a Lady by Henry James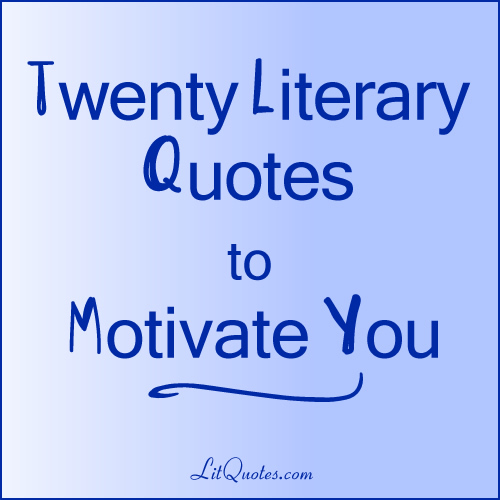 Let's face it.  Life can be tough. To help get you through, here are twenty of the best motivational quotes that literature has to offer . . .
If you need something to worship, then worship life — all life, every last crawling bit of it! We're all in this beauty together! ~ Dune Messiah by Frank Herbert
Even on this small stage we have our two sides, and something might be done by throwing all one's weight on the scale of breadth, tolerance, charity, temperance, peace, and kindliness to man and beast. We can't all strike very big blows, and even the little ones count for something. ~ The Stark Munro Letters by Sir Arthur Conan Doyle
The mind is its own place, and in it self
Can make a Heaven of Hell, a Hell of Heaven. ~ Paradise Lost by John Milton
Out of the night that covers me,
Black as the pit From pole to pole,
I thank whatever gods may be
For my unconquerable soul. ~ Invictus by William Ernest Henley
"I say that the strongest principle of growth lies in human choice." ~ Daniel Deronda by George Eliot
"I hope that real love and truth are stronger in the end than any evil or misfortune in the world." ~ David Copperfield by Charles Dickens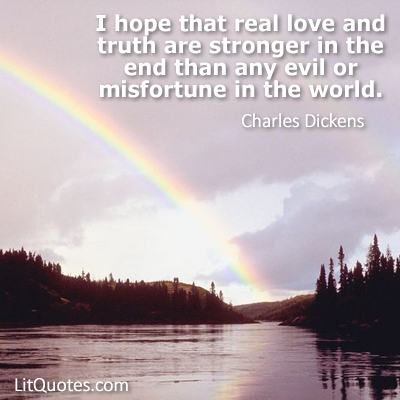 "Look at that sea, girls–all silver and shadow and vision of things not seen. We couldn't enjoy its loveliness any more if we had millions of dollars and ropes of diamonds." ~ Anne of Green Gables by Lucy Maud Montgomery
"I'm not afraid of storms, for I'm learning how to sail my ship." ~ Little Women by Louisa May Alcott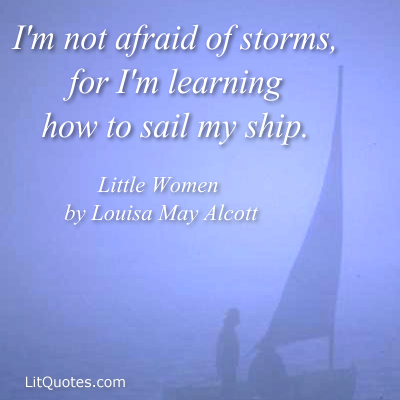 "People are always blaming circumstances for what they are. I don't believe in circumstances. The people who get on in this world are the people who get up and look for the circumstances they want, and, if they can't find them, make them." ~ Mrs. Warren's Profession by George Bernard Shaw
The Sun himself is weak when he first rises, and gathers strength and courage as the day gets on. ~ The Old Curiosity Shop by Charles Dickens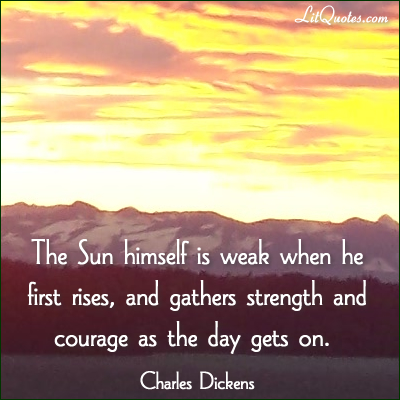 "Nurture your mind with great thoughts. To believe in the heroic makes heroes." ~ Coningsby by Benjamin Disraeli
"As long as the heart beats, as long as body and soul keep together, I cannot admit that any creature endowed with a will has need to despair of life." ~ Journey to the Center of the Earth by Jules Verne
"Love has no age, no limit; and no death." ~ The Forsyte Saga by John Galsworthy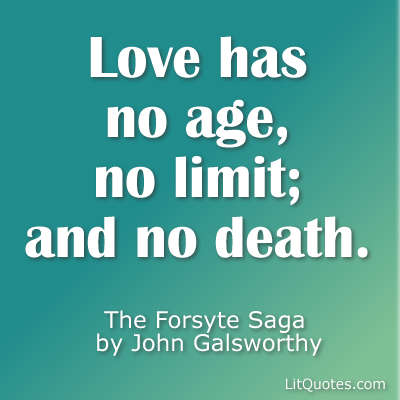 "There are times, young fellah, when every one of us must make a stand for human right and justice, or you never feel clean again." ~ The Lost World by Sir Arthur Conan Doyle
"Virtue is bold, and goodness never fearful." ~ Measure for Measure by William Shakespeare
"The sun does not shine upon this fair earth to meet frowning eyes, depend upon it." ~ Nicholas Nickleby by Charles Dickens
"That is one good thing about this world. . .there are always sure to be more springs." ~ Anne Of Avonlea by Lucy Maud Montgomery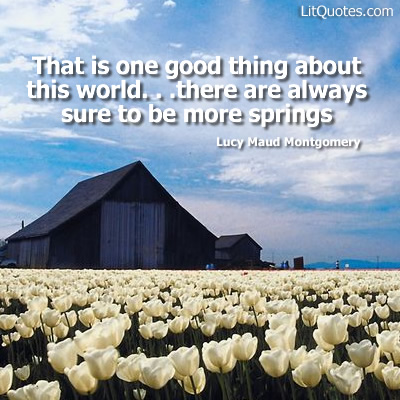 Come what may, I am bound to think that all things are ordered for the best; though when the good is a furlong off, and we with our beetle eyes can only see three inches, it takes some confidence in general principles to pull us through. ~ The Stark Munro Letters by Sir Arthur Conan Doyle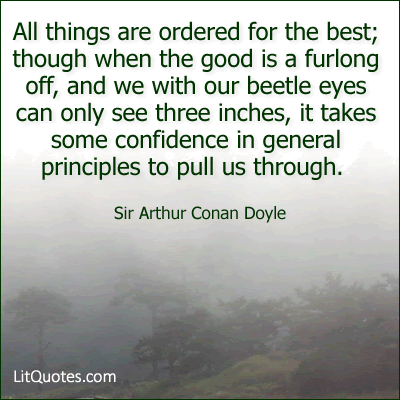 "You know, there are two good things in life, freedom of thought and freedom of action." ~ Of Human Bondage by W. Somerset Maugham
There are dark shadows on the earth, but its lights are stronger in the contrast. ~ The Pickwick Papers by Charles Dickens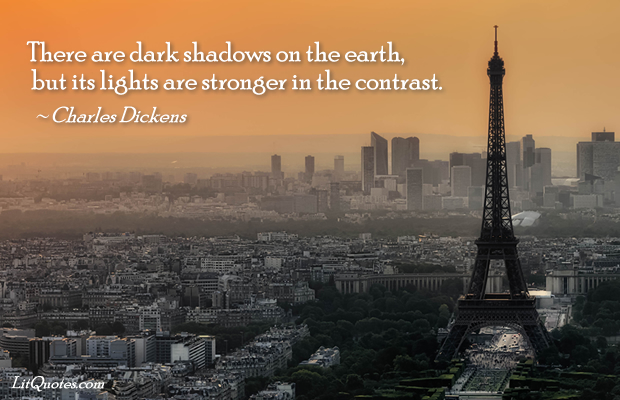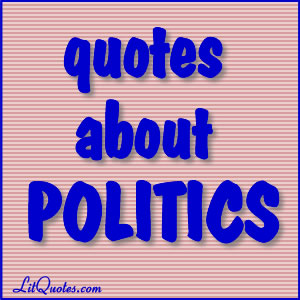 Often I must speak other than I think. That is called diplomacy. ~ Dune Messiah by Frank Herbert
"There is no act of treachery or meanness of which a political party is not capable; for in politics there is no honour." ~ Vivian Grey by Benjamin Disraeli
A drunkard or a gambler may be weaned from his ways, but not a politician. ~ Phineas Redux by Anthony Trollope
He was born to be a senator. He never said anything important, and he always said it sonorously. ~ Elmer Gantry by Sinclair Lewis
"There is no gambling like politics." ~ Endymion by Benjamin Disraeli
"You see my kind of loyalty was loyalty to one's country, not to its institutions or its office-holders. The country is the real thing, the substantial thing, the eternal thing; it is the thing to watch over, and care for, and be loyal to; institutions are extraneous." ~ A Connecticut Yankee in King Arthur's Court by Mark Twain
A drunkard or a gambler may be weaned from his ways, but not a politician. ~ Phineas Redux by Anthony Trollope
From politics, it was an easy step to silence. ~ Northanger Abbey by Jane Austen
"The world is wearied of statesmen; whom democracy has degraded into politicians." ~ Lothair by Benjamin Disraeli
And he gave it for his opinion, "that whoever could make two ears of corn, or two blades of grass, to grow upon a spot of ground where only one grew before, would deserve better of mankind, and do more essential service to his country, than the whole race of politicians put together." ~ Gulliver's Travels by Jonathan Swift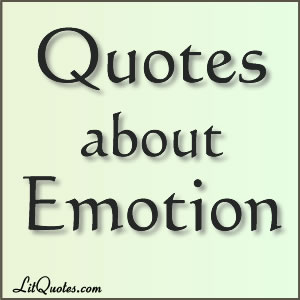 Reason is the first victim of strong emotion. ~ Dune Messiah by Frank Herbert
They came to her, naturally, since she was a woman, all day long with this and that; one wanting this, another that; the children were growing up; she often felt she was nothing but a sponge sopped full of human emotions. ~ To the Lighthouse by Virginia Woolf
But sleep, in the long run, proves greater than all emotions. ~ The Wendigo by Algernon Blackwood
A crowd, proportionately to its size, magnifies all that in its units pertains to the emotions, and diminishes all that in them pertains to thought. ~ Zuleika Dobson by Sir Max Beerbohm
The human brain is capable of only one strong emotion at a time, and if it be filled with curiosity or scientific enthusiasm, there is no room for fear. ~ The Brown Hand by Sir Arthur Conan Doyle
For it is the mind which creates the world about us, and, even though we stand side by side in the same meadow, my eyes will never see what is beheld by yours, my heart will never stir to the emotions with which yours is touched. ~ The Private Papers of Henry Ryecroft by George Gissing
After violent emotion most people and all boys demand food. ~ Captains Courageous by Rudyard Kipling
More Emotion Quotes from Literature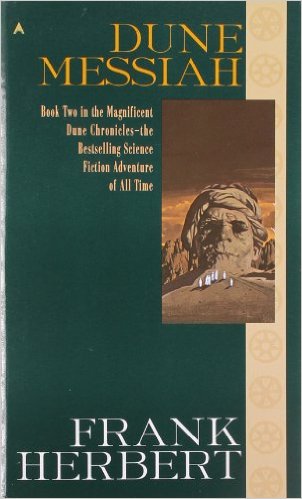 Dune Messiah, by Frank Herbert, is the second of six books in the Dune series of novels. It was serialized in Galaxy magazine in 1969 and published as a novel in 1970.
Some fans of the first novel, Dune,  were surprised by Dune Messiah.  Dune contains a lot of action and adventure.  Dune Messiah deals more with political intrigue and internal character development.
I interviewed a fan of Dune for this blog post.  He said this about Dune Messiah.  "I read that Frank Herbert was suspicious of charismatic leaders and thought they were dangerous.  So in Dune Messiah he tore down Paul, the hero of Dune . . . I loved Dune, but didn't get through Dune Messiah the first time.  I read it years later and liked it more, but Dune is still my favorite of the series."
There are problems in this universe for which there are no answers. ~ Dune Messiah by Frank Herbert
Get the book at Amazon – Dune Messiah (The Dune Chronicles, Book 2)

Fifty new quotes were added to the site today.  All of our quotes list an author and a source. We're proud that this quotation collection is curated by people and NOT by a computer program.
Here are some quotes from the new additions.
If you need something to worship, then worship life — all life, every last crawling bit of it! We're all in this beauty together! ~ Dune Messiah by Frank Herbert
The end of religion is not to teach us how to die, but how to live. ~ Agnes Grey by Anne Bronte
"A man's fate is his own temper; and according to that will be his opinion as to the particular manner in which the course of events is regulated. A consistent man believes in Destiny, a capricious man in Chance." ~ Vivian Grey by Benjamin Disraeli
"Who, being loved, is poor?" ~ A Woman of No Importance by Oscar Wilde
Life is easy to chronicle, but bewildering to practice. ~ A Room With A View by E. M. Forster
It is a narrow mind which cannot look at a subject from various points of view. ~ Middlemarch by George Eliot
The course of true love never did run smooth. ~ A Midsummer Night's Dream by William Shakespeare
Frank Herbert's full name was Frank Patrick Herbert, Jr.  He was born on October 8, 1920 in Tacoma, Washington. He's best known for his novel Dune.  Before he became a popular author he worked as a newspaper journalist, photographer, short story writer, book reviewer, ecological consultant and lecturer.  He died on February 11, 1986.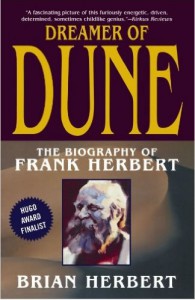 To learn more about Frank Herbert, and there's tons more to know, check out Dreamer of Dune: The Biography of Frank Herbert.  The book is written by Herbert's son, Brian.  If you're a fan of Dune you're sure to love it.  You'll also enjoy the book if you're an aspiring writer or someone trying to make a new start in life.  Frank Herbert didn't always have an easy road to travel. What he had was intellect, a strong work ethic, a unique vision and that made for one extraordinary life.  I loved this book and highly recommend it.
A fan of Dune said to me about this book, "The way that Brian presented his father, warts and all, reminded me of Dune Messiah.  Not that Brian was tearing down his father, but he presented both the good and bad about him.  I think that Frank Herbert wouldn't have had it any other way."
I must not fear. Fear is the mind-killer. Fear is the little-death that brings total obliteration. I will face my fear. I will permit it to pass over me and through me. And when it has gone past I will turn the inner eye to see its path. Where the fear has gone there will be nothing. Only I will remain. ~ Dune by Frank Herbert
Novels in the Dune Series by Frank Herbert:
Dune
Dune Messiah
Children of Dune
God Emperor of Dune
Heretics of Dune
Chapterhouse: Dune