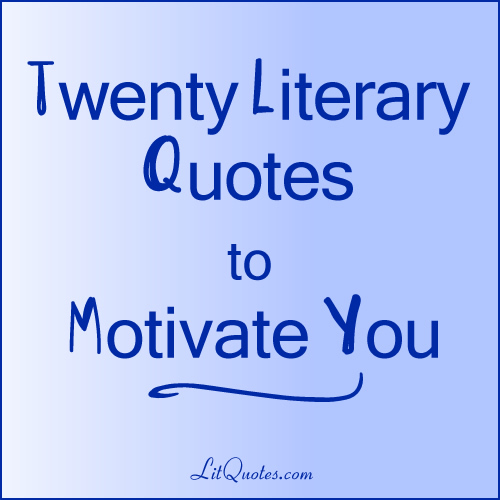 Let's face it.  Life can be tough. To help get you through, here are twenty of the best motivational quotes that literature has to offer . . .
If you need something to worship, then worship life — all life, every last crawling bit of it! We're all in this beauty together! ~ Dune Messiah by Frank Herbert
Even on this small stage we have our two sides, and something might be done by throwing all one's weight on the scale of breadth, tolerance, charity, temperance, peace, and kindliness to man and beast. We can't all strike very big blows, and even the little ones count for something. ~ The Stark Munro Letters by Sir Arthur Conan Doyle
The mind is its own place, and in it self
Can make a Heaven of Hell, a Hell of Heaven. ~ Paradise Lost by John Milton
Out of the night that covers me,
Black as the pit From pole to pole,
I thank whatever gods may be
For my unconquerable soul. ~ Invictus by William Ernest Henley
"I say that the strongest principle of growth lies in human choice." ~ Daniel Deronda by George Eliot
"I hope that real love and truth are stronger in the end than any evil or misfortune in the world." ~ David Copperfield by Charles Dickens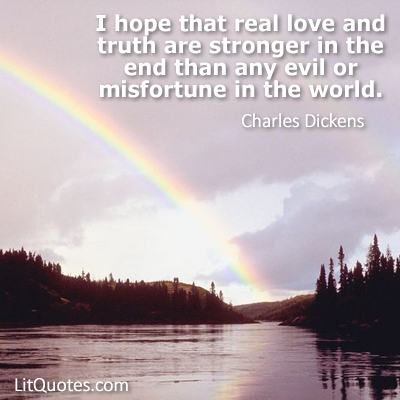 "Look at that sea, girls–all silver and shadow and vision of things not seen. We couldn't enjoy its loveliness any more if we had millions of dollars and ropes of diamonds." ~ Anne of Green Gables by Lucy Maud Montgomery
"I'm not afraid of storms, for I'm learning how to sail my ship." ~ Little Women by Louisa May Alcott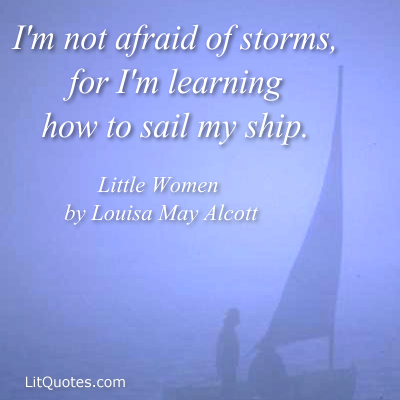 "People are always blaming circumstances for what they are. I don't believe in circumstances. The people who get on in this world are the people who get up and look for the circumstances they want, and, if they can't find them, make them." ~ Mrs. Warren's Profession by George Bernard Shaw
The Sun himself is weak when he first rises, and gathers strength and courage as the day gets on. ~ The Old Curiosity Shop by Charles Dickens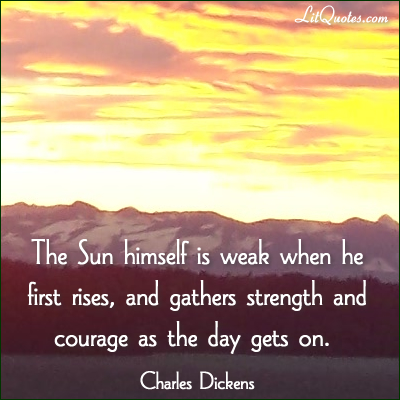 "Nurture your mind with great thoughts. To believe in the heroic makes heroes." ~ Coningsby by Benjamin Disraeli
"As long as the heart beats, as long as body and soul keep together, I cannot admit that any creature endowed with a will has need to despair of life." ~ Journey to the Center of the Earth by Jules Verne
"Love has no age, no limit; and no death." ~ The Forsyte Saga by John Galsworthy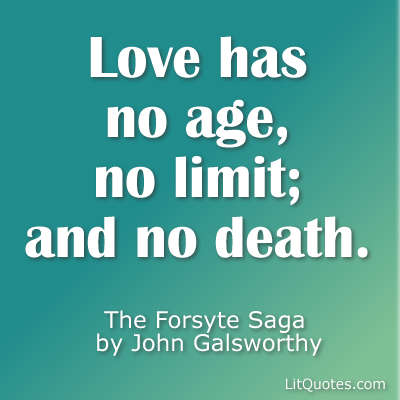 "There are times, young fellah, when every one of us must make a stand for human right and justice, or you never feel clean again." ~ The Lost World by Sir Arthur Conan Doyle
"Virtue is bold, and goodness never fearful." ~ Measure for Measure by William Shakespeare
"The sun does not shine upon this fair earth to meet frowning eyes, depend upon it." ~ Nicholas Nickleby by Charles Dickens
"That is one good thing about this world. . .there are always sure to be more springs." ~ Anne Of Avonlea by Lucy Maud Montgomery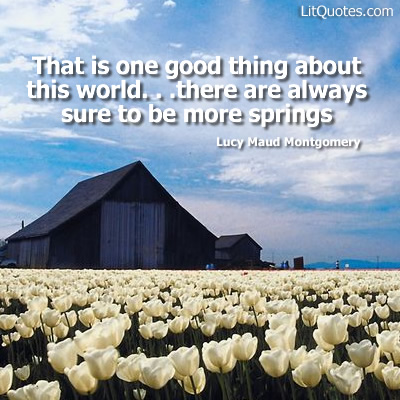 Come what may, I am bound to think that all things are ordered for the best; though when the good is a furlong off, and we with our beetle eyes can only see three inches, it takes some confidence in general principles to pull us through. ~ The Stark Munro Letters by Sir Arthur Conan Doyle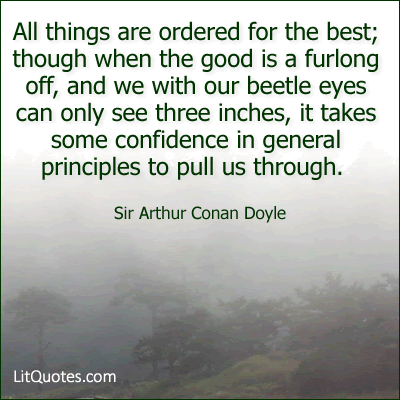 "You know, there are two good things in life, freedom of thought and freedom of action." ~ Of Human Bondage by W. Somerset Maugham
There are dark shadows on the earth, but its lights are stronger in the contrast. ~ The Pickwick Papers by Charles Dickens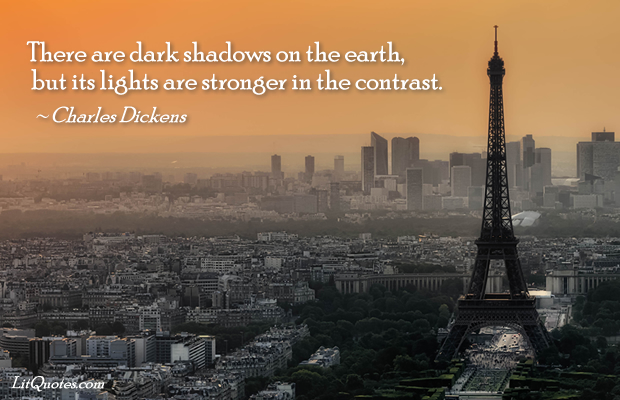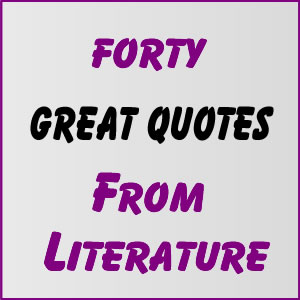 Need some advice or perspective?  Here are 40 great quotes from literature that may help.  These are some of our favorites from our words of wisdom quote collection.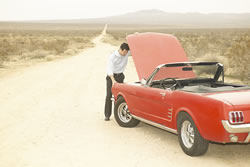 I hope that your weekend is off to a good start!  No flat tires, arguments or bounced checks.  Just in case though, here are five quotes about trouble that may help you take it all in stride.
"Most of the trouble in life comes from misunderstanding, I think," said Anne. ~ Anne of the Island by Lucy Maud Montgomery
"Would the world ever have been made if its maker had been afraid of making trouble? Making life means making trouble." ~ Pygmalion by George Bernard Shaw
"Half the trouble in life is caused by pretending there isn't any." ~ The House of Mirth by Edith Wharton
"I have read in your face, as plain as if it was a book, that but for some trouble and sorrow we should never know half the good there is about us." ~ The Haunted Man by Charles Dickens
"Oh, friend John, it is a strange world, a sad world, a world full of miseries, and woes, and troubles. And yet when King Laugh come, he make them all dance to the tune he play." ~ Dracula by Bram Stoker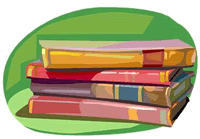 Morning made a considerable difference in my general prospect of Life, and brightened it so much that it scarcely seemed the same. ~  Great Expectations by Charles Dickens
"Self-love, my liege, is not so vile a sin, As self-neglecting." ~  Henry V by William Shakespeare
"Would the world ever have been made if its maker had been afraid of making trouble? Making life means making trouble." ~ Pygmalion by George Bernard Shaw
The mind is its own place, and in it self
Can make a Heaven of Hell, a Hell of Heaven. ~ Paradise Lost by John Milton
"Next to trying and winning, the best thing is trying and failing." ~ Anne of Green Gables by Lucy Maud Montgomery
The world is a looking-glass, and gives back to every man the reflection of his own face. Frown at it, and it will in turn look sourly upon you; laugh at it and with it, and it is a jolly kind companion; and so let all young persons take their choice. ~ Vanity Fair by William Makepeace Thackeray
Conventionality is not morality. Self-righteousness is not religion. To attack the first is not to assail the last. ~ Jane Eyre by Charlotte Bronte
"We learn from failure, not from success!" ~  Dracula by Bram Stoker
It is a fair, even-handed, noble adjustment of things, that while there is infection in disease and sorrow, there is nothing in the world so irresistibly contagious as laughter and good-humour. ~  A Christmas Carol by Charles Dickens
"This above all,–to thine own self be true; and it must follow, as the night the day, thou canst not then be false to any man." ~  Hamlet, Prince of Denmark by William Shakespeare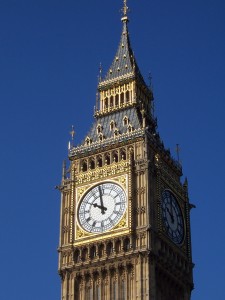 "I think that I may go so far as to say, Watson, that I have not lived wholly in vain," he remarked. "If my record were closed to-night I could still survey it with equanimity. The air of London is the sweeter for my presence." ~  The Final Problem by Sir Arthur Conan Doyle
There are houses whose souls have passed into the limbo of Time, leaving their bodies in the limbo of London. ~  The Forsyte Saga by John Galsworthy
"If you lived in London, where the whole system is one of false good-fellowship, and you may know a man for twenty years without finding out that he hates you like poison, you would soon have your eyes opened. There we do unkind things in a kind way: we say bitter things in a sweet voice: we always give our friends chloroform when we tear them to pieces." ~  You Never Can Tell by George Bernard Shaw
London was beginning to illuminate herself against the night. Electric lights sizzled and jagged in the main thoroughfares, gas-lamps in the side streets glimmered a canary gold or green. ~  Howards End by E. M. Forster
All day the wind had screamed and the rain had beaten against the windows, so that even here in the heart of great, hand-made London we were forced to raise our minds for the instant from the routine of life and to recognise the presence of those great elemental forces which shriek at mankind through the bars of his civilisation, like untamed beasts in a cage. ~  The Five Orange Pips by Sir Arthur Conan Doyle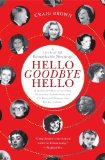 In Hello Goodbye Hello: A Circle of 101 Remarkable Meetings Craig Brown chronicles the encounters of famous people.  What makes the book so interesting, aside from the fact that it's all true, is the way the stories are linked.  In one section Person A will meet Person B.  In the next, Person B will have a chance encounter with Person C.
The book starts and ends with Adolf Hitler.  In between are people like Madonna, Nancy Reagan, Salvador Dali, Sigmund Freud and a slew of others.  I was happy to note that there are numerous writers included in the book.  Some of the authors included are Ernest Hemingway, James Joyce, Oscar Wilde, George  Bernard Shaw and H.G. Wells.
Hello Goodbye Hello is a daisy chain of 101 fascinating true encounters, a book that has been hailed by reviewers in London as "howlingly funny" (The Spectator), "original and a complete delight" (The Sunday Times), and "rich and hugely enjoyable" (The Guardian). Or, as the London Evening Standard put it, "the truth and nothing but the plain, bonkers, howling truth . . . It is partly a huge karmic parlour game, partly a dance to the music of chaos—and only the genius of Craig Brown could have produced it."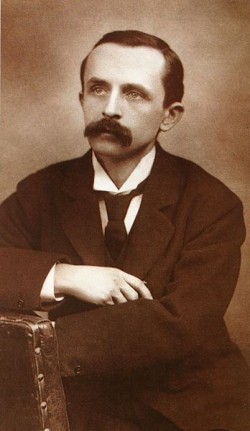 Could James M. Barrie, the author of Peter Pan, be the literary Kevin Bacon of his day? It might sound a little nutty, but take a look at his connections:
He had a long-standing correspondence with Robert Louis Stevenson.  Despite that fact that the two wrote many letters, they never met in person.
George Meredith, the author of The Ordeal of Richard Feverel, was his friend.
George Bernard Shaw was Barrie's neighbor for several years.
He collaborated with H.B. Marriott Watson on a biography of Richard Savage.
Barrie's friend H. G. Wells tried to help him with his marital problems.
Barrie knew Thomas Hardy.
Sir Arthur Conan Doyle and James M. Barrie were good friends.  You can read about their friendship at our partner site, The Chronicles of Sir Arthur Conan Doyle.
Barrie's formed a cricket team, the Allah-Akabarries. Some of Barrie's teammates included, Conan Dolye, H. G. Wells, Jerome K. Jerome, P. G. Wodehouse, A. E. W. Mason, E. V. Lucas, E. W. Hornung, Maurice Hewlett, A. A. Milne (of Winnie the Pooh fame) and G. K. Chesterton.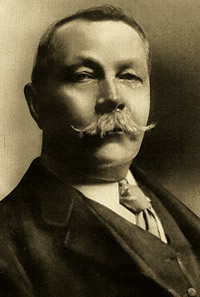 Tomorrow marks the 100th anniversary of the sinking of the Titanic.
Most of us are familiar with the story.  In 1912, on its maiden voyage, the ocean liner struck an iceberg and sank.   Because there were not enough lifeboats over 1,500 lives were lost.
A little-known fact is that after the disaster Conan Doyle and George Bernard Shaw had a very public disagreement about how the disaster was characterized in the press.
You can read the full story about the dispute at our partner site, The Chronicles of Sir Arthur Conan Doyle.