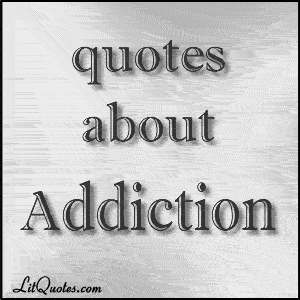 "I remember a mass of things, but nothing distinctly; a quarrel, but nothing wherefore. O God, that men should put an enemy in their mouths to steal away their brains!" ~ Othello by William Shakespeare
He raised his eyes languidly from the old black-letter volume which he had opened. "It is cocaine," he said, "a seven-per-cent solution. Would you care to try it?" ~ The Sign of The Four by Sir Arthur Conan Doyle
Drugs age you after mental excitement. Lethargy then. Why? Reaction. A lifetime in a night. Gradually changes your character. ~ Ulysses by James Joyce
"I am only myself when I am drunk. Liquor makes me human. At other times I'm merely Charley Steele!" ~ The Right of Way by Gilbert Parker
"I see that a man cannot give himself up to drinking without being miserable one-half his days and mad the other." ~ The Tenant of Wildfell Hall by Anne Bronte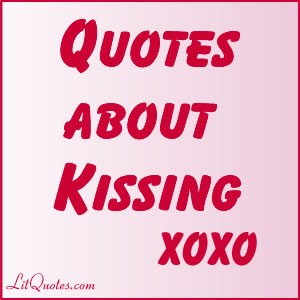 Here are five quotes from literature about kissing.  One of them is funny.  One of them is famous.  And two of them . . . well, two of them might just might quicken your pulse.
She lifted her face to him, and he bent forward and kissed her on the mouth, gently, with the one kiss that is an eternal pledge. And as he kissed her his heart strained again in his breast. He never intended to love her. But now it was over. He had crossed over the gulf to her, and all that he had left behind had shrivelled and become void. ~ The Horse Dealer's Daughter by D. H. Lawrence
"Kissing don't last: cookery do!" ~ The Ordeal of Richard Feverel by George Meredith
"O fie, Miss, you must not kiss and tell." ~ Love for Love by William Congreve
The sound of a kiss is not so loud as that of a cannon, but its echo lasts a deal longer. ~ The Professor at the Breakfast Table by Oliver Wendell Holmes, Sr.
He knew that when he kissed this girl, and forever wed his unutterable visions to her perishable breath, his mind would never romp again like the mind of God. So he waited, listening for a moment longer to the tuning fork that had been struck upon a star. Then he kissed her. At his lips' touch she blossomed for him like a flower and the incarnation was complete. ~ The Great Gatsby by F. Scott Fitzgerald
Quotes about Kissing from Literature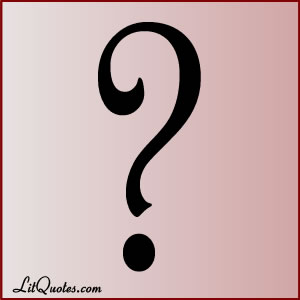 Have you ever thought about questions?  Questions are very, very important.  Without questions we'd have no answers.
Those are my thoughts on questions.  Now here are five quotes from literature about questions:
There are no ugly questions except those clothed in condescension. ~ East of Eden by John Steinbeck
Aunt Polly asked him questions that were full of guile, and very deep—for she wanted to trap him into damaging revealments. Like many other simple-hearted souls, it was her pet vanity to believe she was endowed with a talent for dark and mysterious diplomacy, and she loved to contemplate her most transparent devices as marvels of low cunning. ~ The Adventures of Tom Sawyer by Mark Twain
"What is any public question but a conglomeration of private interests?" ~ The Warden by Anthony Trollope
"Questions are never indiscreet. Answers sometimes are." ~ An Ideal Husband by Oscar Wilde
"I feel very strongly about putting questions; it partakes too much of the style of the day of judgment." ~ The Strange Case of Dr. Jekyll and Mr. Hyde by Robert Louis Stevenson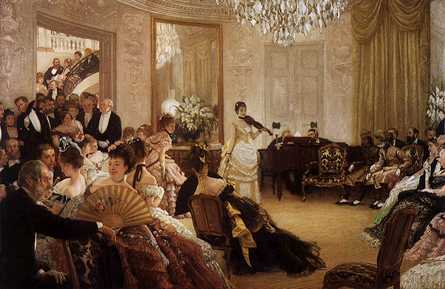 He lived alone, and, so to speak, outside of every social relation; and as he knew that in this world account must be taken of friction, and that friction retards, he never rubbed against anybody. ~ Around the World in 80 Days by Jules Verne
"This looks like one of those unwelcome social summonses which call upon a man either to be bored or to lie." ~ The Adventure of the Noble Bachelor by Sir Arthur Conan Doyle
There are moments when one has to choose between living one's own life, fully, entirely, completely – or dragging out some false, shallow, degrading existence that the world in its hypocrisy demands. ~ Lady Windermere's Fan by Oscar Wilde
"It saves trouble to be conventional, for you're not always explaining things." ~ Old Rose and Silver by Myrtle Reed
Few people can resist doing what is universally expected of them. This invisible pressure is more difficult to stand against than individual tyranny. ~ That Fortune by Charles Dudley Warner
See More Society Quotes from Literature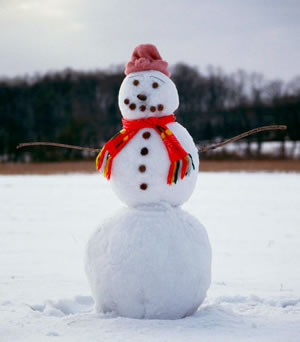 At this time of year I find myself wishing for just a bit of snow.  I miss the softly falling flakes and the quiet of a neighborhood blanketed with white.
That's the inspiration behind today's selection of snow quotes.  You can click here to see the entire collection of snow quotes.
"At Christmas I no more desire a rose
Than wish a snow in May's new-fangled shows;
But like of each thing that in season grows."
~  Love's Labour's Lost by William Shakespeare
The night was clear and frosty, all ebony of shadow and silver of snowy slope; big stars were shining over the silent fields; here and there the dark pointed firs stood up with snow powdering their branches and the wind whistling through them. ~  Anne of Green Gables by Lucy Maud Montgomery
There are moments when Nature reveals the passion hidden beneath the careless calm of her ordinary moods–violent spring flashing white on almond-blossom through the purple clouds; a snowy, moonlit peak, with its single star, soaring up to the passionate blue; or against the flames of sunset, an old yew-tree standing dark guardian of some fiery secret. ~  The Forsyte Saga by John Galsworthy